By Joshua Rich





(Entertainment Weekly) -- Seventy-eight-year-old Clint Eastwood continues to be a big draw at the box office -- in fact, he's bigger than ever. The actor-director's latest action-drama, "Gran Torino," was No. 1 on the first competitive weekend of 2009, grossing $29 million, according to Sunday's estimates.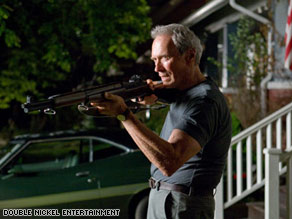 Clint Eastwood's latest action-drama, Gran Torino, was No. 1 on the first competitive weekend of 2009.
That's by far the highest single-weekend total of Eastwood's esteemed six-decade Hollywood career. The film has been a hit since it debuted in limited release a month ago; this was its first frame playing wide. Its total domestic sum now stands at $40.1 million.
And, with a CinemaScore grade of A and possible Oscar nominations down the road, "Gran Torino" seems fueled and ready for a long ride through theaters.
Newcomer "Bride Wars" was a solid No. 2, with $21.5 million, a totally expected take that's on par with the first-weekend figures for co-star Kate Hudson's "Fool's Gold" ($21.6 million) and "You, Me & Dupree" ($21.5 million), as well as co-star Anne Hathaway's "The Princess Diaries" ($22.9 million) and "The Princess Diaries 2" ($23 million).
Being the only film of its genre at the multiplex these days, and with an A- CinemaScore review from audiences, "Bride Wars" should also be hanging around for some time.

Watch a review of weekend's new movies »
Fellow freshman flick "The Unborn," meanwhile, scared up a sweet sum of its own: $21.1 million, which landed it at No. 3. (In fact, the horror film could switch rankings with "Bride Wars" when the weekend's final tallies are released on Monday.) Despite a B- CinemaScore mark, the movie certainly exceeded expectations.
"Marley & Me" (No. 4 with $11.4 million) and "The Curious Case of Benjamin Button" (No. 5 with $9.5 million) rounded out the top five. And the weekend's other wide release, "Not Easily Broken," easily found itself at No. 9, grossing an impressive $5.6 million in just 724 venues.
Overall, the cumulative box office haul was up a hefty 14 percent from the same frame a year ago (when "The Bucket List" was the big winner), making this the third "up" weekend in a row. A nice way to start 2009, indeed.
E-mail to a friend


CLICK HERE to Try 2 RISK FREE issues of Entertainment Weekly
Copyright 2009 Entertainment Weekly and Time Inc. All rights reserved.
All About Movies