By Tom Charity
Special to CNN





(CNN) -- You may have noticed: Clint Eastwood has become respectable in his old age.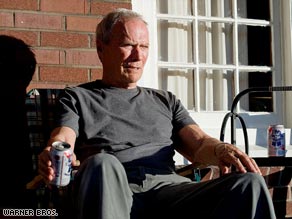 "Gran Torino," says Tom Charity, is all about Clint Eastwood. And that's a great thing.
To judge by the release pattern and some of the more reverent reviews, you would think the 78-year-old director's second movie of the season (after "Changeling") was another prestige picture with Oscar firmly in its sights, along the lines of "Million Dollar Baby" or "Letters from Iwo Jima."
Nominations may be forthcoming, or they may not (we'll find out January 22), but trust me, "Gran Torino" is not that kind of animal. It's a crude but pungent stab at popular filmmaking, blue-collar and bare-knuckle.
Which is not to say it's disappointing. On the contrary, it's an entertaining star vehicle that does its job well.
Other films around right now tackle "important" themes -- the Holocaust, justice, alienation -- but "Gran Torino" is all about Clint: the suspicious squint, granite composure and bad-ass attitude. Is Eastwood important? If you have grown up with this enduring American icon, there's no question about it. Apparently Nick Schenk's screenplay wasn't written specifically for him, but after seeing the film it's impossible to imagine it with anyone else.
Eastwood's Walt Kowalski is a Korean War veteran and retired auto worker, a grumpy old man and the last white guy holding on to his property in an inner-city neighborhood that's been taken over by Asian-Americans.
Don't Miss
The movie opens at his wife's funeral. (How many times have we seen Eastwood with a wife on screen? Not too often.) Walt's not happy, of course, but more than anything, he seems pissed off. His kids are a sore disappointment. The grandkids merit nothing more than a growl. At the wake, even the priest, Father Janovich (freckle-faced Christopher Carley), is quickly shown the door.
Walt is alone now, and he means to keep it that way. He sits on a deck chair out on his front porch, a cooler of beer beside him, the American flag hanging limp over his square patch of lawn.
It's a portrait of implacable American isolationism -- until the teenage son of his Hmong next-door neighbor encroaches on Walt's turf. Thao (Bee Vang) nearly gets his head blown off trying to steal Walt's prized 1972 Ford Gran Torino. To apologize, and to thank the white guy for stepping in to save him from the gangbangers who put him up to the stunt, Thao reluctantly reports for a week of whatever chores Walt might ask of him.
The grudging mutual respect that develops between them is entirely predictable, but in Eastwood's clean, unfussy but discreetly patient direction, even a banal task -- like wrestling an old fridge out of the basement -- assumes the bonding power Alan Ladd and Van Heflin found in digging out a stubborn tree stump in "Shane." Like other Eastwood heroes before him, Walt sacrifices his independence by accepting that others depend on him.
The relationship is also laced with plenty of gruff humor. If you're feeling indulgent, the film has almost as many laughs as a comedy. The older man introduces Thao to his barber (John Carroll Lynch) for a lesson in guy talk -- which turns out to be the art of barking invective with impunity. (PC, it's not.)
Meanwhile, Walt's own racist (Archie) Bunker mentality thaws when Thao's self-assured sister Sue (Ahney Her) introduces him to the pleasures of Thai food.
All the while, the neighborhood punks hover in the background, waiting for the right moment to test whether Dirty Old Harry is firing anything more than blanks these days.
Schenk's screenplay isn't subtle, and some of the young cast struggle to camouflage its crudeness, but Eastwood revels in the pragmatic design and roughneck humor of the piece. Walt may be a dinosaur, but he carries a big footprint. In a similar way, "Gran Torino" is no classic, but at least it's a star vehicle worthy of a true legend.
"Gran Torino" is rated R and runs 116 minutes. For Entertainment Weekly's take, click here.
E-mail to a friend

All About Clint Eastwood