By Todd Leopold
CNN





(CNN) -- Well, at least this year there will be a show.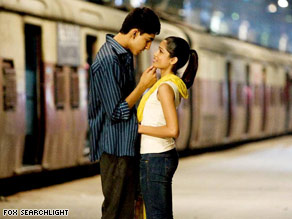 Dev Patel and Freida Pinto star in "Slumdog Millionaire," which has become a sleeper hit.
The 66th annual Golden Globes, which will air live Sunday, may not not settle much -- already, some of Hollywood's other industry organizations are nominating films, such as "The Dark Knight" and "Milk," that received short shrift from the Globe-presenting Hollywood Foreign Press Association -- but at least this year's program will feature glitz, glamour and all the Tinseltown trimmings.
Last year's "show," you'll recall, was a bare-bones news conference, created because celebrities had announced a boycott because of the writers strike.
So this year, audiences can look forward to finery and perhaps a little fun, since the Globes are essentially a big party with an open bar. As the ads trumpet, "Anything can happen."
"We're back, we're bigger, we're better than ever -- that's the message," Barry Adelman, an executive with Globes producer Dick Clark Productions, told The New York Times.

Watch a preview of the awards show »
Such frivolity may be a welcome contrast to the heavy tone of some of the leading Globe nominees, including "Doubt," in which a priest may or may not be guilty of sexually abusing a student, and "Revolutionary Road," the story of a marriage crumbling under the expectations of its principals. See the list of Globe nominations
"Doubt," "Frost/Nixon" and "The Curious Case of Benjamin Button" led all films with five nominations each. Kate Winslet has two nominations, a best actress (drama) nod for "Revolutionary Road" and best supporting actress for "The Reader," as does Meryl Streep, who was nominated for best actress (drama) for "Doubt" and best actress (comedy or musical) for "Mamma Mia!" (The Globes give out many awards in two genres, drama and musical or comedy.)
"The Dark Knight," the year's highest-grossing film, did earn a nomination for best supporting actor, for the late star Heath Ledger.
Don't Miss
Oscar watchers are wondering how such nominees as "Slumdog Millionaire" -- which triumphed at the Critics' Choice Awards Thursday night -- and early best actress front-runner Anne Hathaway ("Rachel Getting Married") will do.
The Globes are often probed for indications of which way Oscar winds are blowing, but the awards' prognostication record is far from perfect. Last year, "Atonement" took home the big prize, best drama, but the Oscar for best picture went to "No Country for Old Men."
In 2008, the Globes did mostly match the Oscars when it came to performers, giving Globes to Daniel Day Lewis ("There Will Be Blood"), Javier Bardem ("No Country for Old Men") and Marion Cotillard ("La Vie en Rose"), but it should be pointed out that, with categories for both dramas and comedy/musicals, the Globes give out twice as many honors for lead performers as the Oscars.
The Globes also give out awards for television. Nominees include "30 Rock" and "The Office" (up for best TV comedy series); "House" and "Mad Men" (best drama series); "John Adams" and "A Raisin in the Sun" (best TV movie or miniseries); and performers Tina Fey, Tony Shalhoub, Judi Dench, Paul Giamatti, Laura Dern and Neil Patrick Harris.
Over the years, the awards have been criticized both for its small pool of voters -- the Hollywood Foreign Press Association consists of fewer than 100 members of the international press -- and occasional oddball honors.
In 1982, in perhaps the most infamous case, actress Pia Zadora, who had appeared in a minor film called "Butterfly," won "new star of the year" over Kathleen Turner ("Body Heat"), Howard E. Rollins Jr. ("Ragtime") and Rachel Ward ("Sharky's Machine"), among others. At the time, Zadora's victory was largely attributed to the influence of her husband, wealthy businessman Meshulam Riklis. Zadora, who later had a well-regarded singing career, later won a worst-actress Razzie for the same performance.
However, the show has, in general, raised its standards and remains one of the most popular televised honors. Celebrities generally show up in great numbers. A number of studios are hosting post-event parties, and there are even a handful of "gifting suites" for presenters and nominees.
Among the names expected, according to HFPA press releases: Drew Barrymore, Pierce Brosnan, Sandra Bullock, Glenn Close, Sean Combs, Sacha Baron Cohen, Cameron Diaz, Aaron Eckhart, Ricky Gervais, Jake Gyllenhaal, Blake Lively, Hayden Panettiere, Amy Poehler, Seth Rogen and Martin Scorsese.
Steven Spielberg will receive this year's Cecil B. DeMille Award for his "outstanding contribution to the entertainment field."
Though the stars are expected to acknowledge the tough economic times, HFPA president Jorge Camara believes the pleasures of the event will come through.

"The heat and buzz are here," he told the trade paper Variety. "It will be a very glamorous room. ... We really don't want to make anything different from what it is, which is celebrating, in a party atmosphere, the talent in motion pictures and television."
The 66th annual Golden Globes will air from the Beverly Hilton in Beverly Hills, California. The show begins at 8 p.m. ET and will air on NBC.
E-mail to a friend

All About Heath Ledger • Golden Globes • Meryl Streep