(CNN) -- "The Dark Knight" took home top honors at the People's Choice Awards Wednesday night, walking away with five awards.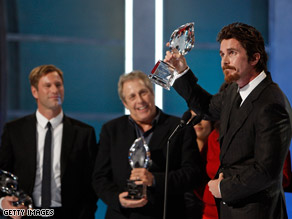 Christian Bale, right, accepts an award during the 35th Annual People's Choice Awards Wednesday.
The movie, which won high praise and acclaim from critics and fans, won the award for favorite movie, favorite action movie, favorite cast, favorite on screen match-up (Christian Bale and Heath Ledger) and favorite superhero (Christian Bale as Bruce Wayne/Batman).
"Here's to Heath," Bale said after accepting the award, referring to his co-star, who died of an accidental drug overdose in January 2008.
Host Queen Latifah introduced the movie at the end of the ceremony and all five awards were presented at the same time.
"American Idol" lost to "Dancing With the Stars" for favorite reality TV show, but two of their alums -- Jordin Sparks and Carrie Underwood -- picked up their own awards.
Underwood, who performed earlier during the show, nabbed two wins early on -- one for "Last Name" (favorite country song) and also for favorite female singer.
Sparks and Chris Brown both took home the award for "Favorite Combined Forces," for their collaboration on "No Air." The pair beat out "4 Minutes" by Madonna and Justin Timberlake and "Love Like This" by Natasha Bedingfield and Sean Kingston.
"I think this is the first awards show where they actually aired my award," Sparks jokingly said as she accepted the award. Brown, who was in Dublin, accepted the award via satellite.
Ellen DeGeneres took home the award for best talk show host.
"I wish I could share this with you," DeGeneres said. "I could throw it on the ground and smash it into a million pieces, and give each one of you a little piece of it, but that's violent, and that's probably why you voted for me, because I'm not violent."
Other early winners included: "27 Dresses" (favorite comedy movie), Hugh Laurie (favorite male TV star) and Robin Williams (favorite scene stealing guest star for his role on "Law and Order: Special Victims Unit"). EW review: You showed up? Here's a trophy!
The People's Choice Awards celebrated its 35th ceremony this year.

The awards were created in 1975 by producer Bob Stivers, who sold the show to Procter & Gamble in the early 1980s. The awards have reflected the growing divergence between popular and critical preferences; in its early years favorite movie honors went to "The Sting" and "One Flew Over the Cuckoo's Nest" -- both best picture winners at the Oscars as well as critical favorites -- while more recently, categories have included slots no industry group would even hazard, such as favorite superhero, favorite on-screen matchup and Nice n' Easy Fans Favorite Hair (a nod to a Procter & Gamble product).
For most of their run, the People's Choice Awards were based on Gallup polls. In the last few years, online voting has decided the winners, and this year's categories included tech-friendly slots for favorite user-generated video and favorite online sensation.
E-mail to a friend

All About Queen Latifah • The Procter & Gamble Company