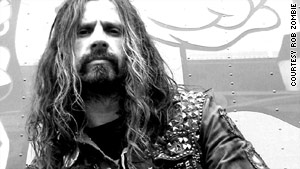 Director Rob Zombie's "Halloween 2" is being re-released this weekend.
STORY HIGHLIGHTS
Rob Zombie is behind "Halloween 2," being re-released this weekend

Zombie has also directed a remake of "Halloween" and other horror movies

Hardcore hero is touring behind new album, also wants to keep making films

He'd like to do some original work, but Hollywood wants remakes, he says

(CNN) -- Don't bother complaining to Rob Zombie about how Hollywood's out of original ideas and keeps remaking old movies.
The director of the reworked "Halloween" and "Halloween 2" -- whose future plans include the possibility of a new take on 1958's "The Blob" -- will probably agree with you.
"I used to be one of those people -- and still sort of am," said Zombie, the rocker/director whose "Halloween 2" is set to be re-released in about 1,000 theaters this weekend in honor of its namesake holiday. "But, unfortunately, I don't run Hollywood, so I kind of have to look at what's there and go, 'Well, OK, this is how they want to do things and I want to make movies.'
"So I try to do what I tried to with 'Halloween' -- take something and as much turn it into my own thing as possible."
Zombie, whose "House of 1,000 Corpses" and "The Devil's Rejects" became instant cult favorites, called Hollywood "a scared town" where, especially in tough economic times, studios want to put money behind what they think is a sure bet.

Video: Wes Craven on horror films

Video: Sam Raimi on horror films
"I have lots of original ideas that maybe will get made," he said. "But everyone ... even if you bring them the most obscure movie that nobody's ever heard of -- they want to remake that."
As his movie, originally released in late August, re-hits screens, Zombie will be hitting the road.
Perhaps still best-known as front man for the multi-platinum-selling '90s metal band White Zombie and solo efforts like 1998's "Hellbilly Deluxe," Zombie kicked off his first headlining tour since 2007 on Thursday.
Beginning in Phoenix, Arizona, the tour includes a blowout Halloween-night show at the Palladium in Los Angeles featuring music and characters from "H2".
Zombie said juggling careers in rock and film is sometimes tough, but in the end helps keep him sane.
"They're a great counter-balance," he said. "It's both sides of my personality. I have a subdued, meticulous side that needs to obsess over work. But I have the other side where you just need to go crazy, you know?"
And while one might think making over-the-top horror movies would fill his "crazy" quotient, Zombie said that's not usually the case.
"It doesn't matter if you're shooting a bloody murder or some romantic scene," he said. "The process by which you're getting it on film is mostly the same."
The tour comes in advance of Zombie's upcoming album, "Hellbilly Deluxe 2," which was originally set for a November 11 release but has now been pushed back to an unspecified date next year.
The first single -- "What?" -- features Zombie's trademark heavy grooves, strong hooks and horror-show lyrics combined with distorted vocals reminiscent of '90s aggro-industrial band Ministry.
But Zombie said he's hard pressed to describe the record himself.
"Music is the most confusing thing as to how people perceive it," he said. "You play somebody something and you think, 'Oh this is my classic sound' and they go, 'Oh my God, it's so different.'
"And then you play something that you think is so different and they go 'Oh yeah, that's pretty much what I expected.' "
In addition to pondering "The Blob," which remains in development, Zombie recently finished editing a director's cut of "Halloween 2" for DVD and has an original film, "Tyrannosaurus Rex," in the works with a tentative 2013 release date. The Internet Movie Database describes "Rex" as the story of an ex-con boxer who gets caught up in an underground fight ring.
In disappointing news for hardcore fans, he said Captain Spaulding and the rest of the degenerates from "House of 1,000 Corpses" and "Devil's Rejects" are likely retired for good -- at least on his watch.
"I think 'House of 1,000 Corpses,' in about 10 more years, will probably be one of the movies that people want to remake," he said.
FOLLOW THIS TOPIC