By Alan Duke
CNN






LOS ANGELES, California (CNN) -- Miss California USA officials want Carrie Prejean to repay $5,200 they say she borrowed to have her breasts augmented last year.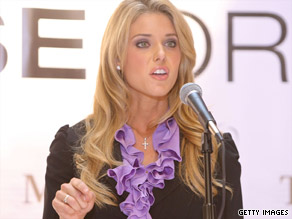 Carrie Prejean has been immersed in controversy since her response at the Miss USA pageant in April.
The demand was a response to a lawsuit filed by Prejean in which she claimed pageant officials violated the former beauty queen's privacy by acknowledging to reporters that her breasts were fake.
The truth about Prejean's breasts "ceased being private during the swimsuit competition of the nationally televised Miss USA pageant, in which Ms. Prejean walked the stage in a bikini," pageant lawyers said.
Prejean's lawyer said the pageant filing was part of an "ongoing smear campaign" against her.
"They have proven, once again, that they will use whatever scurrilous accusations they can dredge up -- or invent -- to try and tarnish Carrie's reputation and her good name," Charles LiMandri said.
State pageant officials say they loaned the money for the surgery under an oral agreement with Prejean -- whom they dethroned as Miss California USA in June -- and she never repaid them.
The group also asked a judge to give them any profits from Prejean's tell-all book due out next month, which they claim was written in violation of her pageant contract.
"Our claim is not about financial reward, and all profits awarded will be donated to a charity that promotes the values of our organization," Miss California USA Executive Director Keith Lewis said.
The pageant's demands were made in a cross-complaint filed in response to Prejean's lawsuit, filed in Los Angeles County Superior Court in August, in which she claims that her firing was religious discrimination because of her stand against same-sex marriage.
Prejean, 22, stepped into controversy at the Miss USA pageant in April when, in response to a question from a judge, she declared her opposition to same-sex marriage. Prejean finished as first runner-up.
"We will make the case that her title was taken from her solely because of her support of traditional marriage," LiMandri said in August.
The pageant's counter-complaint said Prejean's belligerent behavior, lack of cooperation and contract breaches caused her firing, not her opposition to same-sex marriage.
"Ethically and morally, Carrie Prejean no longer deserved to be Miss California USA," the pageant filing said.
"She attempts to cast herself as a virtuous young woman and the victim in a supposed conspiracy against her," the pageant suit said. "Had she heeded the guidance of the Gospel of John, who admonished only those who are without sin to cast stones in judgment, she might have avoided this legal battle -- which will ultimately reveal the hypocrisy of Carrie Prejean."
Prejean's suit claims that her medical privacy was violated this year when pageant officials, including Lewis, publicly acknowledged that she had breast implants and the pageant financed the surgery.
"It is far-fetched for the plaintiff to assert a claim for public disclosure of private facts about her breast augmentation surgery, after she paraded on national television in a bikini for the very purpose of showing her figure as enhanced by that surgery, the disclosure of which can hardly be offensive given plaintiff's admission that such surgeries are common for beauty pageant contestants," pageant lawyers argued in their response filed this week.
The pageant court filings said Prejean "became completely belligerent and uncooperative with the Miss California USA organization after she won the state title."
"Ms. Prejean made it clear that she had a different agenda in mind," the pageant filing said. "She refused to follow instructions. She initiated arguments and sowed discord over the most minor issues. At almost every opportunity, she made a point of creating conflict between herself and the Miss California USA executive directors."
One thing they all agreed on was that Prejean needed bigger breasts if she was to be competitive in the national pageant in April, the filing said.
"Ms. Prejean disclosed that she had been thinking about and wanting to have breast augmentation surgery for some time, but did not have the money to pay for it," the filing said. "She felt that if she had the surgery, in her opinion, she would be more competitive for the Miss USA pageant."
After pageant officials agreed to loan her the money, Prejean underwent breast augmentation in January, the pageant filing said.
The court documents offer an inside look at the hostile relationship between Prejean, California pageant officials and Miss USA pageant owner Donald Trump.
After the Miss USA pageant, "With her new-found notoriety, an inflated sense of self, and the lure of financial gain available to her, Ms. Prejean turned even further against the Miss California USA organization, abandoned her obligations as the Miss California USA titleholder, and violated multiple provisions of the contract which governed her reign," the pageant filing said.
It suggested that Prejean, described as "previously a fairly anonymous young woman," filed her lawsuit "to extend her notoriety."
E-mail to a friend

All About Carrie Prejean