(Entertainment Weekly) -- When Max Records auditioned for the "Where the Wild Things Are" (out Friday) role of Max, the precocious boy in a dirty white wolf suit who sails to an island full of fearsome horned monsters and becomes their even more fearsome king, he arrived with one advantage -- and it wasn't his first name.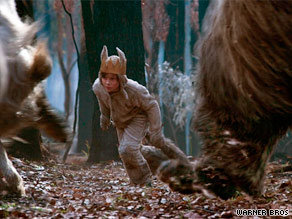 Max Records plays Max in the film adaptation of the children's book "Where the Wild Things Are."
"I had memorized all the lines," the now-12-year-old acting novice from Portland, Oregon, told EW earlier this year. "I was totally obsessed with the book, like from the age of half a year old to, like, 4. So I was really familiar with it." (Ah, the perspective of youth.)
Of course, Maurice Sendak's 1963 kid-lit masterpiece is a picture book containing just 10 sentences. But Records clearly has a deep feel for the material. "It's not moralistic or patronizing. It's not 'Johnny did something bad and had to apologize.' It's about being a kid. It's just real."
Spike Jonze, the auteur behind "Adaptation" and "Being John Malkovich," told EW he initially balked when offered the project more than a decade ago -- by no less than Sendak himself. "I felt it was just so perfect in the form in which it already existed," said Jonze. "I didn't know what more you'd add to flesh it into a movie, or even why you would want to add to it." He's reluctant to share too many details, but says his live-action adaptation elaborates on the world of the wild things as well as Max's relationship with his mom (Catherine Keener) and her boyfriend (Mark Ruffalo).
Jonze began shooting in 2006, but by 2008 the movie was not yet finished and there were reports that Warner Bros. wanted the whole thing reshot. Not true, says Jonze and producer Vincent Landay, though both admit the production was a long, challenging process -- from finding a naturalistic way to depict the fantasy world ("I wanted everything to feel like it had really happened, not fabricated with CGI," says Jonze) to filming in the remote wilderness of Australia to getting emotionally resonant performances from Records, the puppet monsters, and the voice cast (including James Gandolfini and Forest Whitaker). Laughs Jonze, "We made it really, really hard on ourselves."
Here are more EW Picks for the week of October 11:
Movies
"The Stepfather" (out Friday). The original 1987 "Stepfather" -- about a seemingly kind man who marries a vulnerable widow and then reveals himself to be a murderous psychopath -- spawned two sequels, launched the career of future "Lost" star Terry O'Quinn, and then pretty much disappeared. Now, like a horror-movie baddie you were sure was dead, "The Stepfather" is back for more. This remake stars "Gossip Girl's" Penn Badgley as a teen who returns from military school to find that a suspicious new guy (Dylan Walsh) has moved in with his divorced mom (Sela Ward). "Dylan looks so accessible and sincere and warm," says Ward. "I guess Ted Bundy did too." Okay, now we're creeped out.
"Law Abiding Citizen" (out Friday). Gerard Butler goes from family man to the meanest vigilante since Charles Bronson matching with Jamie Foxx in this action-thriller from director F. Gary Gray ("The Italian Job").
TV
"Hell's Kitchen" season finale (8 p.m., Tuesday, Fox). What "Hell's Kitchen" lacks in substance, it makes up for in style, and its slickly edited season finale is a sizzling nail-biter. Kitchen newbies will have no trouble following along as the three remaining chefs -- egotistical Kevin, coolheaded Ariel, and "one-armed bandit" Dave -- battle for Gordon Ramsay's foulmouthed approval.
"The Newlywed Game" (6 p.m., Tuesday, GSN). George Takei and Brad Altman compete tonight, marking the first time a gay couple has ever been on the game show.
"30 Rock" (9:30 p.m., Thursday, NBC). "30 Rock" is back? We want to go to there. NBC execs and Jay Leno, however, might not be so eager to visit, as Tina Fey kicks off season 4 with a barbed broadside against network programmers: When Jack (Alec Baldwin) forces Liz (Fey) to add a mainstream-friendly cast member to broaden her show's audience, Tracy Morgan's Tracy sweats his appeal to the common man, while Jenna (Jane Krakowski) gives herself a heartland-pandering country makeover. The satire on play-it-safe execs is wickedly droll. Also make sure to stay till the end to see Fey and Baldwin give a bitchy, meta "welcome" to their lead-out, Leno, whom Fey already jabbed at the Emmys by thanking NBC for keeping "30 Rock" on even though it's "more expensive than a talk show."
Music
"Christmas In the Heart," Bob Dylan (out Tuesday). What's that blowin' in the winter wind? Sounds like holiday cheer. Profits go to the hunger-relief charity Feeding America.
"Crazy Love," Michael Bublé (out Tuesday). Due, no doubt, to the success of his adult-contemporary smash "Home," the neo-Rat Pack crooner makes a few too many soft-rock concessions on his new studio disc. Covering the Eagles, as Bublé does with a hokey version of "Heartache Tonight," seems way beneath a singer with his level of style. Still, there's no denying the sexy-jerk swagger Bublé brings to "Cry Me a River," which here sounds like a Bond-movie theme, or to "Baby (You've Got What It Takes)," a funky duet with Brooklyn soul sister Sharon Jones.
"Do What You Want, Be What You Are: The Music of Daryl Hall & John Oates," Hall & Oates box set (out Tuesday). Collecting the best of the blue-eyed soul smoothies, and making fans' dreams come true. EW recently asked Daryl Hall to fill us in on his personal favorites; for the record: "She's Gone," "Sara Smile," "Every Time You Go Away," "You Make My Dreams," and "One on One."
DVD
"The Proposal" (out Tuesday). Yes, it's a rip-off of 1990's "Green Card." And sure, you can see every plot twist driving down Fifth Avenue. So the fact that "The Proposal" winds up as breezy and entertaining as it does qualifies as some sort of Hollywood miracle. Sandra Bullock plays an icy book editor about to get deported back to Canada unless she can find an American husband, stat. Ryan Reynolds is her long-suffering assistant, who conveniently happens to be single. Sham nuptials ensue. As the groom's dirty-bird grandma, Betty White is a hoot -- and frankly, the ho-hum extras (director's commentary, lame outtakes) could've used more of her.
"Drag Me to Hell" (out Tuesday). Welcome back, Sam Raimi! The Spider-Man director returns to his delirious "Evil Dead" roots for "Drag Me to Hell," a kick-ass ghost story about a bank officer (Alison Lohman) who denies a loan to the wrong gypsy woman. There are curses, maggots and -- thanks to this unrated version -- lots more gore and goo. Extras include a fantastic production diary.
Books
"Nine Dragons," Michael Connelly (out Tuesday). Michael Connelly writes fast-paced best-sellers that critics praise for their sharp characterizations and fluid storytelling. The appearance of a third Connelly title in a year would be excellent news if "Nine Dragons," his latest offering, didn't read like it had been scribbled during a red-eye from Los Angeles to Hong Kong, the two cities where the slapdash action unfolds.
"Chronic City," Jonathan Lethem (out Tuesday). Lethem's latest novel follows the blank, descriptively named former teen actor Chase Insteadman as he floats, increasingly disoriented and adrift, between two New York worlds: one glamorous and social, the other bohemian and intellectual. Thick with paranoia, pot smoke and pop culture references (both real and made-up), "Chronic City" is a feverish portrait of the anxiety and isolation of modern Manhattan, full of dark humor and dazzling writing. The book's zonked philosophizing about the nature of reality wears a little thin, but Lethem's claustrophobic vision of a world where everything is connected and nothing is as it seems proves both funny and frightening.
For pop culture picks for today, click here, plus see what's new this week in movies, music, TV and more.
E-mail to a friend

CLICK HERE to Try 2 RISK FREE issues of Entertainment Weekly
Copyright 2009 Entertainment Weekly and Time Inc. All rights reserved.
All About Movies • Television • Tina Fey