(CNN) -- He's gone from being a backup dancer to the biggest thing in Asian pop culture, an actor and singer who has sold millions of albums.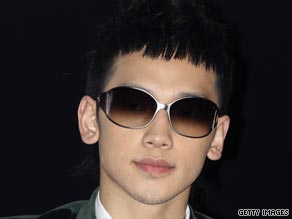 K-pop sensation and actor Rain faced your questions.
The 27-year-old South Korean has even faced down U.S. comedian Steven Colbert in a spoof
dance-off.
The comedy skit came about after Rain placed higher than him in Time Magazine's 2008 online poll of the 100 Most Influential People.
As well as a sense of humor and dance moves that shook Colbert out of his satirical posture to praise, Rain is also known as one of the hardest working men in the entertainment business.
Rain, real name Jung Ji-hoon, broke into the notoriously tough world of South Korean show business with JYP Entertainment when he was just 18-years-old.
Show times
Wednesday, Oct 28: 13.30 GMT (20.30 Hong Kong)
Thursday, Oct 29: 04.30 GMT (11.30 Hong Kong)
Saturday, Oct 30: 12.00, 21.30 GMT (19.00, 04.30 Hong Kong)
Monday, Nov 2: 00.30 GMT (07.30 Hong Kong)

He made his first mark in Hollywood last year with a role in "Speed Racer" appearing alongside Christina Ricci and Matthew Fox.

As a singer with five albums to his name, he's faced thousands of screaming fans at concerts across the world, and recently he faced your questions. Watch the show and find out what makes Rain tick.

E-mail to a friend