By Tommy Andres
CNN





ATLANTA, Georgia (CNN) -- It was five minutes before doors opened at Atlanta rock club The Earl, and Leslie Hall was backstage cramming her ample proportions into head-to-toe spandex.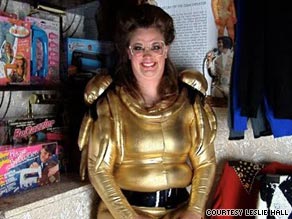 Leslie Hall says she's in talks with HBO for her own show.
She straightened the stuffed white tigers mounted to her shoulders. Blasted her towering blond, bouffant with another spritz of Aquanet and sprayed Febreze on the sweatier regions of a size-16 costume that was definitely dry clean-only.
"This is my Britney Spears-inspired circus outfit," said Hall, tracing her fingers along the lion tamer piping of the gold lamé onesie. "My mom made a plus-size one for me to wear."
Hall insists that, quirks and all, she's just another pop star.
"I think Britney, Rihanna, Beyonce, we're all doing the same thing," she said, pushing oversized spectacles up the bridge of her nose.
But in the next sentence the 210-pound white rapper -- who lives with her parents in Ames, Iowa -- pitched her new plan to help make ends meet. She's begun marrying gay couples in a mobile museum heretofore dedicated solely to the celebration of gaudy, gem-bedecked sweaters.

See photos of Hall and her mobile museum »
In her own uniquely random manner of speaking, Hall calls the offering the "Gem Sweater Wedding of Grands," a package she has posted on her Web site and tailored to members of her gay-friendly fan base.
In April, Iowa became the third U.S. state to legalize gay marriage, and that got Hall's wheels turning.
"I mean, talk about Iowa business opportunities popping up at even the darkest of times," she said.
The $299 package includes a ring bearer, a cake from Dairy Queen, two songs performed by Hall and a ceremony in any style the couple chooses.
The weddings, Hall said, are the latest front in her five-year battle against what she calls her biggest fear -- a desk job.
She exploded onto the Internet in 2004 with a viral online photo gallery that pays tribute to her extensive collection of the plastic-jewel-encrusted garments she calls gem sweaters.
She gives each sweater a name -- among them, "Route to My Feelings" and "Goblit from Bethlahem [sic]" -- and poses in each one with the same deadpan facial expression. View the Gem Sweater gallery.
Hall said she discovered her first gem sweater while searching for a prom dress in an Iowa Goodwill store.
"I was sifting through clothes and I found this sweater and the beadwork and craftsmanship were unbelievable," she said. "And that's what sparked my interest for collecting them and making a Web site based on my love for these beautiful garments."
The photos were an online hit, turning Hall into what she calls a "ce-Web-rity."
But the relative fame came at an unexpected price -- a $1,000-a-month bill for hosting the site. That's when she formulated a plan.
"Make a couple of albums and do a couple of dances and you make money, honey," she said.
Hall formed the group Leslie and the Lys with two friends from art school and began posting videos on BeatGreets.com, an online greeting card Web site that preceded YouTube.
Her over-the-top fashion sense, stage presence and raps about growing up as an overweight white girl in the Midwest quickly gained a cult following and Hall started taking her show on the road.
"For a temporary time, when you discover something on the Internet, it's like the greatest thing you've ever seen," Hall said. "And I think I get lucky with those first-timers. They're just like, 'Oh, my God, I've never seen this before in my life.' It's like a nasty chain letter that just hasn't stopped yet."
Leslie and the Lys just recorded their fifth self-produced album and wrapped up their fifth national tour earlier this summer. With each tour, their homemade stage show has become more elaborate.
"The Spice Girls use rotating, lifting stage risers. We used a lazy Susan and some of my dad's garage door parts and built our own little turntable." Hall explained.
"We use a painter's scaffolding and a mountain climbing harness and I dangle from it like I'm being levitated over the audience. It's like a low-budget Cirque de Soleil while we're singing songs about enjoying snacks and watching television."
The gigs pay well and Hall estimates that she has sold more than 5,000 albums at shows, but Internet downloads of songs like "Zombie Killer," "Tight Pants" and "Blame the Booty" have become her biggest money maker. Watch the video for "Zombie Killer Revisited" featuring "Mistress of the Dark" Elvira.
She also uses her multiple Web sites to hawk original artwork, T-shirts and a line of handmade custom spandex outfits under the label, "Midwest Diva."
"I'm good with spandex so I'm making these flashy, sassy, big girl dance uniforms," she said. "I think this whole 'Dance Your Ass Off' thing is inspiring some big girls to get out in the club."
Then there's the museum -- a converted 1974 Starcraft RV carrying the best of her over 400 sweaters.
"I'm going for Graceland meets the historical Abraham Lincoln Memorial Society," she said.

Now, Hall said, she's in talks with HBO for her own show.
"You just try and make money through your art any way you can and I've just been lucky enough to do it through music, fashion, photos and performance," Hall said. "I think I can take this all the way to Hollywood."
E-mail to a friend

CNN's Doug Gross contributed to this report.
All About Hip-Hop and Rap • Ames (Iowa)