(CNN) -- Garrison Keillor, author and host of the live radio show "A Prairie Home Companion," is to be released Friday from a hospital where he was undergoing tests after suffering a minor stroke, his spokesman said.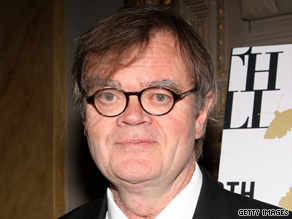 Author Garrison Keillor attends an event in New York on November 18, 2008.
Keillor, who turned 67 last month, checked himself into United Hospital in St. Paul, Minnesota, on Monday, David O'Neill said in a written statement.
The satirist was then transferred to St. Marys Hospital at the Mayo Clinic in Rochester, Minnesota.
"He will remain at Mayo until this Friday to undergo testing, and upon his release will resume his schedule as previously planned," O'Neill said.
"He is doing well and the family appreciates the warm wishes."
Keillor went to Mayo "because they know so much more about me," he said in a statement released Wednesday afternoon. He had surgery there in 2001 to replace a heart valve.
Keillor said he intends to "get right back to work, record a new audiobook as planned, do some lecture engagements, a book tour" and the radio show's season opener September 26.
"I have my laptop with me, and I am at work on the long-awaited Lake Wobegon screenplay. And that's the news from here," he said.
The folksy variety show "A Prairie Home Companion" has a weekly audience of 4.3 million listeners, O'Neill said, and is heard on nearly 600 American Public Media stations.
Keillor launched the program on July 6, 1974, in a St. Paul college theater before an audience of 12 people. According to a "Backstage Chat" on the show, Keillor got the idea for it from watching the Grand Ole Opry.
Keillor, who also is a singer and storyteller, has written 11 books, including three for children. His newest book, "Pilgrims: A Wobegon Romance," is coming out this month.
He was inducted into the Radio Hall of Fame in 1994.
E-mail to a friend

All About Garrison Keillor