LOS ANGELES, California (CNN) -- Longtime entertainment columnist Army Archerd, who was one of the first writers to reveal that actor Rock Hudson was being treated for AIDS, has died at age 87, according to the industry publication Daily Variety.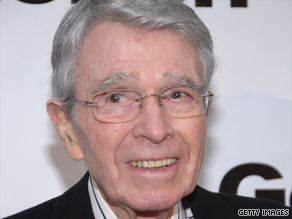 Army Archerd wrote a column for Variety for 52 years and was one of the first hosts of "Entertainment Tonight."
Archerd, who began his journalism career at The Associated Press, wrote a show business column for Variety for 52 years, four years of that online.
Archerd died Tuesday at Los Angeles Medical Center of a rare form of mesothelioma, a type of lung cancer thought to be the result of his exposure to asbestos in the Navy during World War II.
Archerd, Variety said, had an ongoing role in the Academy Awards, where he was the official greeter, and interviewed stars on the red carpet.
Archerd's biggest scoop came in 1985 when he reported -- despite denials from managers and publicists -- that Hudson had AIDS. It was the first time it was publicly revealed that a Hollywood actor had the disease.
Archerd's wife of 39 years, Selma, told Variety, "He didn't expose secrets about other people -- he wrote news. He was a loving, quiet person. He was always working -- when we went on vacation, we went to visit movie sets."
Although much of Archerd's work was nonconfrontational, when film director Elia Kazan was to be given a honorary Oscar in 1999 for his work, Archerd wrote, "I, for one, will not be giving him a standing ovation."
Kazan had provided testimony in 1952 to the House Un-American Activities Committee, admitted past membership in the Communist party and named others from his group.
"Army's finest hour was his courageous stand against the blacklist at a time when almost all other Hollywood columnists were red-hunting," said Peter Bart, vice president and editorial director of Variety. "He really was a passionate reporter and a champion of causes he believed in."
Archerd was the first journalist honored with a star on the Hollywood Walk of Fame and won numerous other awards. He also was one of the first hosts of "Entertainment Tonight."
Archerd was born January 13, 1922, in the Bronx, New York. He attended City College of New York for two years. When his family moved to Los Angeles, Archerd transferred to UCLA and, after graduation in 1941, he began work in the mailroom at Paramount Studios.
After serving in the Navy, Archerd met AP reporter Bob Thomas, who introduced him to bureau chief Hubbard Keavy. Thomas and Archerd opened the AP bureau in the Hollywood Citizen News on Wilcox Avenue in 1945.
In 1953, Daily Variety editor Joe Schoenfeld hired Archerd to replace columnist Sheilah Graham. Archerd began penning the daily "Just for Variety" column. His 900-word column ran on page 2 of Daily Variety five days a week until the 1990s, when it went to four days a week.
Archerd often used his power to support his favorite causes, including the Simon Wiesenthal Center and Holocaust awareness.
"When Michael Jackson's 'HIStory' album was released in 1995, Archerd chastised Jackson for a song in which he used the phrases 'Jew me/Sue me' and 'Kike me,' " Variety said. "A few days later, Jackson called the columnist to disclose that he would re-record the song."
Archerd was president and founder of the Hollywood Press Club and received honors from that group and the Hollywood Foreign Press Association, as well as Newsman of the Year from the Publicists Association.
Archerd is survived by his wife, Selma; his son, Evan; and stepsons Richard and James Rosenblum. A daughter, Amanda, died in 2008.
E-mail to a friend

All About Hollywood