(Entertainment Weekly) -- Do you find yourself occasionally slipping into a Liverpudlian accent? Hankering after a pair of granny glasses? Arguing with your friends about the best Beatles songs of all time?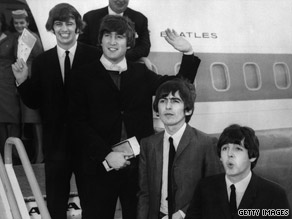 Scream loudly -- the Beatles will be everywhere September 9, with remastered CDs and "Rock Band."
Then you've got a condition called Beatlemania, and if you don't want it to get worse, stay in bed Wednesday, September 9.
That's when the sparkly new "The Beatles: Rock Band" game hits stores, along with the rabidly anticipated remastered versions of the Fab Four's entire beloved catalog.
In short, the eyes and ears of the world will once again be on the Beatles, and now their hands and larynxes will be able to join them.
The reissues alone would be huge news, since the band's albums haven't been upgraded since their original CD release in the late '80s. But if you've ever fantasized about actually playing with the Beatles, then "Rock Band" is equally drool-worthy. This installment of the massively popular franchise (more than $1 billion in sales and counting) lets you jam along with 45 tracks from all stages of the group's career. It also offers previously unseen photos and never-heard audio clips of the quartet talking in the studio.
Paul McCartney, Ringo Starr, Yoko Ono and Olivia Harrison were intimately involved in putting it all together. "It's very cool," McCartney enthused to EW this year.
Now "Rock Band" seems set to turn an even younger generation on to the band. "I see people playing it, and they look ... completely funny," McCartney said. "But I like the idea that it introduces kids to music."
Maybe September 9, 2009, will soon be known as the day that the biggest band of the 20th century also became the biggest of the 21st.
Here are more EW Picks for the week of September 6:
Music
"The Blueprint 3," Jay-Z (out Tuesday). Like fellow un-retirees Cher and Brett Favre, Jay-Z knows the value of stepping out of the game temporarily -- and the hazards, too. The hip-hop kingpin's two "comeback" albums made money but fell short of former glories. On "The Blueprint 3," Jay aims to rectify that by reconciling his two divergent worlds: the rode-hard history of the Brooklyn housing projects he came up in, and the yachting-off-the-Amalfi-Coast-with-Gwyneth celebrity Narnia he inhabits today. Even if it lacks the raw power of his earlier work, the album succeeds at its larger goal: reaching maximum commercial blast radius while maintaining its street bona fides. "Blueprint" is hip-hop as big business, and Jay retains his CEO throne.
Movies
"9" (out Wednesday). When director Shane Acker constructed the CG-animated post-apocalyptic world of "9" for his 2005 animated short (which earned him an Oscar nomination), he asked himself, "What would be a new life-form that emerges out of the ruins of our world?" His answer: a literally ragtag group of sentient creatures made from "bits and pieces of leftover objects" struggling to discover why they even came into existence in the first place. That may seem like heavy subject matter for a cartoon. But "Lord of the Rings" veteran Elijah Wood, who voices the titular hero in Acker's new feature-length movie, thinks it's high time that animation for adults became popular with American audiences. "In Japan," Wood pointed out, "they've been making movies like this for years."
"Tyler Perry's I Can Do Bad All By Myself" (out Friday). Based on Perry's play of the same name, "I Can Do Bad" boasts an Oscar nominee (Taraji P. Henson), a multi-Grammy winner (Mary J. Blige) and a Motown legend (Gladys Knight) along with Madea, Perry's famed comedic alter ego, whose presence in four of his films helped them gross a total of $246.4 million domestically. Henson plays a drunk, selfish lounge singer who learns to love only after being forced to confront her fears when her niece and two nephews, as well as an attractive immigrant ("CSI: Miami's" Adam Rodriguez), show up on her doorstep.
"Whiteout" (out Friday). Kate Beckinsale heads to Antarctica in this thriller.
TV
"Glee" series debut (9 p.m., Wednesday, Fox). It's been four months since Fox teased us with a sneak peek at "Glee," so to recap: Gung-ho Spanish teacher Will Schuester (Matthew Morrison) decided to revive the glee club at McKinley High, recruiting a squad of misfits-with-a-dream; villainous cheerleading coach Sue Sylvester (Jane Lynch) tried to stand in his way; there was a killer rendition of Journey's "Don't Stop Believin' "; and we totally swooned. Now, we celebrate the fact that the summer's never-ending reality blight has at last been washed away by the cooling rains of scripted television -- something worth singing about, for sure.
"King of the Hill" series finale (8 p.m., Sunday, Fox). How do the Hills say goodbye after 13 seasons? With Bobby getting a job as a raw-meat inspector. It's like Ross and Rachel getting together, but with salmonella.
"True Blood" finale (9 p.m., Sunday, HBO). The killer season sadly comes to an end, with Sookie somehow playing a role in nutjob Maryann's sacrifice ceremony. Now on to a more important dilemma: how we're supposed to survive an entire hiatus without Eric.
DVD
"Harper's Island: The DVD Edition" (out Tuesday). The whodunit of the murder mystery wasn't as cool as the hows -- e.g., sliced in half by rogue fishing gear or slowly fed into propeller blades. Harsh.
"Worst Week: The Complete Series" (out Tuesday). There are few shows more frustrating than "Worst Week." Either you love the slapsticky antics and hate when the chit-chat gets in the way, or you love the fresh, funny writing but hate when it devolves into the Three Stooges. Actually, make that one Stooge: Sam (Kyle Bornheimer) is a klutz meeting the swank family of girlfriend Melanie (Erinn Hayes). Stressed about the parents' reaction, the couple hide their engagement and pregnancy. Over-the-top mixups and high jinks ensue (some quite cute), but we wish "Week" had stuck to unexpected conversations and great characters instead. EXTRAS: An undersung Bornheimer makes the pilot commentary track more fun.
Books
"The Last Song," Nicholas Sparks (out Tuesday). Sparks' blockbuster novels are like hot buttered Orville Redenbacher for the soul: highly consumable, comforting and, by definition, pretty corny. In his latest -- already in production as a Miley Cyrus film -- 17-year-old Ronnie is forced to abandon her club-hopping Manhattan ways for a summer with her estranged father in a North Carolina beach town. The story that follows is typically Sparksian, an engaging if heavily telegraphed stew of romance, betrayal and youthful discovery, garnished with a healthy dollop of Christianity. Fans of "The Notebook," "Message in a Bottle," etc. will gobble it up with glee, right through the tear-duct-milking finale. More literary types will run screaming for the exits long before.
"Official Book Club Selection: A Memoir According to Kathy Griffin," Kathy Griffin (out Tuesday). Reading for the D-List; her new book promises the comedian "unplugged, uncensored and unafraid to dish about what really happens on the road, away from the cameras, and at the star party after the show." As if you expected anything else ...
For pop culture picks for today, click here, plus see what's new this week in movies, music, TV and more.
E-mail to a friend

CLICK HERE to Try 2 RISK FREE issues of Entertainment Weekly
Copyright 2009 Entertainment Weekly and Time Inc. All rights reserved.
All About Movies • Television • The Beatles