(Entertainment Weekly) -- Fifty years after scoring his first national hit as leader of the Miracles, Smokey Robinson is still going strong.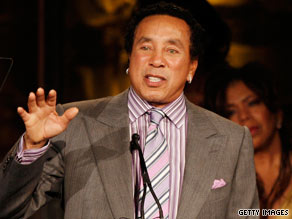 Smokey Robinson's new solo album is called "Time Flies When You're Having Fun."
His latest solo album, "Time Flies When You're Having Fun," arrives on Tuesday, and he told EW's Simon Vozick-Levinson that he "wanted to go back to the old-fashioned way of recording" with this one.
"I got a bunch of great musicians and singers, and I had them in the studio playing and singing while I was singing. Recording has become so sophisticated, man. People who play and sing on the same records don't even see each other nowadays."
Robinson wrote all the songs on "Time Flies" except for a cover of Norah Jones' hit "Don't Know Why." "I'm a song lover and a songwriter fan," he explained. "And I loved that song from the very first time I heard Norah sing it when it came on the radio. I love the content, and it has one of the greatest melodies around. I was always humming it to myself. So I just wanted to do my own rendition."
Guests on the record include Carlos Santana, India.Arie and Joss Stone, and that was no accident: "I actually wrote those songs with them in mind."
Has anything changed for one of Motown's great songwriters after 50 years? "The way I approach writing a song? Absolutely nothing's different. Every time I sit down to write a song, I'm really trying to write a song. I want to write something that if I had written it 50 years before then, it would mean something -- like some of those songs on those Miracles albums. And today it's going to mean something, 50 years from today it's going to mean something. I've always approached it that way."
Here are more EW Picks for the week of August 23:
"Humbug," Arctic Monkeys (out Tuesday). Speaking of time flying, the band that made waves when they emerged with the fastest-selling debut album in British music history in 2006 is now up to album No. 3, partially recorded with Josh Homme from Queens of the Stone Age.
"Breakthrough," Colbie Caillat (out Tuesday). The Malibu native went from being the No. 1 unsigned artist on MySpace to one of the breakout stars of 2007 with a string of hits from her highly accessible debut, "Coco." Now, she returns with album No. 2, heralded by its first single, "Fallin' for You."
"Shaka Rock," Jet (out Tuesday). Australian rockers who hit with "Are You Gonna Be My Girl" (with a little help from iPod ads) come back with their third album, led off by first single, "She's a Genius."
"Light," Matisyahu (out Tuesday). It's been three-plus years since the release of his breakthrough, "Youth," and yet Matisyahu (birth name: Matthew Paul Miller) remains the world's premiere Hasidic-Jewish reggae/dub crossover star (albeit one in a considerably limited field).
Movies
"Taking Woodstock" (limited release on Wednesday, expanding Friday). In 2007, director Ang Lee happened to meet Elliot Tiber, the accidental hero (and host) of the Woodstock festival, backstage at a TV talk show. Tiber was promoting his emotional memoir, "Taking Woodstock." "He gave me a one-minute pitch and the book. Usually I just throw them away around the corner," Lee told EW earlier this year. But after "Lust, Caution," his bleak NC-17-rated Chinese spy thriller, he says, "I was desperate to do a comedy." In adapting Tiber's book, Lee and writer-producer James Schamus downplayed Tiber's homosexual awakening during the planning of the festival -- deliberately. That decision was a relief for Comedy Central star Demetri Martin. Still, he definitely faced some acting challenges. "I cry on camera," Martin says. "I have a love scene. I kiss a guy."
"Halloween II" (out Friday). Rob Zombie returns with his second go at the story of Michael Myers, inspired by the John Carpenter horror classic. "Halloween," Zombie's first crack at reviving the franchise in 2007, grossed more than $80 million worldwide. The marketing of the film included both trick -- the trailer he wanted got shelved -- and treat: It ultimately found its way online anyway. EW: Read a Rob Zombie interview
TV
"Nurse Jackie" (10:30 p.m., Monday, Showtime). It's the end of an auspicious season 1 for the Edie Falco series, and EW's Ken Tucker already can't wait for season 2. If you haven't gotten on board yet, here's one more chance before the break to see what he calls "one of the most vivid [characters] on television." EW: More from Ken Tucker on "Nurse Jackie"
"The Rachel Zoe Project" (10 p.m., Monday, Bravo). The celebrity stylist who has dressed such painfully thin starlets as Nicole Richie, Mischa Barton, Lindsay Lohan and Paris Hilton, among others, returns for another go-round to "educate" us about fashion and the fashion business. EW: Rachel Zoe shares her must-have fashion items
DVD
"Adventureland" (out Tuesday). Jesse Eisenberg ("The Squid and the Whale") and Kristen Stewart ("Twilight") star in this how-I-spent-my-summer-vacation romantic comedy/youth-nostalgia trip set in 1987 at a Pennsylvania amusement park. In his review when the movie hit theaters, EW's Owen Gleiberman lauded director Greg Mottola for having "every bit as loving and pinpoint-perfect an observational eye for the late '80s as George Lucas did for the end of the greaser era in 'American Graffiti' and Richard Linklater did for the free-ride '70s in 'Dazed and Confused.' "
"Sunshine Cleaning" (out Tuesday). Amy Adams and Emily Blunt star as crime-scene scrubbing sisters in this indie comedy that rode a wave of buzz coming out of Sundance. For EW's Lisa Schwarzbaum, they are "the silver lining in this emotionally inconsequential dramedy: [Their] truly lovely performances pierce the thoroughly artificial climate."
"Trouble the Water" (out Tuesday). At the time of its release, EW's Lisa Schwarzbaum called this documentary -- based on camcorder footage shot by aspiring rap artist Kimberly Rivers Roberts in New Orleans' 9th Ward after Katrina hit -- "essential, unique viewing: a stunning experience of the hurricane and its aftermath, rooted in immediate personal response and emotions that encapsulate the full national catastrophe."
"Thirtysomething: the Complete First Season" (out Tuesday). When the seminal yuppie drama premiered in 1987, it took flak for its characters' constant whining over such trivial matters as babysitters and breakfast rooms. But in dramatizing the mundane, the show became emblematic of a generation, and an indelible influence on future programming from "Party of Five" to "Grey's Anatomy." The generous extras (eight hours of cast commentaries, plus documentaries) reflect this obsessive ethos. Still, the indulgence is well earned: Even current thirtysomethings will relate to the series' sentiments -- if not the cast's suspenders and high-waisted pants.
For pop culture picks for today, click here, plus see what's new this week in movies, music, TV and more.
E-mail to a friend

CLICK HERE to Try 2 RISK FREE issues of Entertainment Weekly
Copyright 2009 Entertainment Weekly and Time Inc. All rights reserved.
All About Smokey Robinson • Movies • Television