(Entertainment Weekly) -- Three years ago, "Lord of the Rings" guru Peter Jackson handpicked Neill Blomkamp, then a director of music videos and TV commercials, to helm an adaptation of the video game Halo.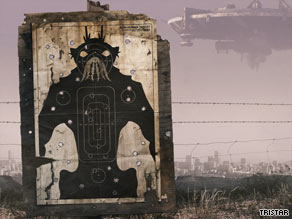 Aliens from outer space are kept penned up in a South African township in "District 9."
When a soaring budget sent that project crashing, Jackson said to himself, "OK, let's just make a cool movie from an original script," he recalls.
The result is the Jackson-produced "District 9" (out Friday), a $30 million sci-fi thriller based on Blomkamp's 2005 short film "Alive in Joburg," and the movie Entertainment Weekly dubs the must-see movie of the summer on this week's cover.
Shot docu-style with a cast of South African unknowns, the film follows extraterrestrials who land in Johannesburg in the 1980s. "They have technology and weapons that are extremely appealing to various forces," Jackson says. But when the aliens get involved in petty crime, the South African government confines them to an isolated township. "And that's where it all goes wrong," Jackson says.
The story has noticeable parallels to apartheid, but Johannesburg native Blomkamp swears the flick's not preachy. "I'm not trying to beat people over the head," he says. Nor is "District 9" a replica of "Cloverfield," another recent docu-style sci-fi thriller. "It's not somebody running around with a camera, filming everything," Jackson says. "We have a mixture of documentary and dramatized scenes." Sounds like a refreshingly alien concept. EW: Watch a clip from "District 9"
Here are more EW Picks for the week of August 9:
"The Time Traveler's Wife" (out Friday). Rachel McAdams, along with legions of heady romantics around the world, fell in love with Audrey Niffenegger's 2003 best-seller about a man who ping-pongs between time periods and the woman who would give anything for him to stay put. "I felt like this allowed us to tell a wonderful, classic love story with a very new reason to keep the lovers apart," says director Robert Schwentke ("Flightplan") of the fraught relationship between McAdams' very patient Clare and Henry (Eric Bana). Love hurts, no matter what time-space continuum you live in.
"The Goods" (out Friday). Jeremy Piven's been longing to work with filmmaker Adam McKay ("Talladega Nights") for ages, and not just because the two happen to be brothers-in-law (McKay's married to Piven's sister). "His movies are therapeutic to me," Piven says. Finally, the two unite for "The Goods," a wheeling-and-dealing comedy produced by McKay and Will Ferrell (who has a cameo) and directed by Neal Brennan, the co-creator of "Chappelle's Show." Piven plays egocentric Don Ready, a "slasher" car salesman hired by dealerships to liquidate inventory.
"Bandslam" (out Friday). Newcomer Gaelan Connell plays an indie music geek who's enlisted by his new high school's hottest rocker chick (Alyson Michalka) to whip her fledgling band into shape. Graff only cast kids who could play instruments on camera, which meant that "High School Musical's" Vanessa Hudgens had to learn the guitar. "I had calluses on my fingers at the end," she says.
TV
"Teen Choice 2009" (8 p.m., Monday, Fox). Who will reign teen-supreme when it comes time to hand out those coveted, cumbersome surfboards? It probably won't suck to be in the "Twilight" camp, which boasts 12 nominations. Of course, the "High School Musical 3" and "Gossip Girl" cliques each flaunt 10 nominations, as does Miley Cyrus, who will perform.
"Better Off Ted" season finale (9:30 p.m., Tuesday, ABC). Recently replaced "Twilighter" Rachelle Lefevre guests as a woman who's set up on a blind date with Ted. And if the date doesn't work out, Ted can always try again with Bryce Dallas Howard.
"Woodstock: Now & Then" (9 p.m., Friday, VH1). Back to the garden, yet again: Oscar-winning documentarian Barbara Kopple ("Harlan County USA") digs into the well-trod mud at Max Yasgur's farm to tell a tale that you almost certainly know. But that doesn't make it any less powerful. Kopple grounds the Woodstock myth in reality via extensive interviews with artists, organizers and -- best of all -- average attendees.
Music
George Strait, "Twang" (out Tuesday). Listening to George Strait put his hallowed voice through its paces on yet another album of immaculately recorded tracks, it's clear that "Twang" will inevitably top the country charts, yield approximately three hit singles and sell upward of a million copies -- just like the ageless Texan's done nearly every year since 1981. Why, then, is Strait's 26th studio album worth a casual fan's investigation? Because he continues to define (and refine) his genre, and he does it with such ease. For more EW music coverage, see the Music Mix blog.
DVD
"I Love You, Man" (out Tuesday). If Paul Rudd is the Olivier of awkward mensches, "I Love You, Man" is his "Hamlet" -- playing an engaged-to-be-married dork seeking a best man. When he meets loutish loose cannon Jason Segel, bromance blossoms ... as do a bouquet of wonderfully dirty ad-libbed gems. Sadly, a commentary from Rudd, Segel and director John Hamburg isn't nearly as funny as the film.
Books
"South of Broad," Pat Conroy (out Tuesday). Pat Conroy's lavishly purpled prose brought the rivers and salt marshes of South Carolina's low country to life in "The Prince of Tides." Sadly, EW book editor Tina Jordan finds that his new novel, "South of Broad," comes off as little more than a pale reworking. Though the books' plots differ, Tom and Leo face many of the same obstacles: the death of a beloved older brother, the taint of mental illness, oddball parents, the legacy of racism. But where Jordan found that "Tides' " over-the-top cadences worked, "South of Broad" is weighed down by its floridity, like Charleston itself on an oppressively humid day. For more EW books coverage, see the Shelf Life blog
For pop culture picks for today, click here, plus see what's new this week in movies, music, TV and more.
E-mail to a friend

CLICK HERE to Try 2 RISK FREE issues of Entertainment Weekly
Copyright 2009 Entertainment Weekly and Time Inc. All rights reserved.