(Entertainment Weekly) -- Oh, how the Gosselins' world has changed since June, when in their last new episode, Jon and Kate announced their separation.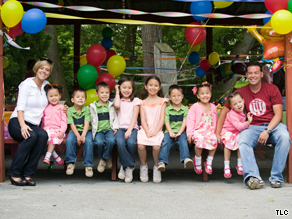 "Jon & Kate Plus 8" returns Monday night, with Jon and Kate Gosselin having split.
We all know what's been happening with the tabloid-staple parents, but how are the kids who originally inspired the show faring? That's the big question a lot of us want answered as "Jon & Kate Plus 8" makes its return (9 p.m., Monday, TLC).
The Gosselins and the producers face a unique TV challenge: Do they try to do everything they used to do, but with Jon and Kate alternating in separate activities with the children? Or do they rebuild "J&K+8" from the ground up and present a look at a divided family coping with media scrutiny? It's tricky.
At the Television Critics Association press tour session last week, TLC's president promised that the network "will continue to capture this family's journey in a sincere and sensitive way. As far as new people and places that may be cycling into Jon and Kate's lives, we're taking it on a case-by-case basis." (P.S. No more couch.)
When the stars of a show predicated on wholesomeness become mired in scandals, how does it survive and thrive? We'll all be watching to find out.
Here are more EW Picks for the week of August 2:
"America's Got Talent" (9 p.m., Tuesday, NBC). The first week of live performances. Or, as we like to think of it, the first week that producers can't edit out David Hasselhoff's comments.
"How'd You Get So Rich?" series debut (10 p.m., Wednesday, TV Land). Joan Rivers interviews self-made moguls. How long before we get the awkward "My daughter Missy is single, you know" moment?
"Psych" season premiere (10 p.m., Friday, USA). Success hasn't made this comic mystery series any more assured, writes EW's Ken Tucker: The constant jokiness of James Roday's Shawn has the tang of flop sweat, while Dule Hill's Gus still looks too smart to be hanging around with a doofus like this. The season premiere involves an art thief, some pitiful slapstick in a gallery and on skis, and jabs at "The Mentalist" as being a "Psych" rip-off. As if.
Movies
"G.I. Joe: The Rise of Cobra" (out Friday). Another movie based on a TV cartoon that's based on an action figure? "Actually, we were working on a G.I. Joe movie long before we did 'Transformers,' " Lorenzo di Bonaventura, producer of both summer tentpoles, told EW earlier this year. "And our Joe isn't based on the animated series -- it's based on the comic books that came out in 1982 and 1983." Duly noted. But the film's origins still go back to a 45-year-old 12-inch doll dressed in an American military uniform. Lead fighter Duke (Channing Tatum), team captain Hawk (Dennis Quaid), and a ninja named Snake Eyes (Ray Park) take on villains like the beautiful and treacherous Baroness (Sienna Miller) and the mysterious Cobra Commander (Joseph Gordon-Levitt).
"Julie & Julia" (out Friday). Though the movie takes its title from Julie Powell's 2005 memoir, "Julie & Julia" is based on both Powell's book and Child's posthumously released autobiography. Amy Adams costars as Powell, a frustrated New York professional who, on the eve of her 30th birthday, undertakes an absurdly ambitious culinary project. As she cooks, she imagines Child's rise to gastronomic greatness in post-WWII France. "It's almost two movies that have blended together in a dialogue," says Meryl Streep, who plays Child and appeared with Adams in last year's "Doubt." "We're in different worlds. I'm in '50s Paris and she's in 2002 Queens. I got the better deal!"
"Cold Souls" (out Friday). When writer-director Sophie Barthes handed Paul Giamatti the script for this surreal comedy at the 2006 Nantucket Film Festival, the actor was surprised to see that the project had his name all over it ... literally. With a setup that recalls "Being John Malkovich," the story's hero -- a semi-famous thespian who decides to have his soul extracted and placed in storage -- is modeled on Giamatti and shares his name. Still, the actor suspects he wasn't the first choice for the part. "[Sophie] says she based the whole thing on a dream about Woody Allen," Giamatti notes with a chuckle. "But I guess she figured she'd never get Woody Allen, so she put me in it instead."
"A Perfect Getaway" (out Friday). A vacationing couple, played by Steve Zahn and Milla Jovovich, embark on what seems like, well, a perfect getaway -- until psychopaths show up.
DVD
"Flight of the Conchords: Season 2" (out Tuesday) See what earned this HBO series a surprise Emmy nomination for Best Comedy, as well as a Best Actor in a Comedy Series nod for co-Conchord Jemaine Clement. Not bad for "New Zealand's fourth most popular guitar-based digi-bongo a cappella-rap-funk-comedy folk duo."
"The Soloist" (out Tuesday). Robert Downey Jr. is a cold newspaper columnist who grows a heart after meeting a homeless classical-music virtuoso (Jamie Foxx). No offense to the folks who inspired it, but "The Soloist" is manipulative hooey. It doesn't invite you to cry -- it bludgeons you with a box of Kleenex. Fortunately, there's a great interview with those real folks on the disc's extras.
"Harvard Beats Yale 29-29" (out Tuesday). In 1968, as Vietnam raged, two undefeated collegiate rivals met for the final football game of the season. Yale was heavily favored, cocky, and up 22-6 at halftime. What happened next was one of the flukiest and most exciting comebacks in college-sports history. Told through a mix of vintage game clips and new interviews with the graying players (including Harvard's Tommy Lee Jones), "Harvard Beats Yale 29-29" shows how competition can build character. Extras include 73 more minutes of interviews you'll want to watch.
Books
"Infinite Vice" by Thomas Pynchon (out Tuesday). The name "Thomas Pynchon" usually evokes thoughts of a reclusive genius who every few years blesses M.F.A. hipsters and Mensa applicants with intricately layered postmodern behemoths. So it might be a shock to learn that his latest book is, at a mere 369 pages, a relatively breezy work of genre fiction. But what better vehicle for Pynchon's favorite subjects (conspiracy, radical politics, trash culture) than a detective novel set in post-Manson Los Angeles, California? Our burnout hero, private dick Doc Sportello, agrees to find the new lover of his ex-girlfriend Shasta and soon gets mixed up with Thai hookers, a motorcycle gang, a surf-rock saxophonist, and a narcotics dealer named El Drano. Sleuthing the case is hardly the point of "Inherent Vice." Savor it instead for Pynchonian linguistic flights and slapstick set pieces -- and even wistfulness. The new Pynchon: a beach read and a heartstring puller. It's almost surreal.
For pop culture picks for today, click here, plus see what's new this week in movies, music, TV and more.
E-mail to a friend

CLICK HERE to Try 2 RISK FREE issues of Entertainment Weekly
Copyright 2009 Entertainment Weekly and Time Inc. All rights reserved.