(Entertainment Weekly) -- Actor Jude Law is expecting his fourth child, his spokesperson said.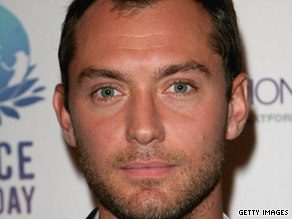 Actor Jude Law's publicist confirmed he is expecting his fourth child.
In a statement released to Entertainment Weekly and EW.com, the single actor confirmed that he will once again become a father.
"Jude Law can confirm that, following a relationship last year, he has been advised that he is to be the father of a child due in the fall of this year," the statement said.
"Mr. Law is no longer in a relationship with the individual concerned but he intends to be a fully supportive part of the child's life. This is an entirely private matter and no other statements will be made."
The statement was released exclusively to Entertainment Weekly, whose site broke the story on Wednesday.
Law, 36, has three children with ex-wife Sadie Frost.
The handsome British actor known for appearing in movies such as "Cold Mountain" and "The Talented Mr. Ripley" and headlines a few years ago after an alleged fling with his children's caregiver and a broken engagement with actress Sienna Miller.
He is scheduled to appear in "Hamlet" on Broadway in October and will star opposite Robert Downey Jr. in the movie "Sherlock Holmes" slated to open Christmas Day.
E-mail to a friend

CLICK HERE to Try 2 RISK FREE issues of Entertainment Weekly
Copyright 2009 Entertainment Weekly and Time Inc. All rights reserved.
All About Jude Law • Movies • Entertainment Weekly