By Alan Duke
CNN





LOS ANGELES, California (CNN) -- Harvey Schwartz spent the past 40 years collecting antiques, art and odd items that he rented to TV and movie studios as props and set decorations.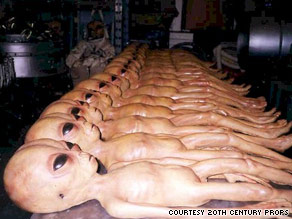 These "aliens" are among the items to be auctioned off by 20th Century Props.
During a tour of his huge North Hollywood, California, warehouse, Schwartz, owner of 20th Century Props, opened a morgue vault door, revealing the legs of a crusty corpse, built for the "X-Files" TV series.
"Fun piece," he said with a smile. "Love the sound effects."
Schwartz must now sell everything -- including a submarine, a fake nuclear warhead and Austin Powers' cryogenic chamber -- at auction because of a dramatic decline in Hollywood productions over the past year.

Watch a tour of the prop warehouse »
"I guess it would be the end of Hollywood as I know it and for everyone, because there won't be any place to get all these products again," Schwartz said.
While 2009 has been a good year at the box office, more production is leaving Los Angeles for states that offer tax incentives unmatched by California.
"It's very, very tough," said Jack Kyser, economist for the Los Angeles Economic Development Commission. "If you are doing feature film production, you are probably going to go out of state because 44 other states have been offering incentives for feature film productions. California just started their incentive program."
With companies spending less on advertising in a down economy, broadcast TV is suffering and people who make commercials have less work, Kyser said.
The writers' strike last year and the stalled actors union contract talks added to the slowdown, and it's getting even tougher for struggling young actors and writers pursuing their Hollywood dreams, he said.
"We have a slang phrase: 'There's a lot of WAMs out there: waiters, actors, models'," Kyser said. "And if you go to restaurants you see the wait staff is looking better and better all the time, physically."
Stephon Fuller, an actor who moved to Los Angeles 11 years ago, said, "It's never been this quiet for me." Still, Fuller said he expected auditions for new roles to pick up later in the summer.
On-location film shoots dropped 25 percent overall in the first half of the year, including a 50 percent loss in feature film production in Los Angeles, according to a group that helps process filming permits.
"If you are doing a feature film you have to rent equipment, you have to rent props," Kyser said "If you go out on location you have to rent a truck to take you there, you have to have a location caterer, and all these people are feeling the pain."
Schwartz, 67, started suffering last year with a 40 percent drop in business, and it has gotten worse in recent months.
"I just can't hold on any longer," he said. "I've run out of money."
An auctioneer will begin the long process of selling everything Tuesday morning.
"I talk lightly that I have 93,752 pieces under this roof, but it doesn't really strike a note until you start putting a little auction lot number on each piece or a bunch of pieces."
Potential bidders have registered from dozens of countries, and hundreds are expected to show up at the warehouse, Schwartz said.
Visitors can be overwhelmed by what they see in Schwartz' warehouse.
The largest item on the block is a 162-foot-long submarine built for "Down Periscope," a 1996 comedy starring Kelsey Grammer. It's not seaworthy -- since it actually never left a movie sound stage -- and it will be an expensive job moving it.
Complete with torpedoes, it has been used in several TV productions in recent years, Schwartz said.
The nuclear warhead John Travolta used in his 1996 film "Broken Arrow" will also be sold, along with the cryogenic tube used to preserve the Mike Myers character in "Austin Powers: International Man of Mystery," an identical tube that housed a frozen Gary Coleman and Dr. Evil's escape egg.

See photos of the items up for auction »
Fans of Beyonce can bid on the giant champagne glass the singer bathed in for her "Naughty Girl" music video in 2003. The inventory also includes a large drill used by Ben Affleck and Bruce Willis in the 1998 film "Armageddon."
A spaceship built in 1959 for a "Twilight Zone" episode and used in Will Smith's "Men in Black 2" hangs in the warehouse.
Schwartz is also selling the metal chair used to strap down a naked Natasha Henstridge in an unforgettable scene from the movie "Species."
Schwartz has also collected thousands of pieces of vintage furniture, including art deco bedroom sets and office desks that were used on movie sets.
Schwartz, who wrote a book about rattan furniture, points with pride to a set made famous by its weekly exposure on the "Golden Girls." Nearby is a rattan chair seen with Marlon Brando in "The Godfather."
Schwartz has an endless selection of vintage lamps, scones and chandeliers -- including those made for "Titanic."

"Yeah, it's all going to be sold to collectors," he said. "This is the first time in 60 years that Hollywood has had a big sale like this, where they've dissipated Hollywood props to all parts of the planet."
Schwartz shakes his head, wondering how studios will find their props if and when production gears up again in Hollywood.
E-mail to a friend