(CNN) -- Choreographer Merce Cunningham, one of the most important figures in modern dance, has died at age 90, his dance company announced Monday.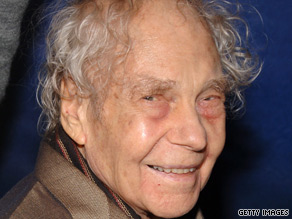 Choreographer Merce Cunningham attends a premiere in New York on October 25, 2006.
Lanky and graceful, with a shock of white hair around a balding head in his later years, Cunningham revolutionized modern dance, towering over the art form with the kind of influence that Pablo Picasso had on painting and sculpture.
He collaborated with the composer John Cage starting in 1944, after having danced with Martha Graham, a pioneer of modern dance.
He went on to form his own company in 1953 and choreographed more than 200 works in his career, including a collaboration with the bands Radiohead and Sigur Ros in 2003.
"Merce revolutionized the visual and performing arts -- not for the sake of iconoclasm, but for the beauty and wonder that lay in exploring new possibilities," said Trevor Carlson, Cunningham Dance Foundation's executive director.
"Merce saw beauty in the ordinary, which is what made him extraordinary," he said.
Carlson said Cunningham died peacefully in his home of natural causes.
Cunningham received a huge range of awards in one year, including a MacArthur genius grant, Kennedy Center Honors and the Laurence Olivier Award.
E-mail to a friend

All About Dance