(Entertainment Weekly) -- How's this for a pitch?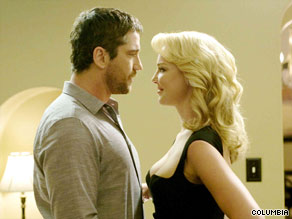 Gerard Butler and Katherine Heigl face off in "The Ugly Truth."
"There's a lot of, shall I say, flagrant banging and swearing and climaxing and squealing," director Robert Luketic says of "The Ugly Truth" (out Friday), his new film, in which sparks fly between a priggish Sacramento morning-news-show producer (Katherine Heigl) and the boorish shock jock (Gerard Butler) brought in to boost ratings.
Luketic ("Legally Blonde," "21") jumped aboard when Sony Pictures co-chairman Amy Pascal told him the studio had landed Heigl for the female lead. "I had just seen 'Knocked Up' and thought she was a breath of fresh air," he says. "You're always looking for that It Girl, and she seemed to have all the elements, with a new spin."
For the likable brute, producers kept pushing Butler. "I was skeptical," the director admits. "The guy from '300'? In a comedy with Katherine Heigl?"
So the two men went out for dinner, and Luketic says he was sold before they'd even placed their order. "I was telling jokes and long, politically incorrect stories," says Butler, who'd passed on several romantic comedies because he found them too soft. "When I saw the script, I was like, 'OK, this is me.' "
Heigl wrapped production on "Grey's Anatomy" last spring only two days before filming began, so her rehearsal process consisted of a night of drinks with Luketic and Butler at the actress' house in L.A. How was the chemistry?
"Three alpha, outrageous people," Butler says.
Here are more EW Picks for the week of July 20:
"G-Force" (out Friday). Yes, it's an elite team of guinea pigs trained to be spies for the U.S. government. "I play an FBI agent named Kip -- I can't give you the last name due to federal secrecy laws," explains Will Arnett, costar of this live-action/animated 3-D film. "I'm confused, as the audience might be, about why somebody is teaching guinea pigs how to talk. That's absurd." The project, which features the voices of Sam Rockwell, Penélope Cruz, Tracy Morgan, and Nicolas Cage, was born after first-time director Hoyt Yeatman's young son wondered if their new guinea pig could become a secret agent. An Oscar-winning effects guru ("The Abyss"), Yeatman had some concept art drawn up, and brought it to producer Jerry Bruckheimer. "I just thought they were so cute," Bruckheimer says of the characters. That's right: The most explosive producer in Hollywood has finally gone cuddly.
"Orphan" (out Friday). In the long-standing cinematic tradition of poor, helpless parents being haunted by demonic children (see also: "The Omen" and "The Exorcist"), Vera Farmiga and Peter Sarsgaard play an affluent couple who adopt a young, raven-haired Eastern European girl (Isabelle Fuhrman) into the family. Soon, the sinister child starts to wreak havoc on their idyllic lives.
TV
"Hell's Kitchen" season premiere (8 p.m., Tuesday, Fox). "Unbelievable, bloody hell, here I go again," says Gordon Ramsay during "Kitchen's" season 6 premiere, and he's all too correct, says EW's Ken Tucker. His obscenity-hurling, can't-stand-the heat shtick has become repetitive.
"Samantha Who?" series finale (8:30 p.m., Thursday, ABC). Christina Applegate's canceled sitcom burns its last episode, with Sam choosing between long-suffering Todd (Barry Watson) and rich-and-slick Funk (Billy Zane). As always, the cast is sharply comic, but as a series capper, the episode frustrates. The "What is real?" theme leaves you mulling the wiser, tougher show "Who?" could have been.
"Robot Chicken" season premiere (11:30 p.m., Sunday, Cartoon). One's enjoyment of the stop-motion cavalcade depends on how deep your geek knowledge runs. Tonight alternates between easy-to-reach pleasures (an Armageddon gag) and hardcore awesome ("The Tick's" Chairface Chippendale lying in wait for Kim Kardashian).
Music
"Battlefield," Jordin Sparks (out Tuesday). That the opening guitar line of "Walking on Snow" -- the first track on Jordin Sparks' sophomore set -- sounds like a close cousin of the riff that kicks off Kelly Clarkson's "Since U Been Gone" should come as no surprise. One couldn't blame Sparks, "American Idol's" sixth-season champ, for attempting to mirror the career trajectory of the original-flavor "Idol": a decently received debut followed up by a pop masterpiece with multiplatinum sales. "Battlefield" contains enough potential hits to keep the singer in heavy rotation until well into "Idol's" 10th season.
"Music for Cougars," Sugar Ray (out Tuesday). Mark McGrath & Co. are back after six years, and still churning out affable pop-rock for various beer-commercial activities (beach volleyball, slo-mo water-balloon fights).
DVD
"Watchmen: Director's Cut" (out Tuesday). After all the hype and years of drooling anticipation, how could "Watchmen" not disappoint? Well, at least Zack Snyder's take on the "Citizen Kane" of graphic novels kicks off right. The first 10 minutes are streamlined pop-art bliss. But then, much like the aging caped crusaders it chronicles, the middle goes all soft and flabby -- and the last thing the movie needed was an extra 24 minutes. The one place where we might want more -- the extras -- feels slight: making-of docs, a history of the "Watchmen" comic, and a My Chemical Romance video.
"Coraline: 2-Disc Edition" (out Tuesday). Just when detente seemed near at hand, animation's Cold War escalates again. By adding 3-D (which actually works in your living room) to the stop-motion technique of "Coraline" that he perfected in "The Nightmare Before Christmas," director Henry Selick has in essence said: "Your move, Pixar!" Extras include four sets of 3-D glasses and a few cool but nonessential deleted scenes.
Books
"Twenties Girl," Sophie Kinsella (out Tuesday). In the "Confessions of a Shopaholic" superstar's latest lighter-than-a-champagne-bubble caper, young Londoner Lara is haunted by the ghost of her great-aunt Sadie. The feisty, Charleston-dancing flapper can't go on to her final resting place until she finds her missing talisman, a glass-bead necklace. Kinsella writes with an ingratiating, breezy Brit wit, but in order to stretch the mystery over 435 pages, she forces her heroine to be bumbling, hysterical, and at times gratingly dense.
For pop culture picks for today, click here, plus see what's new this week in movies, music, TV and more.
E-mail to a friend

CLICK HERE to Try 2 RISK FREE issues of Entertainment Weekly
Copyright 2009 Entertainment Weekly and Time Inc. All rights reserved.