(Entertainment Weekly) -- Let's sum this up in one word: finally.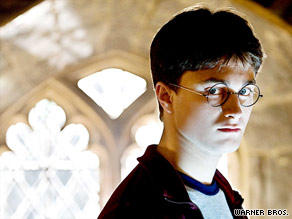 Daniel Radcliffe returns as Harry Potter in "Harry Potter and the Half-Blood Prince."
Warner Bros.' adaptation of J.K. Rowling's penultimate Harry Potter novel, "Harry Potter and the Half-Blood Prince," was originally scheduled to be released last fall, but the studio moved the flick to this summer for strategic financial reasons. Furious fans protested with petitions and pranksters mocked their outrage with viral videos, including one that cast Hitler, in his bunker scene from "Downfall," going apoplectic over the movie's delay.
But at last, the wait will be over on Wednesday. And that anger won't linger for a film Hollywood insiders expect to be one of summer's biggest hits -- not least because it's rated a family-friendly PG, whereas the last two Potter films were PG-13.
"You know the headline on this one, of course," Robbie Coltrane, a.k.a. Hagrid, told EW earlier this year, speaking of the franchise's sixth installment. SPOILER ALERT! "It's the one where Dumbledore [Michael Gambon] pops his claws." (If you're not hip to Coltrane's lingo, well ... mystery preserved.) END OF SPOILER ALERT! It's also the one where we learn Voldemort's origin story -- although there's much less of it in the movie than in the book, where Harry and Dumbledore jump into pools of liquid memory to observe the bad guy's evolution.
"Half-Blood Prince" also emphasizes Harry's relationship with Professor Slughorn (Jim Broadbent), the Potions teacher who holds a secret to Voldemort's past, plus teen-romance intrigue involving Harry (Daniel Radcliffe) and Ginny (Bonnie Wright), as well as Ron (Rupert Grint), Hermione (Emma Watson), and newcomer Lavender Brown (Jessie Cave).
"The last film was quite intense with all that battle stuff," says Grint. "This one is a lot lighter and much funnier."
Here are more EW Picks for the week of July 13:
"(500) Days of Summer" (out Friday). Chemistry is probably the make-or-break element of any movie romance, but it wasn't ever an issue for Joseph Gordon-Levitt ("Stop-Loss") and Zooey Deschanel ("Yes Man"). "I adore Zooey," beams Gordon-Levitt. "She's the most beautiful girl making art right now." Echoes Deschanel: "We kept going, 'Let's become the next Tracy and Hepburn!' " The filmmakers hope to revive the romantic-comedy genre with such tricks as split screens, animated title cards, a postcoital dance sequence and a time-twisting story line that hops non-chronologically through a relationship between a greeting-card writer (Gordon-Levitt) and his girlfriend (Deschanel).
TV
"The Wendy Williams Show" (season premiere Monday; syndicated, check local listings). Her motto may be "real, raw, and regular," but Wendy Williams is anything but regular. Standing six feet tall, she greets her audience each day with a different wig and her infectious catchphrase "How you doin'?" and then launches into an outspoken hour of celebrity gossip, advice, and interviews.
"Dark Blue" (10 p.m., Wednesday, TNT) With a grunged-up Dylan McDermott leading a team of undercover cops, "Dark Blue" tries for the broody, bang-bang action of Michael Mann's "Heat," but achieves only lukewarm clichés, writes EW's Ken Tucker. You spot all the undercover-cop tricks a mile away. To one of his team members who's a tad too enthusiastic, Carter murmurs, "There's going under and there's going over." Read Ken Tucker's commentary
2009 Major League Baseball All-Star Game (8 p.m., Tuesday, Fox) The 80th annual matchup is in St. Louis.
Music
"Leave This Town," Daughtry (out Tuesday). Chris Daughtry is not in the business of delivering musical tofu, or escarole, or any other newfangly food-type metaphor. The "American Idol" season 5 finalist is a man of straightforward meat-and-potatoes rock principle, and so far it's served him very well. The blueprint of follow-up "Leave This Town" -- chugging riffs, angsty-sensitive lyrics, here-come-the-soaring-double-tracked-choruses -- may feel utterly familiar, but it's undoubtedly what the people want.
"Horehound," The Dead Weather (out Tuesday). The first half of "Horehound," from Jack White's new band, is just weird enough to be utterly mesmerizing, a series of ominous, fuzzed-out psycho-blues riffs that climax in the tremendous Rush-meets-Jay-Z rave-up of "Treat Me Like Your Mother." But creative disintegration floods the record's latter regions. It's just enough indulgence to remind lonely, overanalytical White Stripes fans that this is a side project.
DVD
"Mad Men: Season 2" (out Tuesday). The sophomore season of AMC's '60s-era drama set out to answer a key question: Who is Don Draper (Jon Hamm)? But it was the ladies who stole the show, particularly Elisabeth Moss' Peggy Olson, who sharpened her office instincts, honing them to a delicious, brilliant point by the finale. Historical and fashion featurettes included as DVD extras add helpful context. EW: Get a guided tour of '60s style
"The State: The Complete Series" (out Tuesday). The State -- if a comedy nerd hasn't already told you in exhaustive detail -- was one of those sketch-comedy incubators of funny, with the future stars of "Reno 911!," "Wet Hot American Summer," and the new "Michael & Michael Have Issues" (premiering on Comedy Central on Wednesday). Was it good? Often, and more than any show featuring a sketch about $240 worth of pudding had a right to be.
Books
"Rain Gods," James Lee Burke (out Tuesday). Most writers who churn out roughly a book a year show the stress every now and then. Not James Lee Burke. In a rare departure from the parishes of his beloved Louisiana, he returns to the dusty flatlands of west Texas -- and Sheriff Hackberry Holland -- for only the second time since 1971's "Lay Down My Sword and Shield." Holland, who's stumbled on the burial ground of nine massacred illegal aliens, has his hands full trying to save the crime's only witness from both the FBI (which would like to use him as bait for the killer) and the killer himself.
For pop culture picks for today, click here, plus see what's new this week in movies, music, TV and more.
E-mail to a friend

CLICK HERE to Try 2 RISK FREE issues of Entertainment Weekly
Copyright 2009 Entertainment Weekly and Time Inc. All rights reserved.