By Alan Duke
CNN





LOS ANGELES, California (CNN) -- A private funeral service for actress Farrah Fawcett will be conducted Tuesday afternoon at the Cathedral of Our Lady of the Angels in downtown Los Angeles, California, according to her publicist.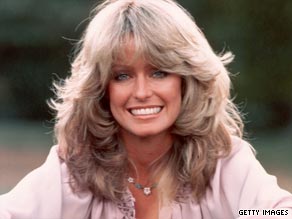 Actress Farrah Fawcett, known for her blonde mane and gleaming smile, died Thursday at age 62.
The family did not release any details about who would deliver the eulogy or how many people have been invited.
Fawcett, the blonde actress whose best-selling poster and "Charlie's Angels" stardom made her one of the most famous faces in the world, died Thursday. She was 62, and had been battling anal cancer on and off for three years.
Fawcett's beauty -- her gleaming smile was printed on millions of posters -- initially made her famous. But she later established herself as a serious actress. She starred as a battered wife in the 1984 TV movie "The Burning Bed."

Learn more about Fawcett's life and career »
She appeared on stage as a woman who extracts vengeance from a would-be rapist in William Mastrosimone's play "Extremities," a performance she reprised on film in 1986.

Other Fawcett films include "Logan's Run" (1976), "Saturn 3" (1980), "The Cannonball Run" (1981), "The Apostle" (1997) and the Robert Altman-directed "Dr. T and the Women" (2000).
But to many, Fawcett will always be best known for the poster of her in a red swimsuit, which sold an estimated 12 million copies after its release in 1976.
E-mail to a friend

CNN's Karen Bonsignore contributed to this report.
All About Farrah Fawcett • Robert Altman