By Chris Welch
CNN





MINNEAPOLIS, Minnesota (CNN) -- Drive through downtown Minneapolis these days and you're almost certain to bump into a billboard (or two or three) emblazoned with the title of Pulitzer Prize-winning playwright Tony Kushner's latest work, "The Intelligent Homosexual's Guide to Capitalism and Socialism with a Key to the Scriptures."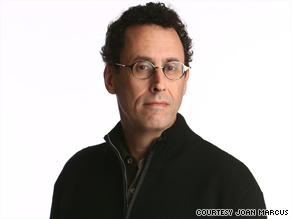 Playwright Tony Kushner's works are the focus of a three-month "celebration" at the Guthrie Theater.
"I was excited to see a bus go by a couple of months ago when I first got to Minneapolis and the only words you could make out as the bus went by were 'homosexual' and 'socialism,'" Kushner says, adding that the first thing he did when he saw it was call his husband back home in New York City.
"He said, 'Yeah, it's great -- You've come up with a perfectly shaped 14-word phrase of English that's guaranteed to give [Republican U.S. Rep.] Michele Bachmann a heart attack, and it doesn't even have an active verb in it.'"
Bachmann -- a conservative who made national headlines during last year's election when she called for an investigation into "anti-American" members of Congress (including then-presidential candidate Barack Obama) -- is a vocal critic of gay rights and supports a federal ban on gay marriages.
"So it's like ... I feel good about that," Kushner adds with a chuckle.
The billboards and buses are part of a festival thrown by the city's Tony Award-winning Guthrie Theater, which is playing host to a three-month "Kushner Celebration."
"Tony Kushner is, in my opinion, one of the world's great theater writers," says Joe Dowling, the Guthrie's artistic director. "He has the capacity to engage audiences both intellectually and emotionally in a way that very few writers have."
All three of the Guthrie's stages are being consumed by Kushner works of the past, present and -- to some degree -- the future.
Kushner's 2004 Broadway musical "Caroline, or Change," of which he wrote the book and lyrics, holds down the fort in the largest of the three houses.
"Caroline, or Change" is the story of an African-American maid in a Louisiana household. Incidentally, the boy in the house at one point has a fantasy that Caroline is the president of the United States.
"I wrote the first version of the libretto in 1997. And it never occurred to me that within 10 -- just a little bit more than 10 years -- of the writing of it that there'd actually be an African-American president," Kushner says. "It's really exciting to see ["Caroline, or Change"] post-election. I think it changes the play in a certain sense from being anticipatory to being celebratory."
Taking over the smaller studio space at the Guthrie is "Tiny Kushner" -- a compilation of five short plays, both new and old.
"The Intelligent Homosexual's Guide to Capitalism and Socialism with a Key to the Scriptures," a work commissioned by the Guthrie specifically for the celebration and one that's getting a lot of attention, is playing on the third stage.
Kushner is perhaps best-known for his Pulitzer Prize- and Tony Award-winning play "Angels in America," a two-parter about the AIDS crisis and the Reagan era, which he later adapted into a screenplay for what would become the Emmy Award-winning HBO miniseries. (On Broadway, part one premiered on Broadway in May of 1993 and part two, in November. Each won the Tony for Best Play consecutively -- one in 1993 and the other in 1994.)
Kushner, a gay man himself, is incorporating gay and lesbian themes into his work once more with "Intelligent ..." And even though GLBT issues may have taken a backseat in terms of the actual meat of the plot (Kushner says this play is about -- among other things -- death, sex, family, as well as capitalism, socialism and the Scriptures), there are a number of openly gay characters in the show, including one somewhat homophobic father.
CNN sat down with Kushner to talk about the same-sex marriage debate; "Don't Ask, Don't Tell" and the Obama administration; Prop 8; politics in theater; the Guthrie festival; another potential stop on Broadway; and the extreme deadline he faced in completing (or as he might say, since he rarely stops tweaking his works, coming as close to completing as possible) the new play.
CNN: You're a supporter of gay marriage. President Obama has only said he's in favor of civil unions -- not gay marriage. You've said in previous interviews that you think the president does believe in gay marriage --
Kushner (laughing): He's never told me personally, secretly that he believed it --
CNN: But you believe it's just because he couldn't get elected if he were to say it, correct?
Kushner: Well, I mean, yeah ... It's a lot to expect any president of the United States -- any candidate for president in 2008 -- to openly declare that he's in favor of same-sex marriage because I think that it would give people on the right a sort of handy club to wield and use gay marriage as a wedge issue. And so I accept it. I mean, I hate that we live in a world where this is the case, but I'm perfectly willing to accept that this may be a necessary compromise to make. I wish people didn't have to say, "I believe marriage is between a man and a woman" when I think they obviously don't believe that. But ya know, if that's what it takes to get elected. ...
But [gay marriage] is really not a federal issue for the executive branch. What President Obama can do is get rid of "Don't Ask, Don't Tell." That's a promise from his campaign, and he should honor that promise. Seventy or 80 percent of Americans actually support the repeal of "Don't Ask, Don't Tell" and having openly gay and lesbian soldiers serving in the military. So it's not -- it seems to me -- even that risky. So I'm assuming that'll happen soon. ...
The way that same-sex marriage should reach the federal level is that it absolutely should be decided by the Supreme Court as quickly as possible. It's a 14th Amendment issue. There's no argument about it. We are citizens of the United States. Citizens of the United States are guaranteed equal protection under the law by the 14th Amendment, and that's the end of -- as the brilliant decision by the Iowa Supreme Court just said -- it's kind of the end of the discussion. You can't treat people differently. It's unconstitutional, and we want to be given our rights as citizens. ...
We all had to put out an immense amount of money and time and energy trying to stop Proposition 8 in California to keep a group of bigots from taking away our rights. And, ya know, to have to fight this year after year state by state for a minority is clearly an insupportable burden, and I think that federal intervention should happen.

Watch Kushner talk about the political issues »
CNN: Is it fair to say that you enjoy including political issues into your work?
Kushner: I don't write political plays in the sense that I'm writing essays that are kind of disguised as plays. I would really defy anyone to watch any of my plays and say "Well, here's the point." I hope the play doesn't have that kind of a point. If I wanted to do that I'd write an essay. Something much more complicated and rich, I hope, is going on in the plays, but politics is certainly part of what they're about. I mean I think that both because we're Americans and we're supposed to be sort of caught up in our politics because we're citizens of a democracy, and also I think just in human history in general people are very political. They're very acutely aware of the way that they're being acted on by history and the way that they may or may not be able to affect history. And that's what politics is.
CNN: Why did you become interested in theater in the first place?
Kushner: It's always been an art form that I find enormously exciting. I'm a sort of political person, and I feel that there's a kind of ineradicably political dimension to theater, to all theater, whether it's overtly political or not. So it's --although I don't think finely that there's anything that counts as political activism except activism. I think I was attracted to theater because it provided the possibility of having a -- of bringing together a professional life and a political life.
CNN: Now that you've "made it," for lack of better phrase, how does this attention -- and particularly this three-month festival in your honor -- make you feel as you walk around town and your face is even plastered on buses?
Kushner: The whole sort of celebratory part of this is -- I have no means of making, of assimilating it. I have to feel like it's happening to somebody else and I have to try not to pay too much attention to it. Of course if I paid any close attention to it I would be seized by paroxysms of unworthiness and fraudulence and I don't really -- I mean, I have those anyway. I don't particularly want to spend two and a half months here feeling that way. So I try to keep most of that kind of like at a distance. But I'm very touched by it. I'm very moved by it. I feel incredibly lucky. I really enjoy it a lot. I don't like seeing pictures of myself so I go through the lobby a little bit like this. [Hands over eyes] But basically it's been very nice. And a couple of weeks ago I did the weekend -- I mean I went to see all three shows one after the other just to see what that felt like. And that was pretty cool. I mean I enjoyed it. I liked the variety of the three different evenings and I liked the way they spoke to one another in various thematic ways.
The festival contains the work that I think I'm proudest of, "Caroline, or Change," and my newest work. ... So I feel like it does what it's supposed to do, which is to show me as a writer in as many dimensions as I can be shown.

Watch Kushner discuss his new play's title »
CNN: When were you first approached by the Guthrie about the celebration and about having a new play to showcase?
Kushner: Three years ago when Joe Dowling asked me if I'd be interested in doing this three-play festival, I said yes. When he presented it he said it'll be two older plays ... and a new play. And it was three years ago and I thought, "Well, surely in three years I'll have a new play." I had just accepted the job of writing a screenplay about Abraham Lincoln with Steven Spielberg ... and I thought "Well, I'll do the Lincoln thing and that'll take half a year or something and I'll do the play." The script work on Lincoln took three years and just finished a couple months ago really. So I had much less time than I've ever had before to work on the play, and I've never scheduled a production for a play that wasn't already finished. Well, not absolutely finished but at least a first or second draft in development before I'll schedule anything for a production. But with this because of the festival we had to schedule it.
CNN: So essentially you really only had two months where you were only working on this play, correct?
Kushner: Yeah, I mean I'd sort of been thinking about it for a year beforehand, and I'd gotten to a point in the Lincoln script where I could at least devote some part of a day to thinking about it but I was immediately plunged back into re-writes for the Lincoln thing and just didn't have the mental space to start to work on a new group of characters that are very different from the American Civil War and Abraham Lincoln, so I put it on hold. But I must have been working on it in some part of my brain that I wasn't aware of because when I turned my attention to it, it began to come out fairly quickly. We cast the entire thing without any of the script being available. We designed it ... before there was a script. I don't know of anyone ever having done that before. It's kind of wild.
[Director] Michael [Greif] and I were here just a couple days ago putting in a fairly big rewrite of a big scene in act three, which we put in at night -- or in the afternoon -- and they performed it at night. I've put in since then a couple of rewrites of that rewrite, little tiny lines that I wasn't happy with. I emailed them to the actors and if they feel like they can do them, they do them and they'll sort of put them in --
CNN: As the show is running?
Kushner: Yeah, which isn't all that unusual I think in a brand new play in its first appearance.
CNN: There are plans for it to head to New York next year. Will it be on or off-Broadway?

Kushner: That hasn't been determined. I want to -- I have a lot of work to do on it. I have to really wait until I've seen it. It's a long play. It's a difficult play. It addresses numerous subjects at considerable length. And it's not going to get shorter and it's not going to get easier. Maybe it'll get longer even. I have to figure out what will be the best venue.

Watch scenes from the new play »
As far as I'm concerned, I love being on Broadway. I love those houses. ... but if my play is at the New York Shakespeare Festival, that, too, is part of American theater history and a part that I'm absolutely as proud of. I've seen more good plays, like ten times the number of good plays at the public theater than I've ever seen on Broadway ....[Broadway] is not, for the most part -- I mean there's some wonderful things like [the current musical] "Next to Normal," and then there are things that are not so wonderful. And I don't consider Broadway the acropolis of theatrical art. I mean Broadway is commercial -- that's what it is. It's expensive seats and a lot of them that have to be filled every night. Off-Broadway and off-off Broadway as far as I'm concerned is in New York the pride of New York theater."
E-mail to a friend

All About Broadway Shows