(Entertainment Weekly) -- The Mouseketeers' prerogative, it seems, is to rage against the Disney machine that made them.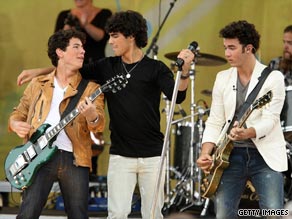 The Jonas Brothers -- Nick, Joe and Kevin -- do a little growing up on their new album.
In lieu of racy Vanity Fair photo shoots or leaked full-frontal iPhone pics, however, Jonas brothers Nick, 16, Joe, 19, and Kevin, 21, have given us their rebel yell in album form. "Lines, Vines and Trying Times" (out Tuesday) is the sound of a not-quite-quarter-life crisis, JoBros-style: heartthrob angst wrapped in glossy hooks, soaring pop-rock choruses, and (plus ca change) really great hair.
On their fourth release in as many years, the boys don't entirely topple their Tiger Beat pedestal, but with Lines' PG-13 sentiments and wailing guitars, they try hard to leave their tween-dream innocence behind. That leads, inevitably, to a few clunky metaphors: The pensive "Turn Right" compares life to NASCAR, while the admittedly addictive "Poison Ivy" equates love with -- ahem -- a bad rash.
When the album's brash lead single, "Paranoid," and the sprawling "Don't Speak" reach for a sort of baby-U2 grandiosity ("The Joshua Shrub"?), they nearly pull it off. Alas, even guest rapper Common can't save misguided bank-robber narrative "Don't Charge Me for the Crime"; it's the sonic equivalent of being held at gunpoint by a baby rabbit.
Determinedly wholesome entries like "Fly With Me" and "Keep It Real" bow dutifully to the Jonases' younger fan base, but darker bits, such as the apparent Taylor Swift dis "Much Better" ("Now I'm done with superstars/And all the tears on her guitar.... You're much better"), cut through the NutraSweet. In the end, ruminative piano ballad "Black Keys" feels the most honest; its quiet brushstrokes of teenage despair easily transcend "Lines' " misdemeanor mutinies.
Here are more EW Picks for the week of June 15:
Movies
"The Proposal" (out Friday). What would lure Sandra Bullock back to the romantic comedy genre she had left for dead after 2002's "Two Weeks Notice"? Why, the chance to be a bitch. In "The Proposal," the actress plays an evil wretch of a Canadian boss who conspires to marry her beleaguered assistant (Ryan Reynolds) in order to stay in the United States. "I wasn't doing romantic comedies because I've been so disappointed with the types of films that fall into that label," Bullock told EW earlier this year. "Then I read this one. And I got pissed because I liked it." As for the nude scene? Jokes Bullock, "I wanted to do full-frontal nudity before I turned 60, so, check." EW: Watch co-star Betty White playing beer pong with Jimmy Fallon
"Year One" (out Friday). "The two worst hunter-gatherers in a Stone Age tribe are expelled and venture out into a world they didn't know existed," says director Harold Ramis of his latest comedy, produced by his friend Judd Apatow. The lead buffoons (Jack Black and Michael Cera) embark on a journey that traces the Book of Genesis and allows them to sound off on their opposing views of religion. Kinda deep for a summer comedy, no? "I talk about these things in elevated and intellectualized ways," laughs Ramis. "But it's really just a good, dumb, broad comedy."
"Whatever Works" (out Friday). Larry David and Woody Allen seem like kindred comic spirits, but New York's most famous neurotics didn't forge lasting bonds during their previous encounters. "We didn't really strike up a lifelong friendship in my hour and a half on the set of 'Radio Days,' " jokes David, who played "Communist Neighbor" in Allen's 1987 film. "Curb Your Enthusiasm" fans will recognize David's character, an arrogant misanthrope named Boris, "although this guy's a much bigger nut," says David. "This guy confronts people for no reason whatsoever."
TV
"HawthoRNe" series debut (9 p.m. ET, Tuesday, TNT). Jada Pinkett Smith and Michael Vartan are both good actors, and "HawthoRNe" creator John Masius helped oversee "St. Elsewhere," so EW's Ken Tucker is disappointed that what he's seen of the series so far is mostly mawkish and predictable. Pinkett Smith's head nurse Christina Hawthorne is tough but compassionate; Vartan's a nice-guy chief of surgery.
"The Unusuals" series finale (10:01 p.m., Wednesday, ABC). Farewell to the oddball cop show EW's Ken Tucker championed during its short run for its shaggy-dog storylines and fine ensemble acting, "a little bit of 'NYPD Blue' crossed with 'Barney Miller.' "
"Raising Sextuplets" (WE tv, Thursday, 10 p.m.) It's easy to cringe at WE's attempt to hop on the multiples-show bandwagon. Or their efforts to put forth husband and wife Bryan and Jenny Masche as the anti-Jon & Kate (bearlike Bryan's major complaint about perky Jenny is that she sugarcoats her nagging). But it's also impossible not to adore this couple: They end their fights in giggles, let their 1½-year-old kids play in the mud, own a small messy house, and, in this episode, try to save a tree. If that's not refreshing enough, they make out. A lot.
DVD
"Burn Notice: Season 2" (out Tuesday). Good season? Well, it began with Michael (Jeffrey Donovan) being drafted by the folks who shafted him and ended with him jumping out of a helicopter and his mom's house going boom. So yeah, good season.
"Transformers: The Complete First Season 25th Anniversary Edition" (out Tuesday). The animated TV series' first season was just as complex -- and hard to resist -- as the race-cars-morphing-into-robot toys, asking viewers to follow the war between the Autobots, led by Optimus Prime (Peter Cullen) and aided by the human Witwicky clan, and the evil Decepticons, who followed the Autobots to Earth. Purists will appreciate the extras, including a printable script and an origins doc.
Books
"In the Kitchen," Monica Ali (out Tuesday). Monica Ali -- short-listed for Britain's Booker Prize for her first novel, "Brick Lane" -- returns with the tale of Gabe Lightfoot, head chef at London's once-posh Imperial Hotel. Lightfoot, the veteran of many a restaurant kitchen, choreographs a cacophonous staff of immigrants (Indians, Filipinos, Russians; some legal, some not) in a loud and lively daily performance. Lightfoot isn't endearingly scrappy, like Nazneen, the Bangladeshi immigrant of "Brick Lane"; he's harder to crack. But once you get past his calloused, scarred exterior, you'll find him just as mesmerizing.
"L.A. Candy," Lauren Conrad (out Tuesday). The first in a planned three-book, young adult fiction series, loosely based on the author's own transformation into a "reality" TV star (on MTV's "The Hills") and fashion designer.
For pop culture picks for today, click here, plus see what's new this week in movies, music, TV and more.
E-mail to a friend

CLICK HERE to Try 2 RISK FREE issues of Entertainment Weekly
Copyright 2009 Entertainment Weekly and Time Inc. All rights reserved.