By Todd Leopold
CNN





(CNN) -- Go ahead, mock him.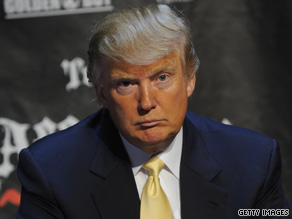 Donald Trump has shrewdly used the news media to his advantage.
Assault his buildings as ugly and ostentatious. Gossip about his fortunes. Criticize "The Apprentice." Pick at the hair. (You know you love to hate the hair.)
But love him, loathe him, try to forget about him, he's Donald Trump, and he will prevail -- in the media, if not always in the hearts of his countrymen.
Consider the latest entry in the very public life of America's most public billionaire. On Wednesday, Carrie Prejean, better known as Miss California USA and the runner-up in the Trump-owned Miss USA pageant, was summarily dismissed from her post, which she was allowed to keep at a much-watched Trump news conference just last month.

Watch why Trump decided to can Carrie Prejean »
Though few Americans watch beauty pageants, and probably even fewer can name the actual Miss USA (it's Kristen Dalton, if you want to know), the tale of the beauty queen and the billionaire somehow captured the public's imagination.

Watch Larry King talk about the firing of Prejean with guests »
Even if Prejean played no small part in the proceedings -- it was her response to a pageant question about same-sex marriage that launched her into the media frenzy -- score another win for the shrewd Trump, who brought more attention to the pageant he owns.

See timeline of Trump's more-publicized moments »
And, by extension, his most important brand: Donald J. Trump.
The real estate magnate may have a talent in cutting deals, but The Donald's real prowess is in publicity. He's a regular in the New York media, which reports breathlessly on his social life (and occasionally on his business life). He's leveraged his name for a TV show, a clothing line, a host of high-rent skyscrapers and occasionally dabbles in public affairs. His "Apprentice" message to cut contestants, "You're fired," became a catchphrase.
Don't Miss
Sometimes all the hubbub glorifies him: He made the cover of the New York Post during a very public (of course) affair with an actress -- Marla Maples, later his wife -- with the Maples-quoted headline, "Best sex I ever had."
Other times it makes him look petty. Trump had a running battle with the bible of boom-and-bust fin de siecle New York, Spy magazine, which regularly referred to him as a "short-fingered vulgarian" and delighted in his missteps.
"He would send us these letters ... on this stationery you could kill a duck with," Spy co-founder Kurt Andersen told CNN.com in 2006. "It was amazing. He was perfect. [It] was like Sherlock Holmes and Moriarty -- we needed each other."
The Trump media chronicles are long and circuitous, but they're usually sustained by three things: Trump's money, Trump's women and Trump's feuds.
The feuds, in particular, are many.
Aside from Spy, Trump has famously battled with Rosie O'Donnell and Martha Stewart, not to mention a variety of politicians and journalists. After O'Donnell criticized him as a "snake-oil salesman" following his retention of Miss USA Tara Conner (again with the controversial beauty queens!), Trump told People magazine, "Rosie's a loser. A real loser. I look forward to taking lots of money from my nice fat little Rosie." Though the dispute eventually calmed down, it was never really settled.
As for Stewart, Trump lashed out at his friend over the performance of Stewart's "Apprentice." "I knew it would fail as soon as I first saw it -- and your low ratings bore me out," he said.
Trump also has constantly questioned the value Forbes magazine assigns to his fortune. When the magazine, in its annual list of the world's wealthiest people, gave his 2008 net worth as $3 billion, he shot back, "I'm worth $7 billion."
And then there's the pageant business. Trump owns the Miss Universe pageant, parent of Miss USA. Though ratings have been uneven in the U.S., pageants are still popular in other countries, giving Trump an edge over competitor Miss America. (He planted a knife, defending his NBC-aired pageant's "tough questions" during last month's Prejean news conference: "We don't want to be in a position that Miss America is in that they're now on a small cable channel.")
In late 2006, after reports arose of Conner's drinking and possible dethronement, Trump stood by her: "I've always been a believer in second chances," he said at a news conference.
Similarly, Trump defended Prejean after her outspokenness and some racy pictures -- before approving her departure Wednesday. Interestingly, the axing was handled quietly: There was no news conference, and Prejean and her attorney said they were caught off guard.
Not everyone likes the media crush Trump brings with him. Maples, in particular, tried her best to avoid it. "The press coverage was a destructive force in my life. It was destructive to our relationship. It was like a fire," she told New York magazine.
Trump, on the other hand, has no problem playing with matches.

"I'm not running for office. I don't have to be politically correct. I don't have to be a nice person," he once said.
All he has to do is be Donald Trump.
E-mail to a friend

All About Donald Trump