(Entertainment Weekly) -- The 1974 subterranean thriller "The Taking of Pelham One Two Three" isn't what anyone would call an untouchable classic. If it's remembered for anything, it's for the hangdog Walter Matthau's garish shirt/tie combinations and the squalor of New York's subways.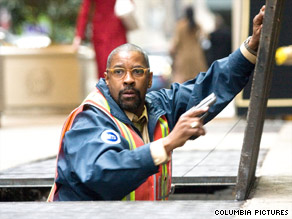 Denzel Washington plays a New York subway supervisor in "The Taking of Pelham 123."
But for anyone who is protective of the original, the good news is that the high-profile update (out Friday) stars Denzel Washington (stepping into Matthau's civil-servant shoes ... and '70s shirt and tie) and John Travolta as a hostage-taking wack job who paralyzes the city's underground transit system by taking a train and its passengers prisoner.
"In the original, the ransom was $1 million and there was no real motive," says director Tony Scott. "In ours, John has a reason. He's just out of jail, his life's been ruined, and he wants to humiliate and take revenge on the city of New York. Also, this time he's asking for a lot more than $1 million."
Besides adjusting for inflation, Scott says that he did everything he could to elevate the film from being just another summer popcorn flick (about which the man behind "Top Gun" and "Crimson Tide" knows plenty). For starters, he intentionally kept his cat-and-mouse thriller's cat and mouse apart.
"I think Denzel and John shook hands once at the beginning of the shoot and didn't see each other until the end of the movie," he said.
Also, Scott introduced his stars to a pair of real-life New Yorkers to model their characters on: For Washington, it was a 65-year-old Albanian Metropolitan Transit Authority worker; for Travolta, a city worker sent to jail in the '90s during a parking-violations scandal.
Strange as it may seem with roughly 80 movies between the two Hollywood giants, Washington and Travolta had never worked together until this film. So how did it go?
"John's a legend," says Washington. "He gets to have all the fun. I'm the straight man. I set them up, he knocks 'em down." All aboard!
Here are more EW Picks for the week of June 8:
"Imagine That" (out Friday). A finance exec (Eddie Murphy) forms a closer bond with his daughter (Yara Shahidi) after she begins to give him astute stock advice via her imaginary friends.
TV
"Nurse Jackie" series debut (10:30 p.m. Monday, Showtime). Whether she's snorting ground-up Percocet tablets or flushing a man's severed ear down a toilet, Edie Falco brings a genial forcefulness to "Nurse Jackie," the latest bit of cutting-edginess from Showtime, a new series that could have come off as jaded or self-satisfied were Falco not anchoring it with such firm authority, says EW's Ken Tucker. She plays Jackie Peyton, a veteran ER nurse who's deeply cynical about the doctors she works with and openheartedly kind to the patients in her care.
"Weeds" season premiere (10 p.m. Monday, Showtime). Remember the good old days, when the biggest problem Nancy (Mary-Louise Parker) faced was keeping her suburban pot business from her DEA boyfriend? Laughably low stakes compared to what she's dealing with now: She's pregnant with a Mexican drug lord's baby. Granted, there's a plus side -- her unborn child is likely to save her life even though she's ratted out her baby-daddy's operation to the feds. Kudos to "Weeds" for not shying away from the dark side of drug dealing, and for somehow making a most unredeemable group of characters all the funnier that way.
"True Blood" season premiere (9 p.m. Sunday, HBO). When Alan Ball's series about Southern vampires, based on Charlaine Harris' best-selling novels, premiered last season, EW's Tucker met it with a shrug. What a difference a year makes. He's eagerly awaiting the start of the second season, having been won over watching it get better week by week, with Anna Paquin's Sookie and Stephen Moyer's vampire Bill becoming rich, complex characters, and the series ultimately finding its way as an exciting vampire tale, with lots of suspenseful, startling moments.
Music
"The E.N.D.," Black Eyed Peas (out Tuesday). As far as titles go, the words behind the Black Eyed Peas' fifth-album acronym feel downright unnecessary. The Energy Never Dies? Ever since the group's three core members transformed themselves from a middling conscious-rap outfit into the platinum hip-pop juggernaut of 2003's breakout "Elephunk," featuring lithesome onetime child star Stacy "Fergie" Ferguson, their energy has appeared to be virtually unkillable. The BEPs are -- to borrow from those other old-school greats, A Tribe Called Quest -- "devoted to the art of moving butts," and they still do it pretty well. On "Meet Me Halfway," they find pure Top 40 nirvana.
"The Eternal," Sonic Youth (out Tuesday). Long considered the indie-schmindiest of them all, Sonic Youth have, on their 16th album, returned to an actual independent label after nearly two decades. In celebration of that fact, perhaps, "The Eternal" offers a sort of survey course in SY history, careering from their early art-school atonality to the more melodically sophisticated compositions of later years. Too bad none of it looks forward; in spelunking through the past, the band seems to have forgotten to unearth anything new.
"The Ecstatic," Mos Def (out Tuesday). It's not easy being a Mos Def fan. In the decade since his exemplary solo debut, "Black on Both Sides," he's often either phoned it in or missed the mark entirely. His fourth album breaks that pattern with a decisive flourish. Mos is brimming with poetry again. "The Ecstatic" remains by far his strongest, most deeply felt work in ages.
DVD
"Woodstock: 40th Anniversary Ultimate Collector's Edition" (out Tuesday). EW's Chris Nashawaty says of this hulking, three-disc box upholstered in groovy suede fringe: If David Crosby is ever reincarnated as an over-the-top DVD gift set, you're looking at it. But get past the silly boomer chintz and director Michael Wadleigh's amazing documentary remains rock 'n' roll bliss four decades after the fact -- even if the music is the least interesting part of the film. More impressive are the 400,000 young faces, stoned and smiling in their muddy hippie Eden, who spread the good vibes and let their freak flags fly while avoiding the brown acid. Extras include never-seen performances cut from Woodstock and interviews with the filmmakers, including editor Martin Scorsese.
"Gran Torino" (out Tuesday). Call it "Dirty Harry: The Twilight Years." Clint Eastwood growls as a crotchety Korean War vet whose Detroit, Michigan, neighborhood is being overrun with Hmong immigrants from Southeast Asia. Needless to say, he ain't pleased. But when one of them, a teenage boy, is harassed and beaten, Eastwood goes all "Magnum Force," dishing out old-school payback from the business end of a shotgun. Extras include clips about classic cars, where we learn that Eastwood's first set of wheels was a '32 Chevy coupe he picked up for $25. EW: Eastwood gives a career guided tour
"The International." A badass Clive Owen teams up with a miscast Naomi Watts to take down an international arms-dealing bank run by Eurobaddies in bespoke suits. "The International" aims for "Parallax View"-style '70s paranoia, but falls a bit short, except for one jaw-dropping, 10-minute shootout scene at New York's Guggenheim Museum that's broken down on the fine extras.
For pop culture picks for today, click here, plus see what's new this week in movies, music, TV and more.
E-mail to a friend

CLICK HERE to Try 2 RISK FREE issues of Entertainment Weekly
Copyright 2009 Entertainment Weekly and Time Inc. All rights reserved.