(Entertainment Weekly) -- Friday night marks the biggest changing of the guard in late-night TV in 17 years, and the Pick of the Week: Jay Leno says his last good-night (to 11:35 p.m. ET, anyway) and gives the chair to Conan O'Brien.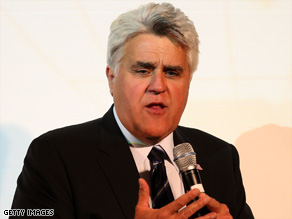 Jay Leno's final "Tonight" show airs on NBC Friday night. His primary guest: successor Conan O'Brien.
Conveniently, he's the main guest on the final night before Leno takes the summer off to prep for his nightly 10 p.m. show coming this fall.
Leading up to his farewell, the week's parade of scheduled big guests include Mel Gibson (his first TV appearance since his divorce became watercooler fodder) and musical guest Lyle Lovett on Monday; California Gov. Arnold Schwarzenegger and Dwight Yoakam on Tuesday; Wanda Sykes and Sarah McLachlan on Wednesday; and Billy Crystal (the first guest when Leno took over as "Tonight Show" host in 1992) and Prince on Thursday. James Taylor will be the musical guest on Friday.
Leno has promised that Friday night's show will have some surprises.
"I have something really unusual and different planned," he said this month. "Something really out of left field that we're going to end on ... something really personal, something that has to do with show and staff. I think it will make people smile." EW: What Leno says about the competition
OK, so not the Dancing Itos? Bobcat Goldthwait returning to set another chair on fire? Hugh Grant apologizing again? Ah, memories ...
Here are more EW Picks for the week of May 25:
"Jon & Kate Plus Eight" season premiere (Monday, TLC, 9-10 p.m. ET). After being besieged by paparazzi and spilling tales of marital discord to the press, Jon and Kate Gosselin -- TLC's most-watched parents -- will use the fifth-season opener to lament the enormous price of fame. But the show will also attempt to return to what made it so big, showing how mundane tasks like planning a birthday party are a lot harder when they involve sextuplets. Though given the family's state of affairs now, party planning seems like the least of their problems. EW: 'Jon & Kate's' growing pains
"2009 Scripps National Spelling Bee" (Thursday, ABC, 8-10 p.m. ET). Tom Bergeron may be the host of the live event, but you'll find no dancing Z-listers here. Instead, he'll be introducing a group of finalists who actually deserve our rapt attention: whip-smart kids who will one day rule the world while simultaneously spelling words like "autochthonous." A-W-E-S-O-M-E.
Movies
"Up" (out Friday): After attending the screening of the latest Disney/Pixar offering (released in 3-D) at Cannes, EW's Lisa Schwarzbaum wondered, "Why is it that the most original and most profound movie storylines these days belong to animated characters?" Its sweet plot follows a grumpy old man Carl (voice of Ed Asner) who ties thousands of balloons to his stumpy old house and floats away to adventure in South America; a 10-minute montage summarizing the courtship and long marriage of Carl (the grumpy old man) and Ellie (his wife), Schwarzbaum marvels, "has the contours of a rich novel." Read more praise of "Up"
"Drag Me to Hell" (out Friday): Director Sam Raimi delivers a wish-fulfillment horror flick for anyone feeling hammered by the recession. An ambitious bank exec (Alison Lohman) faces a tough choice: Offer a desperate old crone yet another extension on her home loan or foreclose and put her on the street. She opts for the latter, pleasing her boss but earning a curse that sics a brutal demon upon her.
"The Brothers Bloom" (expanding Friday): A con-artist movie in which the title siblings, played by a cocksure Mark Ruffalo and a morosely abashed Adrien Brody, stage lavishly orchestrated, months-in-the-making deceptions to bilk well-chosen marks out of their millions. Writer-director Rian Johnson (Brick) works almost as hard to fake out the audience. EW: "Bloom" has heart
Music
"Amanda Leigh," Mandy Moore (out Tuesday): Last time we heard from Moore, on 2007's folky "Wild Hope," she went a little too far proving she was over her teen-pop past, and the result was as snoozy as it was tasteful. Titled after the name her parents gave her, "Amanda Leigh" is much more fun, with twisty-turny melodies ("Merrimack River"); jazzy, Broadway-influenced arrangements ("Pocket Philosopher"); and one track that sounds -- improbably enough -- like "Fragile"-era Yes ("Song About Home").
"The High End of Low," Marilyn Manson (out Tuesday): Manson's tranny-android-from-Pluto routine already felt corny when he dropped his first album in 1994. Not surprisingly, "High End" finds him still prattling on about swastikas, hell and Armageddon, oblivious to how silly it all sounds. Unless you're a very impressionable 15-year-old, Manson's safe-as-milk doom metal is unlikely to leave even a superficial cut.
DVD
"The Closer: Season 4" (out Tuesday): In advance of the new season, which premieres June 8, comes the most recent series of episodes about Kyra Sedgwick's voice-like-honey, tough-as-nails deputy police chief.
Books
"The Scarecrow," Michael Connelly (out Tuesday): At the start of "The Scarecrow," Jack McEvoy, the newspaper reporter who helped nab a serial killer in Connelly's 1996 novel "The Poet," is still on the job with a not-very-good novel manuscript sitting in a desk drawer. Then comes the pink slip -- and a splashy murder case McEvoy hopes will earn him a Pulitzer-worthy scoop in his last two weeks on the job as a Bronx cheer to his bean-counting bosses.
For pop culture picks for today, click here, plus see what's new this week in movies, music, TV and more.
E-mail to a friend

CLICK HERE to Try 2 RISK FREE issues of Entertainment Weekly
Copyright 2009 Entertainment Weekly and Time Inc. All rights reserved.