NEW DELHI, India (CNN) -- The father of "Slumdog Millionaire" star Rubina Ali Wednesday claimed that authorities had razed his family's shanty in a slum demolition drive, but police said their home was not one of those knocked down.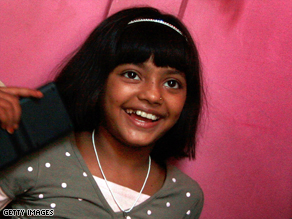 Rubina Ali's home has been spared by officials bulldozing shacks in a Mumbai slum.
Rafiq Qureshi, the father of the child star, also accused police of beating him up for questioning why they were hitting another man in his neighborhood. The assault, he alleged, took place well before the demolition drive began.
Authorities said earlier Wednesday that at least 18 shacks in part of the slum were demolished because they were illegally built.
The area, called Garib Nagar, or colony of the poor, belongs to railway authorities that carried out the demolition, said senior area inspector Rahim Sheikh. Railway officials say the slum is encroaching on their land.
Sheikh said Ali's home was not destroyed because it was not in the part of the slum covered by the demolition order.
"His (her dad's) home is inside (the slum)," he said. "It had not been touched."
Don't Miss
But Qureshi said railway authorities leveled his shanty, along with about a dozen others, while he was being treated by a doctor for injuries from the alleged police beating.

Watch an interview with child "Slumdog" star »
He said Ali and her stepmother were at home when bulldozers arrived.
Sheikh also denied that officers assaulted Qureshi. The child star's father said he had not yet filed a complaint with police.
Last week, the home of another child star in the Oscar-winning film was demolished. The shanty of Azharuddin Mohammed Ismail's family was among 20 destroyed, also due to illegal construction, authorities said.

Though the movie they starred in grossed millions, most of the child stars returned to their poor neighborhoods in Mumbai.
"Slumdog Millionaire" is the story of Jamal, an impoverished, uneducated teen who competes on an Indian game show. The movie won eight Oscars in February, including one for Best Picture.
E-mail to a friend