(Entertainment Weekly) -- There's not a lot of mystery about the Must Watch of the Week.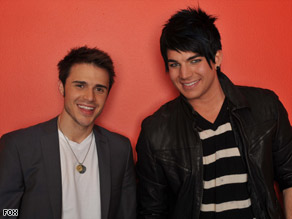 Who will become the "American Idol"? Kris Allen and Adam Lambert are in the final showdown.
On Wednesday night (May 20, Fox, 8 p.m. ET), America gets the last word on what EW's Michael Slezak happily refers to as the Best Possible Season Finale Not Involving Allison Iraheta That "American Idol's" Eighth Season Ever Could've Hoped For.
In the Dangerous Corner, we have Adam Lambert, the man who turned "Ring of Fire" into a sexually charged, sitar-infused scorcher that left "Idol" viewers either panting or recoiling (or perhaps a little bit of both) ... the man who moved Smokey Robinson to tears ... the man who, even if you can't fathom buying his music, has undeniably provided the weekly "Idol" telecast with badly needed snap, crackle and pop.
And in the Tender Corner, we have Kris Allen, the man who, armed with only his acoustic guitar, reinvented a Kanye West rap smash into an even better R&B ditty ... the man who turned his nose up at the show's standard-operating schlock and, with the unexpected choice of "Falling Slowly," reminded "Idol" viewers that soundtrack fare is not just limited to Bryan Adams, Whitney Houston and Phil Collins ... the man who's won our hearts, even though he was supposed to be cannon fodder coming into the semifinals.
The "dark," moody rocker vs. a bona fide dark horse! See their final performances Tuesday (May 19, Fox, 8 p.m.), cast your ballots and then dim the lights on Adam and Kris, side by side, waiting to see who'll be the recipient of the Eighth Annual "Idol" Confetti Shower. Read how Lambert shook up "Idol"
Cue the not-crappy-for-a-change victory song.
Here are more EW Picks for the week of May 18:
"Gossip Girl" season finale (Monday, May 18, The CW, 8-9 p.m. ET). Tonight, the gang graduates! Yes, the time-honored tradition of wearing a faded cap and gown still smelling of last year's senior.
"Dancing With the Stars" season finale (Tuesday, May 19, ABC, 9-11 p.m. ET). After the broken ribs, achy backs and injured feet, a champ will be crowned from among Shawn Johnson, Gilles Marini and Melissa Rycroft. Who, we hope, is still ambulatory.
Movies
"Terminator Salvation" (out Thursday, May 21): It's 2018, when grown-up resistance leader John Connor (Christian Bale) goes head-to-head with the self-aware and nefarious computer network Skynet. Director McG promises eye candy galore (courtesy of ILM and Stan Winston Studios), killing-machine hardware to make the nerd herd salivate and a cast that can actually, you know, act between spasms of sci-fi pyrotechnics. EW has a preview here.
"Night at the Museum: Battle of the Smithsonian" (out Friday, May 22): Ben Stiller returns and the action shifts to Washington's Smithsonian Institution in this sequel to 2006's monster hit. "The Smithsonian is 19 museums, so the scope of things that can come to life is far more diverse," promises director Shawn Levy. To keep things on a human scale, the film introduces a romance involving Amelia Earhart (Amy Adams), as well as a new villain: an evil pharaoh (Hank Azaria) bent on world domination.
Music
Eminem, "Relapse" (out Tuesday, May 19): On its jaunty first single, "We Made You," pop music's irascible answer to the Joker plays the role in Jack Nicholson's broad-strokes style: a court jester clowning his way through cheeky provocations and two-dimensional disses. But the real Marshall Mathers seems to hew much closer to the version that Heath Ledger gave us: a deeply damaged nihilist who uses humor to mask a seething hurt. Eminem's last album, 2004's "Encore," felt like Mathers at half-mast; on this lacerating, compulsively listenable follow-up, it's clear he's passed through fire. Producer Dr. Dre tempers the lyrical bloodletting, laying heavyweight hooks over even the most scabrous tales of family disturbia.
Ruben Studdard, "Love Is" (out Tuesday, May 19): The bear-huggable "American Idol" champ is in predictably fine voice on his fourth studio set, a romance-themed mix of crafty originals and sturdy covers. Yet he also takes some unexpected stylistic chances here, working with country star John Rich on a totally gorgeous rendition of Extreme's "More Than Words." The Ray Charles of "Modern Sounds in Country and Western Music" would be proud.
Tori Amos, "Abnormally Attracted to Sin" (out Tuesday, May 19): Exploring themes of religious and carnal power, she's heavy-breathing about blood and wine and saints and getting down on her knees (for nonsaintly reasons). Sometimes her brains get a little too big for her Bible: On "Mary Jane," she fails to find a rhyme for "tetrahydrocannabinol pure isomer dronabinol." But when she's banging on her piano over layers of lush electronics, she's got the rapture part down.
DVD
"Peyton Place: Part One" (1964) (out Tuesday, May 19): The country's first evening soap made stars of Ryan O'Neal and Mia Farrow. They look startlingly young, but the fact that the stories are still dishy is really shocking.
Books
"My Remarkable Journey" by Larry King (out Tuesday, May 19): It's billed as the "definitive autobiography" of the CNN host: 50 years in broadcasting, 40,000-plus interviews, eight marriages and more nights than we can count asking, "Is the caller there?"
For pop culture picks for today, click here, plus see what's new this week in movies, music, TV and more.
E-mail to a friend


CLICK HERE to Try 2 RISK FREE issues of Entertainment Weekly
Copyright 2009 Entertainment Weekly and Time Inc. All rights reserved.