By Alan Duke
CNN





LOS ANGELES, California (CNN) -- Donald Trump's decision to let Miss California USA Carrie Prejean keep her title convinced Shanna Moakler to quit as head of the pageant's California organization.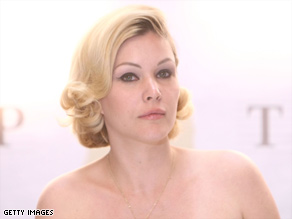 Shanna Moakler, a former Miss USA, said she "no longer believe[s]" in the pageant organization.
Moakler, a former Miss USA, said she could not stay with Trump's Miss Universe organization "when I no longer believe in it."
As the Miss California USA co-executive director, Moakler did not hide her displeasure with Prejean during the controversy over her same-sex marriage comments and the emergence of semi-nude photos.
Trump, who owns the pageant, announced Tuesday that while the photos of Prejean may have breached her pageant contract, they were not racy enough to warrant her dethronement.
Moakler, at Trump's New York news conference, hugged Prejean and said they had made peace over their differences.

Watch Prejean talk about her pride in her role »
"Since the press conference yesterday, I had a chance to think about what has taken place, and I feel that at this time it is in my best interest to resign from the Miss California USA organization," Moakler said in a statement given to CNN Wednesday.
While she did not directly refer to Trump's decision to keep Prejean, her statement did suggest she believed it changed what the pageant stood for.
"I cannot with a clear conscience move forward supporting and promoting the Miss Universe Organization when I no longer believe in it, or the contracts I signed committing myself as a youth," Moakler said.
"I want to be a role model for young women with high hopes of pageantry, but now feel it more important to be a role model for my children. I am sorry and hope I have not let any young supporters down but wish them the best of luck in fulfilling their dreams," she said.
Prejean said the most revealing of the topless photos, which were published just hours after the Trump announcement, were made without her knowledge during a modeling photo shoot. She said wind must have accidentally blown her unbuttoned top open.

iReporters sound off on controversy »
Trump said the photos were "fine."
"Some were very beautiful," Trump said. "Some were risque, but again, we're in the 21st century."
Moakler, a former Playboy centerfold, and her fellow co-executive director, Keith Lewis, lobbied Trump to dump Prejean.
They complained to him that Prejean had been out of contact and had neglected her beauty queen duties to give interviews to promote opposition to same-sex marriage.
Trump brought Moakler and Lewis together with Prejean in his New York office for several hours before his news conference Tuesday. He later declared they had cleared up their communication problems and were ready to work together.

Lewis, who is not resigning, gave CNN a statement reacting to Moakler's decision.
"Shanna has and will continue to be a large part of my life," Lewis said. " Although I am sad she has come to this decision, I will always respect the convictions, that brought her to this place."
E-mail to a friend

All About Donald Trump • Carrie Prejean