By Alan Duke
CNN





LOS ANGELES, California (CNN) -- The Miss California USA controversy is playing out like one of Donald Trump's highly rated reality shows, with viewers waiting to hear whether he'll utter his famous phrase, "You're fired!"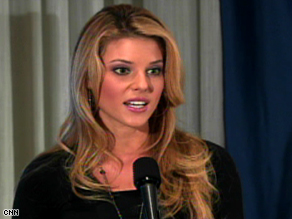 Miss California USA Carrie Prejean may lose her crown, a decision to be made by pageant owner Donald Trump.
While California pageant officials appointed Carrie Prejean's runner-up to temporarily take over her public duties, Trump, who owns the Miss Universe pageant, is set to announce Tuesday the final decision on whether Prejean will lose her crown for breaching her pageant contract.
The state organization's officials -- who appear eager to say farewell to Prejean -- have sent their recommendation to Trump for his consideration, Miss California USA Co-executive Director Keith Lewis said.
With or without a beauty queen title, Prejean said Monday, the controversy "has given me such a bigger platform" to talk about her beliefs.
The controversy began when Prejean, 21, declared her opposition to same-sex marriage in a response to a question during the national pageant stage last month. She finished as runner-up to Miss USA.

Watch organizers scold Prejean »
She quickly drew criticism for her comments, and calls for her dethronement took on renewed energy last week when photos of Prejean wearing only lingerie bottoms were published online. A pageant spokesman said the photos violated the contract she signed to be in the pageant.
Lewis, at a Beverly Hills news conference Monday, said it was not the content of the lingerie photos -- which Prejean's publicist said were taken four years ago -- that caused concern.

Watch reaction to racy photos »
"It was just the fact that it was not given to us to consider," Lewis said.
California pageant officials first soured to Prejean when she decided to support an ad campaign by the National Organization for Marriage several days before the photos emerged, he said.
She also violated her duties by recording a phone message being used by the group to solicit donations for its campaign against same-sex marriage, Lewis said.
"The turning point was when she decided that she wanted to move forward with media interviews, in spite of the fact that her message was dividing us rather than bringing us back together," Lewis said.
The pageant would "never want to take away a girl's beliefs or her voice," he said. "We try to make these women capable of being free thinkers."
"But when you wear the title that says 'I represent everyone,' you can't then polarize the people you represent," he said.
Prejean has traveled the United States to speak out against same-sex marriage instead of fulfilling her pageant duties, Lewis said.
Prejean called into San Diego radio station KMYI's "Jeff and Jer Show" on Monday morning before leaving for her meeting with Trump.
"I think that the Miss California organization is not real happy with me right now, with my views, so they're pretty much doing everything possible to get me out of there," she said.
Prejean didn't sound distressed by the controversy.
"This has given me such a bigger platform now," she told KMYI. "I actually have, you know, a purpose and a platform where I can go out and I can speak to people just about standing up for what you believe in, and not, you know, compromising your beliefs for anything."
If Prejean is "given a second chance" by Donald Trump, she would be welcomed back, Lewis said.
But, he added, state officials have not been able to reach Prejean, and she has missed scheduled appearances.

"We're saying to Carrie, 'Come on home, get back to work, if that's what you want to do," Lewis said.
Even before that decision though, Tami Farrell -- who was first runner-up in the Miss California USA pageant -- will begin making public appearances that Prejean would have attended, Lewis said. Her title, for now, is "ambassador" for the pageant.
E-mail to a friend

All About Donald Trump • Carrie Prejean