By Alan Duke
CNN





LOS ANGELES, California -- Miss California USA Carrie Prejean "breached her contract" by keeping semi-nude photos a secret and could be stripped of her beauty queen title, according to a state pageant spokesman.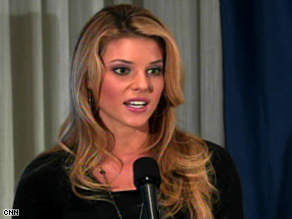 Miss California USA Carrie Prejean may lose her crown because of some semi-nude photos she appeared in.
Prejean said the photos -- taken when she was 17 and aspiring to be a Victoria's Secret model -- were being used in a "vicious and mean-spirited" effort to silence her for "defending traditional marriage."
The 21-year-old Miss USA contestant has been the center of controversy since she declared her opposition to same-sex marriage in a response to a question on the pageant stage last month.
"That answer, and my commitment to stand by my beliefs, has since resulted in attacks on me and my integrity as a woman," Prejean said in a news release dated Tuesday.
Her fate was being discussed in "closed-door meetings" Tuesday among California pageant officials, lawyers and representatives of Donald Trump, who owns the international competition, said Miss California USA spokesman Roger Neal.
"They are going over the legalities and clearly she breached her contract," Neal said. "When you compete for Miss California, you're supposed to disclose whether you posed for nude or semi-nude photos because it's grounds for disqualification.
The spokesman for Miss California USA provided CNN with a copy of the pageant contract Prejean signed last year agreeing that the discovery of semi-nude photos could mean disqualification.
"You'll see in the agreement that she signed that she clearly violated the terms of her reign as Miss California USA, but we don't expect a decision to be made today," Neal said.
One photo published Monday on a Web site -- The Dirty -- showed barely more skin than the bikini Prejean wore in the pageant's swimsuit competition. While she appears topless, she was turned away from the camera with her arm covering most of her breast.
The Web site said it had "exclusive images," suggesting there were more to be published.
"The reports say that there are more photos to come," Neal said. "We'll see what happens with those and we want to know who's releasing them."
Shanna Moakler, the co-executive director of the Miss California USA organization, will meet with Tami Farrel, the runner-up for the title, "to discuss the possible next steps."
In the news release Prejean -- who finished as runner-up in the Miss USA pageant -- defended the photos, which she said were taken when she was a teenager.
"I am a Christian, and I am a model," she said. "Models pose for pictures, including lingerie and swimwear photos."
She said the photos "have been released surreptitiously to a tabloid Web site that openly mocks me for my Christian faith."
"I am not perfect, and I will never claim to be," she said. "But these attacks on me and others who speak in defense of traditional marriage are intolerant and offensive. While we may not agree on every issue, we should show respect for others' opinions and not try to silence them through vicious and mean-spirited attacks."
Her publicist, Melany Ethridge, confirmed a comment she gave to celebrity Web site TMZ in which she said Prejean was just 17 when she posed for the photos, hoping they would land her a job model for the Victoria's Secret lingerie line.
"In her naivete, an agent convinced her to pose for this photo to submit to a lingerie company, claiming they could make her the next Victoria's Secret model," Ethridge told TMZ. "She has since learned what a lie that was, and what a mistake it was to have the photo taken."
Prejean announced last week that she would star in a new $1.5 million ad campaign supporting what she called "opposite marriage" (marriage between a man and a woman) funded by the National Organization for Marriage.
"Marriage is good," Prejean said at a news conference announcing the ad campaign. "There is something special about unions of husband and wife. Unless we bring men and women together, children will not have mothers and fathers."
E-mail to a friend

CNN's Aileen Martinez contributed to this report.