LONDON, England (CNN) -- A 47-year-old charity worker who says she has never been kissed is now a YouTube sensation after a singing performance that wowed the notoriously harsh talent judge Simon Cowell.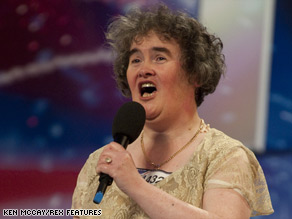 The YouTube video of Susan Boyle's performance has had more than 5 million hits.
Susan Boyle, from West Lothian in Scotland, appeared on the television show "Britain's Got Talent" last weekend with an inauspicious start.
Slightly plump and with short brown curly hair, Boyle stood somewhat uncomfortably in the middle of the stage wearing a gold lace sheath. She told the judges and the audience of the show that she was single, she lived with her cat, Pebbles, and she had never been kissed.
"I'm trying to be a professional singer," Boyle asserted, as the audience laughed. "I'm going to make that audience rock."
When she added that she wanted to be as famous as Elaine Paige, who's been called the "first lady of British musical theater," some members of the audience snickered and rolled their eyes.
But after Boyle sang the first few notes of "I Dreamed a Dream" from the musical "Les Miserables," the audience erupted in wild cheers and applause, and two of the three judges' jaws dropped.
The applause lasted the length of her performance, which ended with the crowd on its feet.
Cowell, who also serves as a judge on "American Idol" and who's known for his stinging criticism of those he deems to have no talent, said Boyle's performance was fantastic.
"I knew the minute you walked out on that stage that we were going to hear something extraordinary," he proclaimed.
His fellow judge, Piers Morgan, said it was "the biggest surprise I have had in three years on this show."
"When you stood there, with that cheeky grin, and said, 'I want to be like Elaine Paige' everyone was laughing at you. No one is laughing now. That was stunning. An incredible performance," Morgan said, adding he was reeling from shock.
Amanda Holden, the third judge, had tears in her eyes and described Boyle's singing as "a privilege to hear."
A clip of her performance on YouTube.com has had more than 5 million hits, and many fans say they were moved to tears by the story.

Boyle said after the show that she felt "bloody fantastic."
Each of the three judges voted "yes" to Boyle's return to the actual competition round of the show. The performance this weekend came during the auditions.

E-mail to a friend

All About Simon Cowell • YouTube Inc. • American Idol