LONDON, England (CNN) -- Jack Tweed, the husband of the late Jade Goody, has been jailed for 12 weeks for an assault on a taxi driver.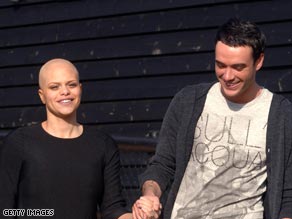 Goody was diagnosed with cancer in August 2008 while working on the Indian version of "Big Brother."
Tweed married the former British Big Brother star weeks before her death from cervical cancer.
Goody died in March after selling the rights to their wedding for nearly a $1 million to help raise money for her two sons from a previous relationship.
Tweed was given special dispensation by the government to spend the night with Goody after their wedding instead of returning home to keep his court imposed curfew.
Goody stipulated that she wanted Tweed to play a role in her boys' upbringing, though they are now living with their father, TV host Jeff Brazier.
The Harlow's Magistrates' Court heard that Tweed attacked taxi driver Stephen Wilkins following a night out in Epping in May 2008, the British Press Association reported.
Don't Miss
He attacked Wilkins while on bail for a separate offence of hitting a 16-year-old boy with a golf club. Tweed denied attacking the boy, but was jailed for 18 months in September after being found guilty following a trial.
He was released from prison on licence in January, having to wear a monitoring tag and observe a curfew.
His lawyer, Tania Panagiotopoulou, told the court that Tweed was "barely 18" at the time of the first offence, in December 2006.
She accepted this was an "aggravating" feature and had to be considered in sentencing him for his latest crime, PA reported.
Wilkins told the trial that he picked up Tweed and three other people in Epping in the early hours of May 5 last year.

He said Tweed became aggressive and grabbed him in a headlock, threatening to stab him.
Tweed told police he had been drinking all day before going to a club where he drank 10 vodka and Red Bulls plus a "couple of shots," PA reported.
E-mail to a friend

All About Celebrity News • Reality Shows • Cancer