LONDON, England (CNN) -- Thousands of well-wishers are expected to line the streets of east London Saturday for the funeral of controversial reality TV star Jade Goody.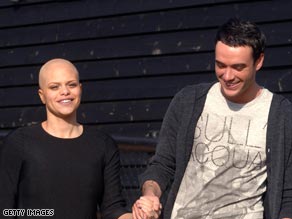 Goody was diagnosed with cancer in August 2008 while working on the Indian version of "Big Brother."
The 27-year-old lost a public battle with cervical cancer last month, prompting sympathy and headlines around the world.
Goody had burst into the spotlight in the British version of "Big Brother" in 2002 but attracted global notoriety five years later when she made racist comments -- for which she later apologized -- to Indian actress Shilpa Shetty.

See Jade Goody's rise to fame »
Saturday's procession will track the star's extraordinary rise to fame and wealth: it will start in Bermondsey in southeast London, where Goody grew up amid deprivation and drug abuse, and head to her recent home in an upmarket part of Essex before arriving for the funeral at Buckhurst Hill, on the fringes of the British capital.
Goody's two sons, Bobby, 5, and Freddie, 4, are not expected to attend the service, the Press Association reported. They are believed to have gone to Australia with their father, TV host Jeff Brazier.
Her publicist Max Clifford said the funeral would be "a very Jade Goody event. The whole service is very much the way Jade wanted it," he told the agency.
Don't Miss
Clifford echoed the words of Prime Minister Gordon Brown in praising her work raising awareness of cervical cancer. "In many years to come, there will be an awful lot of women who've got an awful lot to thank Jade Goody for," he added.
Medical officials have reported a big rise in the number of screenings for cervical cancer after Goody's diagnosis was announced live on India's version of "Big Brother" last August, a phenomenon some have dubbed the "Jade Goody effect."
Images of her shrinking frame and bald head dominated the pages of British media after she announced she had just weeks to live.
Despite her weakening state Goody continued to open her door to the media, saying she needed to keep selling her story to help secure the future of her sons.
With Clifford's help, she organized her wedding to boyfriend Jack Tweed, who had only just been released from prison after serving a sentence for assault, selling the exclusive rights to OK! magazine for a reported $970,000. It was also filmed for her reality TV show.
Clifford said Goody would be remembered as someone who "had a very, very difficult childhood, but got on and (had) taken hold of every opportunity and made it work for her, in very much her own way."

"She died knowing that she had touched a lot of hearts and minds across the world," Clifford told CNN.
He said Goody had loved her time in the spotlight. "I think they've (she and the media) exploited each other. Both have benefited. In Jade's own words, she's loved the last seven years. They've been wonderful. All the people's she's met, all the things she's done."
E-mail to a friend

All About Celebrity News • Reality Shows • Cancer