By Glen Scanlon





LONDON, England (CNN) -- Jade Goody's life and death in the limelight has played out as if it is part of another dimension.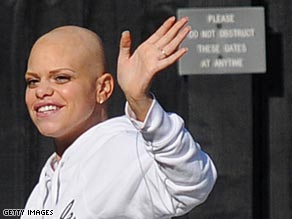 Jade Goody knew that life was fleeting and did her best to live it to the full.
While the former Big Brother contestant appeared omnipresent, particularly in Britain, in the weeks leading up to her death from cervical cancer, it is the reflection cast by her demise that is most interesting.
That, perhaps, will be Goody's legacy: her forceful honesty, the way she behaved, her success made some people feel uncomfortable but in the end many more identified with her, even learnt a lesson or two.
She had a knack for making people consider themselves -- the good and the bad.
When she first appeared on Britain's version of Big Brother in 2002 she was pilloried and attacked by the tabloid press.
She was dubbed a "pig," her former boyfriend revealed all about their sex life, the public were whipped into outrage.
Who was this lower-class uncouth bully? Who could let someone so stupid on television?
Class remains an issue in Britain, and it was easy for people to look down on Goody's background.
Her father left home when she was only two, dying of a drug overdose aged 42 in 2005.
She frequently missed school to support her disabled mother, Jackiey Budden, who lost the use of her left arm and an eye in a motorbike accident. They had a tempestuous relationship.
On the show she was just being herself: honest, overbearing, loud, angry, emotional, wanting to be liked, to be the center of attention for a while.
She frequently came across as an immature bully, but always mixed that with contrition, vulnerability and honesty.
Those qualities were to be her savior.
In the end the media and public started to look like the bad guys; the tide turned and by the time she was voted out of the house she was widely popular -- the underdog come good.
But that was to underestimate her.
Goody may have been gobby and not terribly worldly in an intellectual sense, but she was determined and without doubt charismatic.
She became a one-woman industry. And at the heart of it was her honest streak. Goody simply couldn't help herself.
There was little she wouldn't discuss -- her up and down weight being a frequent topic and the subject of her fitness DVDs.
Don't Miss
Her family problems, love life, battles with depression, the miscarriage, all were laid bare.
So what you say? Her face and stories helped sell millions of magazines and newspapers -- there was something for everyone to identify with.
Importantly, she continued to apologize for her many gaffes and was always laughing at herself.
These strengths again eventually saved her when she was accused of racism while appearing on Celebrity Big Brother in 2007.
More than 50,000 people complained to Britain's television watchdog after the incidents involving Indian actress Shilpa Shetty.
As always, Goody had little awareness of the uproar until she left the house.
She broke down while being shown the footage, sobbing her apology -- it was heartfelt.
Experts wrote her career off. But Goody, for all the tears, was remarkably emotionally robust.
She bounced back, appearing on India's version of Big Brother to make amends.
It was there, in August 2008, that she learnt of her cancer diagnosis. Nothing was ever hidden.
She promised to "smash it down." However, come February she revealed the cancer was terminal.
Goody, though, was going out with a media blitz. She promised to sell her story to the highest bidder to provide for her two boys.
She got married, had the boys christened and allowed cameras into her hospital room and home. Read blog about how media covered wedding
Thanks to the publicity the number of women going for cervical smear tests soared.
The media coverage and public reaction was mostly sentimental and sickly sweet but she brought people back to earth, discussing her pain and loss of bodily functions; death cares little about perceptions of class or intelligence.
Goody was forcing the public to consider their approach to death, but on her terms.
Many have said that her death will be like a marker for people -- the way Princess Diana's was 12 years ago.
But, frankly, that's not true.
Goody did become the representative for a group of people who are normally not heard, striking a chord with the wider public.
However, the thing about death is that time tends to ease the pain -- particularly for those who are not close family or friends.
Diana's death was followed by a huge flood of emotion, but now it has little, if any impact, on the daily lives of all but the closest to her -- and that's normal.
Goody knew this better than anyone -- that life and the memories of it become fleeting, snapshots of moments in time -- and tried to do everything she could for those closest to her before dying.

In time Goody will also be mostly forgotten, another footnote in history -- though perhaps a little longer than some.
Jade Goody's funeral will be held Saturday in St John the Baptist Church in Buckhurst Hill, Essex, just outside London. What do you think her legacy is?
E-mail to a friend

All About Celebrity News • Reality Shows • Cancer