By Todd Leopold
CNN






(CNN) -- You want monsters and aliens? Hollywood has your monsters and aliens right here.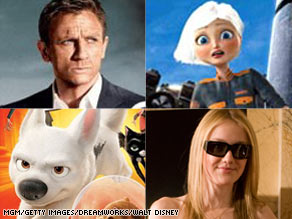 There is a wide range of films in the theater and out on DVD for you to check out this weekend.
But putting aside the popular images of certain celebrities, in this case we're talking "Monsters vs. Aliens," the new computer-animated (and, in many theaters, 3-D) film from Dreamworks.
In the film, a handful of oddball creatures -- including an almost 50-foot woman, a combination man-cockroach, and a happy blue blob -- have to save the Earth from the clutches of the evil Gallaxhar. Reese Witherspoon, Rainn Wilson, Hugh Laurie and Kiefer Sutherland, among others, lend their voices.

Watch actors discuss their animation roles »
The reviews have been mixed. CNN.com's own Tom Charity dismissed it as another unplotted Dreamworks mix of sloppy humor, while Slate's Jessica Winter believes that Dreamworks -- whose features are usually ranked a cut below competitor Pixar's -- "finally succeeds" in equaling Pixar's high standards.
Overall, as of Friday afternoon the film is receiving a 69 percent positive grade on review aggregator RottenTomatoes.com -- a passing mark, but not a rousing stamp of approval.

Watch Mr. Moviefone discuss "Monsters" »
"Monsters vs. Aliens" is the only new movie in wide release this weekend, but you can always catch up with some of the recent well-received films, including "Two Lovers" with Joaquin Phoenix, "I Love You, Man," with Paul Rudd and Jason Segel, and "Coraline."
On the DVD front, you'll have to wait for Tuesday to get ahold of this year's best picture winner, "Slumdog Millionaire." But last Tuesday saw a handful of new releases, perhaps most notably the complete "Andy Richter Controls the Universe," the unjustly neglected comedy starring the once and future Conan O'Brien sidekick.
Also just out on DVD: "Quantum of Solace," the latest James Bond film; and "Bolt," the computer-animated film about a heroic dog.
New CD releases, for the three people who still buy CDs, include the Indigo Girls' "Poseidon and the Bitter Bug," the Decemberists' "The Hazards of Love," the reissue edition of Pearl Jam's "Ten" and Martina McBride's "Shine." (All are available digitally, of course.)

Watch the Indigo Girls perform live »

And for those, like me, who plan to spend a good part of the weekend zoning out and catching up, there are two big highlights: the NCAA men's basketball tournament, which is airing on CBS, and that stack of books sitting by my bed. And on the end table. And on my desk.
You get the idea. It's a monstrous job -- but well worth alienating others over. Now, let me get settled in my chair.
E-mail to a friend