LONDON, England (CNN) -- A magazine has defended its decision to publish a "tribute" to cancer-stricken British celebrity Jade Goody even though she is still alive.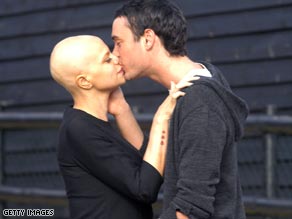 Jade Goody married her fiance Jack Tweed days after revealing her cancer was terminal.
This week's edition of OK! magazine, which went on sale in Britain yesterday, is framed with a black border, carries the banner "Jade Goody Official Tribute Issue 1981 - 2009" and features the smaller headline "In loving memory."
Goody, who first sprung to fame in 2002 on the UK's edition of Big Brother, was diagnosed with cervical cancer last year. Her condition was announced while she was on India's version of the reality TV series.
She revealed last month that the cancer was terminal.
Soon after she married long-term boyfriend Jack Tweed, selling the exclusive rights to cover the wedding to OK! for an estimated $970,000.
The 27-year-old is spending her final days at home with her family but remains the subject of fierce media interest, something she has played along with in an effort to raise money for the upbringing of her sons, Bobby, five, and Freddy, four.
OK! told the British Press Association that Goody's family had been in contact to say they thought the edition was "very kind."
"OK!'s tribute issue is a celebration of Jade's amazing life.

"Jade's family have spoken to OK! today to reiterate that they understand the tribute issue and view it as being very kind to Jade."
Do you feel uneasy about the magazine's approach to Goody's situation?
E-mail to a friend