NEW YORK (CNN) -- Radio host Don Imus has prostate cancer.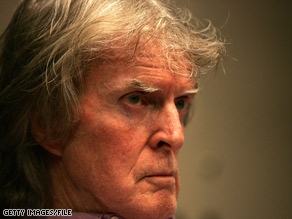 Radio shock jock Don Imus has been diagnosed with prostate cancer.
The shock jock made the announcement on his radio show Monday morning.
Imus learned of the Stage 2 prostate cancer diagnosis last Wednesday, said Laurie Cantillo, program director for WABC-AM of New York.
A bone scan indicated that the cancer has not spread, she said, and doctors believe it is fully treatable.
Stage 2 prostate cancer means the cancer can be felt on exam but has not spread beyond the prostate gland.
Imus, 68, said he's been on an organic diet for the past 10 years, avoiding meat and fish and eating mostly fruits and vegetables.
"It wasn't great, but I was surprised," Imus said after learning the results of a biopsy that was performed last Monday. He added that he plans to go to San Francisco, California, for a second opinion.
Imus said he's spoken with Sen. John Kerry and former New York Mayor Rudy Giuliani about his diagnosis. Kerry and Giuliani are both prostate cancer survivors.
Imus exuded confidence while discussing his situation. "They are predicting they can treat it. They can cure it."
Imus returned to the radio in December of 2007, months after his inflammatory remarks caused the cancellation of his morning radio show on the CBS radio network. His four-hour program is syndicated nationally by the Citadel Broadcasting Corp.
Known for decades for his outspoken comments and off-color humor, Imus sparked a public outcry with his comments in April 2007 about the Rutgers University women's basketball team. The controversy eventually led to the cancellation of his show by CBS Radio.
He called the Scarlet Knights "tough girls" and "nappy-headed 'hos" during a national broadcast a day after the team lost the NCAA championship to the University of Tennessee Lady Volunteers. He later apologized.
E-mail to a friend

All About Don Imus