(CNN) -- For nearly 60 years, the Baltimore Opera Company was a staple of the arts scene in its region. It staged world-class performances, often drew large crowds, and survived repeated downturns in the economy.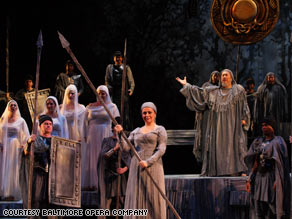 Three months after declaring bankruptcy, the Baltimore Opera Company has announced it will liquidate.
But now, three months after declaring bankruptcy, the opera has announced it will liquidate. Allan Jensen, chairman of the opera's board, said the recession "was the nail in the coffin."
"Ticket sales were off among regular contributors, and board members who had given very large gifts were finding themselves unable to do so," he said.
In addition, some Baltimore-based corporations that had sponsored the opera picked up and moved their headquarters over the past several years, he said. All combined, it was "kind of the perfect storm."
Baltimore is not alone. Around the country and around the world, numerous arts organizations have seen funding plummet. Some others have had to close their doors as well.
The National Endowment for the Arts, in a report this month, said it found that "unemployment rates for artists have risen more rapidly than for U.S. workers as a whole."
NEA officials sent CNN a list of recent closings, layoffs, and other cutbacks nationwide. It lists more than 70 groups. Among them: American Musical Theater of San Jose, California, which closed in December; Connecticut Opera, which ceased business in February; Las Vegas Art Museum, which closed at the end of February; and New York's New Dance Group, which closed in February after 77 years.
Don't Miss
Each location has its own story, and the recession is only one reason that much of the arts community is struggling.
Corporate mergers are another. "You might have had Merrill Lynch give $4,000 to an organization, and Bank of America give $4,000," J. Austin Bitner, a Baltimore singer, told CNN. "When they merged together ... you just get the $4,000 from Bank of America."
Still, in many cases, the recession was the straw that broke the camel's back.
"There's great pressure in arts organizations to justify their existence during this kind of economic downturn," Michael Kaiser, president of the John F. Kennedy Center for the Performing Arts in Washington, D.C., told CNN in December.
The NEA study released this month says unemployment among artists "would be even higher if not for the large numbers of artists leaving the workforce."
It also notes that the "job market for artists is unlikely to improve until long after the U.S. economy starts to recover."
E-mail to a friend

All About Performing Arts • Visual Arts