By Graham Flanagan

































Graham Flanagan's Top 5 Oscar Moments of 2009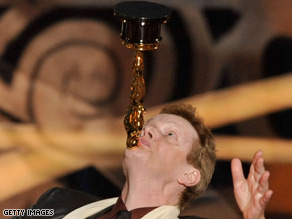 By Graham Flanagan - CNN
Monday Feb. 23, 2009
1. "Man On Wire" Magic Show
Tightrope walker Philip Petit accompanied the filmmakers who chronicled his death-defying stunt performed between the World Trade Center towers in "Man on Wire" to the stage. What followed was an endearing shout-out to best-documentary nominee Werner Herzog, a disappearing-coin trick and the coup de grace: Petit's balancing of director James Marsh's Oscar trophy on his own chin. This moment deservedly belongs on future Oscar highlight reels. Although I would have voted for Herzog' "Encounters At the End of the World," I agreed with presenter Bill Maher when he said, referring to the balancing act: "they deserve to win just for doing that!"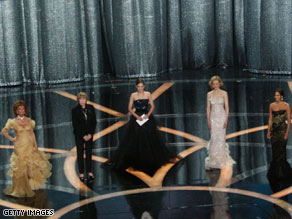 2. From Actor to Actor
This year the show's producers boldly broke away from the familiar presentation of the acting awards; instead of last year's winners presenting the statues, five previous winners in the respective categories delivered individual tributes to each of the nominees before announcing the victor. The risk paid off early on when the format literally had nearly all of this year's Supporting Actress nominees in tears during their tributes. There were some memorable combos; standouts included the quirky Christopher Walken's address to the quirky Michael Shannon and Robert DeNiro's tribute to Sean Penn (who subsequently won). One of the most moving tributes came from Kevin Kline, who delivered a touching speech honoring the legacy of the late Heath Ledger (who won). My favorite, however, was Shirley MacClaine's warm and genuine remarks to nominee Anne Hathaway. Hers was a natural, seemingly unscripted embrace that came off as though the audience was hearing a private conversation between representatives from two different generations of outstanding film acting. After having heard her cameo in the opening musical number, MacLaine encouraged Hathaway to sing more, and noted that the young actress would likely be back for future ceremonies as a nominee; no doubt one of the evening's sweetest moments.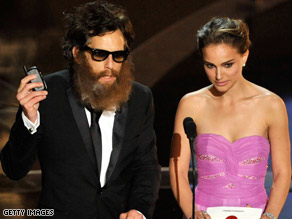 3. Burn, Hollywood, Burn
CNN Host Hugh Jackman and the presenters told jokes that seemed to be a little less political than what we've heard at ceremonies in the last few years, and more inclined to set their rather sarcastic sites on the movie industry itself. Jackman's opening musical number included a segment where he lamented not having time to see "The Reader," only to promise that he would finally see the low-grossing drama when it becomes available to rent. Jackman also went after the Academy for not recognizing the box-office behemoth "The Dark Knight" in the Best Picture category. Tina Fey and Steve Martin's presentation of the screenplay awards include jabs at the Church of Scientology's science fiction-tinged beliefs. Presenter Jack Black quipped about Dreamworks Animation's tendency to lose to Pixar in the Best Animated Feature category, saying he takes his Dreamworks paycheck and bets it on the Mouse-Housed animation studio. Bill Maher noted the exclusion of his film "Religulous" from the Best Documentary category. And perhaps the most topical inside-baseball industry-jab came courtesy of Ben Stiller when he presented the Screenplay awards while disguised as the recently disheveled version of multiple Oscar-nominee Joaquin Phoenix, who had a bizarre appearance on the David Letterman show.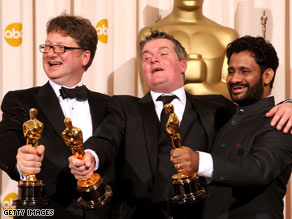 4. "The Little People"
Often the most unique and memorable moments in an Oscar broadcast arrive not during the speeches from the Leading Actors and other heavy hitters, but rather in the less-publicized yet no less-important categories like Best Sound Editing and Best Live Action Short. In the tradition of 2003 Oscar juggernaut "Return of the King," this year saw a fun parade of geeky guys with an international flair step up to accept awards in the some of the more low-profile categories due to their work in "Slumdog Millionaire". Double-winner A.R. Rahman even rattled off a joke, comparing the sense of angst he was currently feeling to that which he experienced when he got married. One of the evening's most heartfelt and poignant lines came during Resul Pookutty's acceptance speech for his sound mixing on "Slumdog" when he said "this is not just a sound award. This is history being handed over to me." Wow... pretty inspired stuff for Best Sound Editing! In a very humble gesture, "Slumdog" director Danny Boyle even remembered the "little people" in his speech when he devoted the last section to a choreographer whose name was left out of the film's closing credits. Boyle might be the first Oscar-winner to ever say the phrase "I'm an idiot" after receiving his trophy! My favorite of these moments occurred, however, when Best Animated Short Subject winner Kunio Kato ended his speech by saying "Domo Arigato, Mr. Roboto." I never thought I would hear those words uttered at the Kodak Theatre.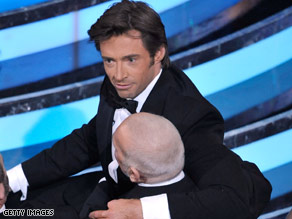 5. Go Sit in the Corner, Mr. Nixon
Astute Oscar viewers likely noticed Best Actor Frank Langella's various bouts of bad behavior seen throughout the telecast. He gets his name on the board for clearly being seen walking back to his seat as Ben Stiller and Natalie Portman present the Best Cinematography award. And he gets a check by his name for refusing to applaud during the ovation given to Hersholt Humanitarian Award-recipient Jerry Lewis. Shame on you, Mr. Langella. Now go and apologize to that showbiz legend and pay attention when Ben Stiller is doing his schtick! We won't send a note home to Langella's mom this time, however, since he was a great sport during the "Frost/Nixon" portion of Jackman's opening musical number; he even let the Aussie host sit on his lap for part of the bit.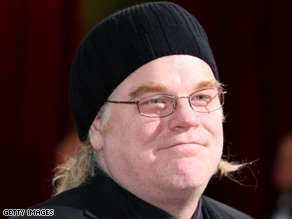 BONUS PICK:
"Seymour Philip Hoffman's" Funky Hat - Presenter Alan Arkin humorously mixed up the actor's double name during his tribute to "Doubt" co-star Philip Seymour Hoffman during the Best Supporting Actor presentation. Maybe Arkin was thrown off by the unusual skull-fitting, toboggan-esque headgear the nominee sported all the way from the red carpet into the theater. According to Entertainment Weekly, Hoffman rocked the winter-sports gear due to an unusual haircut he currently has for a movie role.




What Should Win/Will Win at the Oscars
By Graham Flanagan - CNN
Thursday Feb. 19, 2009
Best Picture - WINNER: Slumdog Millionaire
Should Win: MILK
The Academy loves to reward movies dealing with hot-button political issues. Crash (2005) dealt with race.. Gandhi with human rights... and The Best Years of Our Lives focused on the veteran's difficult post-war experience. With all of the recent controversy surrounding the issue of Gay Marriage, it would make sense for Milk to join this group of topical best picture winners. However, there's much more to this movie than its politics. Director Gus Van Sant proves yet again that he is one of the masters of his craft, and receives strong support from Sean Penn in yet another amazing performance. Overall, this is the best film in the category.
Will Win: SLUMDOG MILLIONAIRE
I can't imagine this epic pleaser of both crowds and critics not walking away with the grand prize on Oscar night. It received the lion's share of the precursor awards, including the Golden Globe and the SAG award for Best Ensemble. The only thing standing in its way is perhaps an inability to connect with older members of the Academy put off by the film's techno-infused soundtrack and instances of graphic violence.
AM Picks for Best Pic
- John Roberts: Slumdog Millionaire
- Jason Carroll: Doubt
- Carol Costello: Slumdog Millionaire
- Jim Acosta: Slumdog Millionaire
- Rob Marciano: Step Brothers
- Ali Velshi: Tropic Thunder (just for the end)
- Dr. Sanjay Gupta: Slumdog Millionaire
- Jeanne Moos: Hamster on a Piano (Youtube video)

Best Actor - WINNER: Sean Penn, Milk

Should Win: Sean Penn in MILK

It's hard to believe that Sean Penn only has one Oscar, which he brought home for Mystic River in 2004. In all honesty, he should have at least three. How he didn't win for Dead Man Walking or Sweet and Lowdown remains one of Oscar's most puzzling mysteries. Well, it's time to put another one on his shelf, and this one definitely wouldn't be any "sympathy" or "lifetime achievement award." Penn totally abandoned his grizzled, tough-guy persona to transform into Harvey Milk. So successful was he that I had to remind myself halfway through that, hey, that's Sean Penn up there!

Will Win: Mickey Rourke in THE WRESTLER

After taking home the Golden Globe, the BAFTA and a slew of other awards, Rourke definitely has the momentum heading into Oscar Sunday. We've all heard the cliché that Hollywood loves a comeback, and the Hollywood community definitely loved Rourke's performance as a self-destructive pro-wrestler on a futile quest for redemption. However, didn't Rourke already "come back" a few years ago as the Mickey Spillane-esque narration-spewing Marv in Robert Rodriguez's Sin City? Believe it or not, Rourke had a little bit of Oscar buzz for that movie, too... ah, the short attention span of Hollywood. That film and this one both prove that Rourke is genuinely talented and it wouldn't surprise me if he saw himself back in the Kodak Theatre in the near future.

Best Actress - WINNER: Kate Winslet, The Reader

Should Win: Meryl Streep in DOUBT

With fifteen Oscar nominations to her credit, the cinema community at large regards Meryl Streep as the greatest female screen actor on the planet. However, she hasn't taken home a statue since 1982, when she won for Sophie's Choice. Hard to believe, isn't it? I honestly believe that she has never deserved to win more than she has for her work as the Catholic School principal in DOUBT. She goes toe-to-toe with one of the screen's greatest male actors in Philip Seymour Hoffman and wins a few more rounds than Hoffman's character might like to admit. Streep's disappears into her embodiment of the ultra-strict Sister Aloysius, who commands the audience's respect with the same intensity as that which she inflicts on her fearful students. Streep truly earned this one.

Will Win: Kate Winslet in THE READER

Like Rourke, Winslet seems to have all the momentum, though Streep is hot on her tail. A win for Winslet would no doubt stir up its fair share of controversy since she was initially campaigning for a spot in the supporting category. Also some people might see the win as a reward for the combination of her work in The Reader as well as her unmentioned work in Revolutionary Road. Well, it's definitely a lead performance, and (contrary to the rumors) there's much more to the role than her lying around the apartment naked the whole time. Winslet truly plays against type and embodies a very stiff, almost masculine physical quality that stands out from all of her previous work. With six previous nominations and no wins, many see her as the youngest person in history to be due for a "sympathy award." That concept is somewhat ludicrous since it is actually a terrific and deserving performance. Although I'm definitely on team-Streep, it won't bother me if Winslet takes it home.

Best Supporting Actor - WINNER: Heath Ledger, The Dark Knight

Should Win: Heath Ledger in THE DARK KNIGHT

Most would agree that much of the wild box office success that met the year's biggest blockbuster should be attributed to the mystique surrounding Ledger's compelling portrayal of one of the world's most famous villains. I have to wholeheartedly agree. The movie is undeniably at its best whenever Ledger is on-screen. And whenever he isn't in the mix, it always feels as though something is lacking and you can't wait for him to return. I do feel, however, that the award should be complimented with a win for The Dark Knight in the Best Makeup category. The character design of the Joker in this film undoubtedly played a major role in motivating Ledger to go inside those dark places within his own mind in order to create such a twisted figure that will forever remain a true cinematic icon.

Will Win: Heath Ledger in THE DARK KNIGHT

Again, this is no "sympathy award." Were he still alive, Ledger would likely be the current frontrunner. His win will not only serve as a tribute to a truly memorable individual performance, but also to the legacy of one of cinema's most promising talents that was sadly taken from us during his prime.

Best Supporting Actress - WINNER: Penelope Cruz, Vicky Cristina Barcelona

Should Win: Penelope Cruz in Vicky Cristina Barcelona

Halfway through Woody Allen's ode to the Catalan way of life, Penelope Cruz arrives with the force of an F-5 tornado, turning the entire story on its ear and only enhancing what was already a fantastic piece of filmmaking. Though she has achieved relative stardom in the United States, Cruz didn't prove herself to U.S. audiences as a gifted actress until her Oscar-nominated performance in Volver made a splash in cinemas across the mainland. She works best in her native tongue, and here Allen has given her the opportunity to move seamlessly between it and the English language while in the same scene! It's this aspect of her performance that makes it truly special enough to deserve such an honor.

Will Win: Penelope Cruz in Vicky Cristina Barcelona

Cruz is the eighth actress Woody Allen has directed to a Best Supporting Actress nomination, and after Diane Weist and Mira Sorvino, she'll be the third to bring home the trophy. Hopefully she'll take a cue from double-winner Weist and work with Allen again soon so she can get in line for another Golden Boy!

E-mail to a friend