(CNN) -- On Sunday night, Barack Obama watched musical hero Stevie Wonder perform in a special concert at Lincoln Memorial to celebrate his inauguration.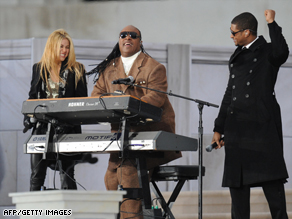 Stevie Wonder, center, performs with Shakira and Usher at a concert Sunday at the Lincoln Memorial in Washington.
The families of Obama and Vice President-elect Joseph Biden clapped in the crowd as the legendary entertainer performed his classic hit "Higher Ground" with singers Usher and Shakira.
After Wonder's performance at the pre-inauguration concert, he spoke on CNN's "Larry King Live" about his thoughts on Obama, race and the historic Inauguration Day. Wonder, 58, also will be featured on an inauguration CD. The following is an edited version of that interview:
Larry King: What was that like today?
Stevie Wonder: It was one of those days that you experience and you say, "Wow." This is an experience you will never forget. It's almost like when you walk for the first time, you go to school for the first time, or you read a book for the first time. You experience working for something that becomes a reality as a King holiday.
King: Did you ever think in your lifetime you would experience a black president?
Wonder: I did, definitely. I see the world very optimistically, and I think that I see the better of people than the worst. I have confidence far more in America than those who don't. We have to move forward to be a great country.

Watch Larry King's interview with Stevie Wonder »
Don't Miss
I've always said throughout my career, throughout the last few years of my working on the road and stuff, that we must become a united people of the United States. I know without question that President Barack Obama is a man who has that kind of spirit -- reminiscent there of King and Kennedy -- the best of some of the greater leaders in our country.
King: Did you know Martin Luther King Jr.?
Wonder: I met him when I was like 14 briefly. I was performing in Chicago, and we were about to leave to go to New York, and I had the pleasure of meeting him one Sunday early afternoon before his event.
King: Stevie, do you imagine what people look like? Do you have your own thoughts, framework of what Barack Obama is?
Wonder: Physically?
King: Yes.
Wonder: Yeah, but a lot of what I see in how a person looks is in how their character is. Obviously, there are those who can have a great look and a nasty character and vice versa, but I think he's a really handsome man.
King: What does this inauguration mean to you?
Wonder: It means a chance for America to pull it together. I think the success of this that has happened for the predominance of American people says OK, we have made our decision -- our decision and our goal. Our goal has been met. Now, I think is where the work begins -- the real commitment to making it not just that slogan that we are just one for just now. We have to really become one. Truly, we have to move to do things to help each other on every single level. If we can come together -- various people, various parties together to make this thing happen, we can have an incredible United States of America again.
King: You're an optimistic person, right?
Wonder: Yes, I am.
King: By nature?
Wonder: Being optimistic doesn't come by just being there. You've got to see both sides of it so I think I'm pretty objective. Obviously, I know the other side of the coin. I know there are haters, but I think that hating is unacceptable if we want to move forward. We have to find a common goal and a common bond. I think that we can.

King: Will you be at the inaugural?
Wonder: I will be.
E-mail to a friend

All About Stevie Wonder • Barack Obama