LONDOND, England (CNN) -- Kate Winslet's chances of winning her first Academy Award moved a step closer Thursday as she was nominated twice in the leading actress category of the British film industry's annual awards.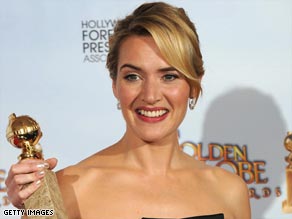 Kate Winlset has been nominated twice in the Baftas' leading actress category.
The Baftas are held two weeks before the Oscars and Winslet looks set to build on her success at the Golden Globes, where she picked up awards for "The Reader" and "Revolutionary Road."
"Slumdog Millionaire," a British film about an impoverished Indian teen who becomes a contestant on the Hindi version of Who Wants To Be A Millionaire, has been nominated for 11 Baftas after winning four Golden Globes.
"The Curious Case of Benjamin Button," featuring Brad Pitt as a man who ages in reverse, also received 11 nominations.
Other big nomination winners were the "The Dark Knight" featuring the late Heath Ledger with nine, Clint Eastwood's "Changeling" with eight and "Frost/Nixon" six.
Ledger, whose performance won a best supporting actor Golden Globe, has been nominated in the same category at the Baftas.
In the Outstanding British Film category Slumdog was joined by the award-winning "Hunger", which documents the life of IRA hunger striker Bobby Sands, the comedy/thriller "In Bruges," "Mamma Mia!" and documentary "Man on Wire."
Pitt, Slumdog's young star Dev Patel, "The Wrestler's" Mickey Rourke, "Frost/Nixon's" Frank Langella and Sean Penn for "Milk" have been nominated in the leading actor category.

Winslet faces competition from Angelina Jolie for "Changeling," Kristin Scott Thomas for "I've Loved You So Long" and Meryl Streep in "Doubt."
The February 8 Baftas will be hosted by BBC presenter and personality Jonathan Ross, who is returning to work this week after being suspended over a lewd phone call row.
E-mail to a friend