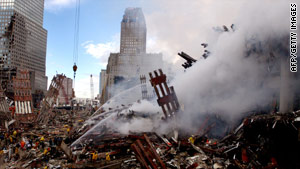 Fires still burned amid the rubble of the World Trade Center three days after the September 11, 2001 terrorist attack.
STORY HIGHLIGHTS
Attempted Christmas Day bombing of a airliner evokes 9/11 concerns
Experts question progress of the Transportation Safety Administration
The 9/11 Commission recommended that stricter technology measures be used
"I think the flying public has reason for concern," former Homeland Security official says
Washington (CNN) -- The attempted Christmas Day bombing of a commercial airliner has renewed questions of whether the recommendations of the bipartisan 9/11 Commission have been taken seriously.
In its 2004 report on the terrorist attacks of September 11, 2001, the commission warned that the Transportation Security Administration and Congress "must give priority attention to improving the ability of screening checkpoints to detect explosives on passengers."
But at most airports, travelers simply pass through magnetometers, which are unlikely to detect bomb materials on their body.
Nigerian suspect Umar Farouk AbdulMutallab, 23, is accused of trying to blow up a Northwest Airlines plane going from Amsterdam, Netherlands, to Detroit, Michigan, with explosives concealed in his underwear. The explosives failed to detonate properly.
A Government Accounting Office report from October found that TSA has an array of "10 passenger-screening technologies." But the TSA, the report indicates, "has not deployed any of these technologies to airports nationwide."

Video: Some 9/11 lessons forgotten?

Video: Obama terror statement
One solution aviation experts point to is sophisticated screening technology such as full-body scans, which are more likely to detect explosives. But those devices are years away for most U.S. airports -- though several are in operation at major airports across the country.
Larry Johnson, a former counterterrorism official in the State Department, said action taken on the commission's technology recommendations is lackluster.
Johnson said devices to trace both bulk and trace amounts of explosives, as recommended by the commission, should be operational at U.S. checkpoints.
"It wasn't done after 9/11," Johnson said. "And there's no excuse for not doing it now."
Schneier: Is aviation security mostly for show?
Johnson said that if airports have the "right security" procedures in place, "it doesn't matter whether you have an intelligence failure, that those systems will prevent the threat."
The 9/11 report states that constraining terrorist travel "should become a vital part of counterterrorism strategy. Better technology and training to detect terrorist travel documents are the most important immediate steps to reduce American's vulnerability to clandestine entry."
Clark Kent Ervin, a former inspector general at the Department of Homeland Security, said that had more sophisticated technology been in place, it "would have noticed something anomalous."
"I think the flying public has reason for concern," he said.
Another commission recommendation under the microscope: The ability to improve communications between the various intelligence agencies, such as the Central Intelligence Agency, the Federal Bureau of Investigation and local police.
There must be an improved use of "no-fly" and "automatic selectee" lists that "should not be delayed," the report stated.
Fran Townsend, a former Homeland Security adviser in the Bush administration and current CNN contributor, argued there has been "tremendous progress" toward achieving that goal with the creation of the National Counterterrorism Center.
"At the National Counterterrorism Center, you have got people from every one of these agencies sitting there together actually sharing the information," she said, adding that there are still information gaps that need to be filled.
The NCTC is under the control of Dennis Blair, director of national intelligence (DNI), a position created post-9/11.
Since the attacks on the World Trade Center and the Pentagon, intelligence agencies are "still not talking," according to Jack Rice, a former CIA officer.
A senior administration official said in a briefing Tuesday that there have been "tremendous advances" as a result of the DNI.
"And the DNI plays a fundamental role," the senior administration official said. "That was a key reform out of the 9/11 Commission."
But Rice said that instead of saying "we need to spread this [information] out and figure out what it is that we do know amongst all of these organizations, they have decided to hold on to it again. This is astounding."
President Obama, responding to the failed terrorist attack, seemingly agreed on Tuesday.
Speaking to reporters during his vacation in Hawaii, Obama said that the airport security system created after the 9/11 terrorist attacks was "not sufficiently up to date to take full advantage of the information we collect and knowledge we have."
"Had this critical information been shared, it could have been compiled with other intelligence, and a fuller, clearer picture of the suspect would have emerged," Obama said. "The warning signs would have triggered red flags, and the suspect would have never been allowed to board that plane for America."
And those warning signs were reportedly found in the latest incident in Detroit.
U.S. intelligence officials had received information signaling AbdulMutallab might be a terrorism threat but failed to take steps to prevent the man from boarding the flight.
"What already is apparent is that there was a mix of human and systemic failures that contributed to this potential catastrophic breach of security," Obama said. "We need to learn from this episode and act quickly to fix the flaws in our system because our security is at stake and lives are at stake."
Obama has ordered preliminary results of an investigation into what went wrong by Thursday.
CNN's Jim Acosta contributed to this report.