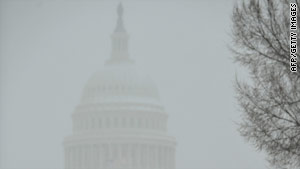 This weekend's snowstorm in Washington hasn't stalled the Senate debate to overhaul health care.
STORY HIGHLIGHTS
NEW: Senate in brief recess; expected to start back at 12:01 a.m. ET Monday
Senate begins all-day session Sunday on health care
Democrats need votes of entire caucus as they move toward vote later this week
Last Democratic holdout, Sen. Ben Nelson, agrees to back bill
Washington (CNN) -- Senate Democrats braved the aftermath of a blizzard Sunday to continue their push to pass a sweeping health care bill before Christmas.
The Senate began an all-day session, to be followed by a crucial vote scheduled for after midnight, on changes crafted by Majority Leader Harry Reid of Nevada to gain support for the bill from all 60 members of the Democratic caucus. At 11:35 p.m. ET Sunday, the Senate stood in recess. The Senate is expected to resume its legislative day at 12:01 a.m. Monday.
With Republicans unanimously opposed, Democrats need the support of their entire caucus to overcome a filibuster and move to a final vote on the bill later this week.
"We have had a long, arduous and I think sometimes taxing debate to reach this moment," said Illinois Sen. Dick Durbin, the chamber's second-ranking Democrat, to open the session. "I think it's time for a vote."
A key hurdle was cleared Saturday when the last Democratic holdout, Sen. Ben Nelson of Nebraska, agreed to support the bill in return for compromise language on federal funding for abortion and more money for his state. It was the latest in a series of deals with Senate Democrats to hold together caucus support for the bill.
iReport.com: Give your thoughts on the Senate health care bill
The House of Representatives already has passed its health care bill, and if the Senate also passes a bill, the two versions would be merged by a conference committee. Both chambers would then have to approve a final version before it goes to President Obama to be signed into law, though a House Democratic leadership source indicated Saturday that won't happen by the new year as the president had hoped.

Video: Adviser: 'We're on the one-yard line'

Video: GOP's Graham calls bill 'a sham'

Video: Journalists on health care coverage

Video: Lone Democratic holdout on board
"Once the Senate passes this bill, obviously there's work to be done," Obama's senior adviser David Axelrod on Sunday told CNN's "State of the Union." "The House has its version, the Senate has its version. They have to agree, and we're going to have to go through one more round.
In a New York Times op-ed published Sunday, Vice President Joe Biden said the bill was "not perfect," but called it "very good" because it expands coverage to those currently unable to afford or obtain health insurance while holding down the nation's spiraling health care costs.
"I've been around a long time, and I know that in Washington big changes never emerge in perfect form," Biden wrote.
Republicans, however, accused the Senate's Democratic majority of working secretly to force through a poorly conceived bill that required special deals with recalcitrant caucus members.
Sen. Lindsey Graham, R-South Carolina, said on CNN's "State of the Union" that the wheeling and dealing "personifies the worst" in how Washington operates, while Sen. Tom Coburn, R-Oklahoma, accused the Democrats of buying support.
"This process is not legislation; this is corruption," Coburn said at a news conference.
The only Republican to have voted for a health care reform plan in the Senate Finance Committee in October, Sen. Olympia Snowe of Maine, said Sunday she would oppose the measure now before the full chamber.
"I deeply regret that I cannot support the pending Senate legislation as it currently stands, given my continued concerns with the measure and an artificial and arbitrary deadline of completing the bill before Christmas that is shortchanging the process on this monumental and trans-generational effort," Snowe said in a statement.
While Reid apparently believes he has the 60 votes now to pass the Senate bill, it was unclear how senators would react to changes by a conference committee.
Nelson told "State of the Union" on Sunday that he would withdraw his support if the final bill gets changed too much from the Senate version under consideration. In particular, Nelson said he would oppose a bill that includes a government-run public health insurance option in the House version but cut from the Senate bill.
Facing criticism from both Republican opponents of health care and liberal Democrats seeking a stronger bill, Nelson said, "It's like going home and getting bit by the family dog. Who enjoys that?"
"The high intensity here is as harsh and unforgiving and unrelenting as I have ever seen it in my nine years here," he said of the health care debate.
Meanwhile, Republican Mike Huckabee, a former presidential hopeful and ex-governor of Arkansas, traveled to Nelson's home state to rally against the senator's decision to vote in favor of the bill. Speaking at an Americans for Prosperity event in Omaha, Huckabee invoked the holiday spirit, likening the health care bill to a "lump of coal" that has "fired up" the public.
"If the members of this Congress will not pay attention to the people who elected them, who hired them and who have the right to fire them, then the people in this country will remind them who they work for when they no longer get to work for them," he said.
The $871 billion Senate bill would be the largest deficit-reduction measure in a decade, Obama said Saturday.
"We are on the cusp of making health care reform a reality," the president said.
According to the Congressional Budget Office, the legislation could decrease the deficit by $132 billion over the first decade, and more than $1 trillion in the 10 years afterward, Obama said at a brief news conference.
While the House and Senate bills agree on most issues, there are significant differences over how to pay for them and how they will expand health coverage to more than 30 million uninsured Americans.
The House bill calls for an income tax surcharge on the wealthy, while the Senate version would increase the Medicare payroll tax for those earning more than $200,000 and levy a tax on insurance companies that provide expensive health plans.
Axelrod told "State of Union" that the president thinks the Senate idea to tax insurance companies that provide high-cost "Cadillac" health care coverage is worth considering.
Axelrod avoided discussing details but said that taxing the expensive insurance plans would lower their long-term costs because insurers would seek to bring down the price to avoid the tax. Obama "thinks that has some merit," Axelrod said.
Organized labor opposes taxing expensive health plans, arguing such benefits have been negotiated for workers in lieu of pay raises in a changing economy.
Axelrod noted the plan would tax insurance companies, forcing them to become more efficient. Eventually, he said, reducing the cost of employer-provided health care should mean more money to raise wages.
Some liberal Democrats criticize the Senate bill as being too weak, but Axelrod said a final health care measure passed by Congress will mean historic and far-reaching benefits for the nation.
"It is so wrong to suggest that this is somehow some kind of middling improvement for the American people," Axelrod said.