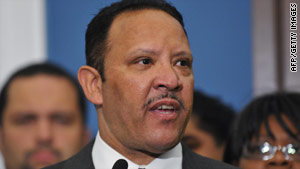 National Urban League President Marc Morial says action is needed to ensure a complete census count in 2010.
STORY HIGHLIGHTS
Civil rights leaders lobby officials to prevent undercount
U.S. plans $200 million ad campaign to get people to respond to the census
"Hard-to-count" groups include African-Americans, other ethnic minorities and immigrants
Washington (CNN) -- Civil rights leaders Wednesday lobbied Commerce Secretary Gary Locke and top Census Bureau officials to press for a better count of African-Americans in the 2010 census.
The U.S. government already plans a nearly $200 million advertising campaign aimed at getting people to respond to the census, which is used to set congressional and legislative districts and allocate federal funds. But National Urban League President Marc Morial said more needs to be done to make sure underrepresented communities are included.
"My takeaway from the meeting is that the secretary listened intently and took our concerns very seriously," Morial told reporters after the meeting. But he added, "We still feel there are important, significant steps that need to be taken to ensure that there is a complete count in the 2010 census."
Benjamin Jealous, president of the NAACP, said the 2000 census undercounted African-Americans by nearly 3 percent. He said the Census Bureau needs to hire more black managers and subcontractors so "the firms that know these communities best are calling the shots."
African-Americans make up a large proportion of what census workers call "hard-to-count" groups, which also include other ethnic minorities and immigrants, children and poor people, said Corrine Yu, senior counsel and managing policy director for the Leadership Council on Civil Rights. In addition, many of those communities show a "general distrust of government" that has hindered participation, she said.

Video: Calls for census changes
Studies conducted since the 1940s show those demographics "are all likely to respond to the census quest at lower rates," Yu said.
Complicating things further this year are the lingering effects of Hurricane Katrina, which displaced hundreds of thousands of people in the Gulf Coast states of Louisiana, Mississippi and Alabama. Four years after the 2005 storm, the area still has large numbers of people in temporary housing and a high rate of vacant homes, according to an August report by the Leadership Conference on Civil Rights.
The report found the Census Bureau plans to hand-deliver questionnaires in some of the hardest-hit parts of the Gulf Coast and launch an extensive ad campaign to get people in the stricken areas to take part in the count.
The avalanche of foreclosures over the past two years also is likely to make hard-to-count populations more difficult to tally as well, because many people in those groups have been forced to move, Yu said.
"We don't know exactly how this is going to work, because this is a unique circumstance," she said. "But that kind of displacement, whether it's natural disaster like Katrina or a man-made disaster like the foreclosure crisis, will be a new challenge for the 2010 census."
The delegation that met with Locke also included Rep. Barbara Lee, D-California, the head of the Congressional Black Caucus; and two of the most visible U.S. civil rights activists, the Revs. Jesse Jackson and Al Sharpton, both of whom have made Democratic presidential bids.
Morial said the group also asked that prison inmates be included in counts of their hometowns, not where they are held. He said that with about 1.3 million African-Americans in prison out of a total black population of about 40 million, "What we have in the prison population issue is a built-in undercount."
Jackson said the delegation did not receive any commitment from Locke on that issue, which he said might need to be addressed by the Justice Department or Congress.
Yu said that issue was unlikely to be resolved in time for 2010, but was "an important issue for consideration for the 2020 census."
"It's too late in the process for 2010," she said.