Senate approves government funding bill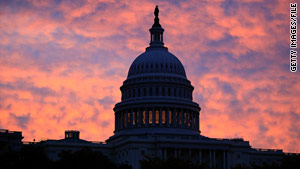 The measure, which goes to President Obama for his signature, would succeed a funding plan that expires Friday.
STORY HIGHLIGHTS
$447 billion spending plan funds non-defense agencies starting this month
Bill goes to president for signature; Sen. McCain urges veto because of earmarks
Separate defense spending bill expected to be considered this week
Bill also allows government to move terrorism suspects from Gitmo to U.S. for trial
Washington (CNN) -- The U.S. Senate on Sunday approved $447 billion in spending for several Cabinet departments and other agencies for the 2010 budget year -- money needed to fund the federal government after this week.
On a mostly partisan vote of 57-35, the Senate approved the compromise omnibus spending plan worked out with the House, which passed it last week. The measure, which would succeed a funding resolution that expires Friday, now goes to President Obama to be signed into law.
The vote happened in an unusual Sunday session as the Democratic leadership pushes to complete work on a sweeping health care bill and also get the appropriations bill passed.
The omnibus bill, which combines six separate appropriations measures, provides money for non-defense government agencies including the Transportation, Commerce, Justice, Veterans Affairs and State departments for the fiscal year that started October 1.
A separate defense spending bill is expected to be considered later this week.
The omnibus measure also authorizes about $600 billion in mandatory federal spending on government programs such as Medicare, Medicaid and Social Security, funding that is set by formula and cannot be altered by Congress.
Republicans denounced the bill as bloated with wasteful spending. On Saturday, the Democratic-controlled Senate cleared a procedural vote needed to end a Republican filibuster and allow for Sunday's vote to take place.
According to the independent, nonpartisan group Taxpayers for Common Sense, the spending bill includes 5,244 earmarks -- or pet projects sought by members of Congress -- that total just under $4 billion.
"I demand the president of the United States keep his word, when he signed another pork-laden bill last March, to veto this bill," said Republican Sen. John McCain of Arizona before Sunday's vote. McCain lost to Obama in last year's presidential election.
Among its many provisions, the bill also allows the government to transfer terrorism suspects now held at Guantanamo Bay, Cuba, to the United States to stand trial, and allow guns in checked luggage on Amtrak trains.
It also would provide auto dealers closed down under the General Motors and Chrysler restructuring an opportunity to be reinstated. The bill sets up a binding arbitration process that would let dealers present evidence that could allow them to reopen.