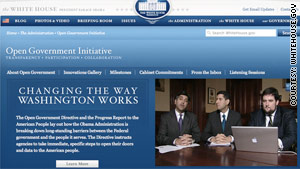 The Obama administration released its Open Government Directive on Tuesday.
STORY HIGHLIGHTS
White House announces new Open Government Directive and report Tuesday
It directs federal agencies and departments to offer more transparency
Lays out 3 must-do principles: Transparency, participation and collaboration
Republicans and other critics have pointed out the lack of transparency in the White House
Washington (CNN) -- Cleaning up the way Washington works and providing a transparent, open government was one of President Obama's key pledges upon taking office.
On Tuesday, that notion was further spelled out to all federal agencies and departments in his administration.
The White House released a new report, "Open Government Progress Report to the American People -- and the 'Open Government Directive,'" requiring the head of each federal department and agency to take specific actions to "open their operations to the public," according to Office of Management and Budget Director Peter Orszag in a memo released Tuesday.
The directive lays out three principles that must be met: Transparency, participation and collaboration. It also says that agencies and departments have 45 days in which to identify and post online "high value data sets" -- or key data that need to be released.
The full plan can be found at whitehouse.gov/open.
"The directive is grounded in the president's commitment to a transparent and open and collaborative government," said Federal Chief Information Officer Vivek Kundra in a live chat Tuesday morning on whitehouse.gov. "The president committed early on to making sure that we were changing the default setting of the public sector from that of being secretive, opaque and closed to one that is open, transparent and participatory."
On his first day in office, Obama issued the "Memorandum on Transparency and Open Government" as his first executive action. It directed departments and agencies to take on specific actions geared toward transparency and openness.
"The way to make government responsible is to hold it accountable and the way to make government accountable is to make it transparent. I will also hold myself to a new standard of openness," he said on January 21.
Obama detailed how he would expand the release of documents under the Freedom of Information Act, which allows journalists and others to see what government is up to.

Video: A stimulus checkup
In addition, the president announced that he would reduce the influence of special interest groups, cap top White House officials' salaries and write new ethics rules preventing lobbyists from working in government and serving on advisory boards.
The administration also launched Web sites such as Recovery.gov to track how economic stimulus dollars are being spent.
Tuesday's news was welcomed by the nonpartisan legal watchdog group Citizens for Responsibility and Ethics in Washington.
In a statement to CNN, Anne Weismann -- CREW's chief counsel -- said the directive "represents the kind of bold and far reaching initiative President Obama promised on his first full day in office. ... By establishing a new paradigm of public access to government information, the administration has paved the way for a truly transparent and accountable government."
But Republicans and other administration critics have complained throughout Obama's first term that the White House has been anything but open.
One criticism was focused on Obama's comments that he would like for health care negotiations to be broadcast on C-SPAN. But those negotiations over the past few months have not been televised.
In response, the Republican National Committee released an online ad -- "Behind Closed Doors" -- in October that took Obama and congressional Democrats to task over health care negotiation transparency.
"You see Senator [Harry] Reid, President Obama's lieutenants and other liberal Democrats are behind closed doors crafting their final health care overhaul proposal," the ad's narrator says.
Others -- including GOP Sen. John McCain and many in the GOP leadership -- have called Obama out on similar transparency issues regarding health care reform.
But officials have said the president's call to openness has been a work in progress -- given the large size of government and bureaucratic red tape.
Orszag pointed out Tuesday the openness seen so far: The White House publishing the names of everyone who visits; publishing data online about federal spending and research; the publishing of updated Freedom of Information guidelines from the attorney general.
"There have been other advancements, from providing online access to White House staff financial reports and salaries, adopting a tough new state secrets policy, reversing an executive order that previously limited access to presidential records, and web-casting White House meetings and conferences," Orszag added.
But one former White House official has said too much information can also be harmful.
David Frum -- a former special assistant to President George W. Bush and fellow at the American Enterprise Institute -- has criticized the president in the past for releasing the names of all who visit the White House.
"Why don't they just install a 24-hour Web cam in the Oval Office and be done with it?" he said in a CNN.com commentary." This new policy is crazy, utterly counterproductive and will only make the work of the White House more sluggish and inefficient than it already is -- and it is plenty sluggish and inefficient now."
Despite the criticism, the push for openness continues.
In May the administration launched the Open Government Initiative, headed up by the Office of Science and Technology Policy, The initiative, according to Orszag, "sparked a never-before-seen collaboration between the public and the government" by asking for and receiving answers from the public. Since the OGI ended, the review process continued and resulted in Tuesday's directive and report.
The process was also aided by Cabinet secretaries and other leadership officials who met with White House officials on how to implement action plans.
"One of the first conversations we have with those Cabinet secretaries is 'what policy objectives are use most committed to that you think the American people can help advance?' said Federal Chief Technology Officer Aneesh Chopra, who also participated in the live chat.
Chopra highlighted one example involving Agriculture Secretary Tom Vilsack. Earlier in the year, he announced that part of his commitment to address childhood obesity included the release of nutritional information to the public on the Web site myfoodapedia.gov
"And as of today, you can download that file of nutritional value for [the] 1,000 most commonly eaten foods," Chopra added.