Same-sex marriage bill advances in New Jersey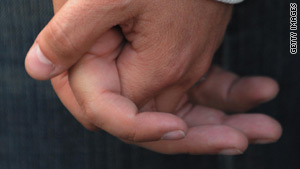 If the New Jersey bill passes, the state would become the sixth in the United States to legalize same-sex marriage.
STORY HIGHLIGHTS
If bill passes, New Jersey would become the sixth in the U.S. to legalize same-sex marriage

Same-sex marriage is legal in Connecticut, Iowa, Massachusetts and Vermont

Federal law bars recognition of those unions across state lines

(CNN) -- The New Jersey Senate is expected to vote Thursday on a bill that would legalize same-sex marriage in the state.
The bill cleared the Senate's Judiciary Committee on Monday evening by a vote of 7-6, state Democratic officials said. If the bill is approved by the full Senate, it would move next to the state Assembly.
The bill would have to be passed this month to stand a chance of being signed into law. Republican Gov.-elect Chris Christie, who takes office next month, has said he would veto it. Outgoing Democratic Gov. Jon Corzine has vowed to sign it.
"This is an action that is long overdue," Corzine said in a written statement Monday after the bill passed committee. "For far too long, a large segment of our population has been denied the fundamental rights and protections of a civil liberty that is granted to all Americans.
"I am confident that through this process, the marriage equality issue will be recognized for what it truly is -- a civil rights issue that must be approved to assure that every citizen is treated equally under the law," he said.
Same-sex marriage is legal in Connecticut, Iowa, Vermont and Massachusetts and will become legal next month in New Hampshire. The nation's capital moved a step in that direction, when the city council passed on December 1 the first of two votes required to send a same-sex marriage proposal to the desk of Mayor Adrian Fenty.
Fenty has vowed to sign the bill.
Last week, the New York state Senate killed a similar bill after it had passed the state Assembly.
In November, voters in Maine rejected same-sex marriage after Gov. John Baldacci signed the measure into law.