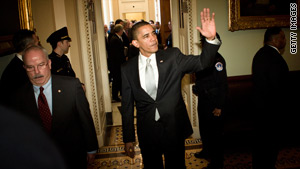 President Obama leaves after meeting with Senate Democrats to rally support for the health care bill.
STORY HIGHLIGHTS
"We've got a whole bunch of things we're talking about," says Sen. Tom Harkin of Iowa
A deal could be done Tuesday, deadline set by Senate Majority Leader Harry Reid
One idea on table is to allow Americans to buy into Medicare starting at age 55
Washington (CNN) -- Liberal and moderate Senate Democrats said Monday they may be nearing agreement on a package of alternatives to a government-run public health insurance option in the chamber's sweeping health care bill.
Emerging from a meeting, the negotiating senators said the ideas under discussion would replace the controversial public option in a compromise intended to win the support of the chamber's entire Democratic caucus. Senate Republicans unanimously oppose the health care bill so far. The bill requires support from all 60 members of the Democratic caucus to pass.
"We've got a whole bunch of things we're talking about," said liberal Democratic Sen. Tom Harkin of Iowa. "It's coming together. We're very close."
A deal could be ready on Tuesday, the deadline set by Senate Majority Leader Harry Reid for the talks to conclude, Harkin said. If so, it would be a compromise likely to please no one but prove acceptable to all, he said.
"Is it something that I like? No," Harkin said. "It isn't something moderates or conservatives like either. It's one of those things in the middle that doesn't make everyone happy."
Asked if he could live with it, Harkin said: "It's something I'm probably going to have to live with."
There are no insurmountable obstacles. We continue to resolve outstanding issues.
--Sen. Mark Pryor of Arkansas
A moderate Democrat in the talks, Sen. Ben Nelson of Nebraska, said no final decision had been reached on the various ideas in play. He said the group of 10 Senate Democrats -- five moderates and five liberals -- would meet again Tuesday to "try to continue to work to see if there's any kind of agreement that can be reached."
Another moderate taking part, Sen. Mark Pryor of Arkansas, was more optimistic.
"There are no insurmountable obstacles," Pryor said. "We continue to resolve outstanding issues. There are some, but they are resolvable."
Several Democratic sources said an alternative to the public option strongly opposed by some moderate Democrats is the main focus of the talks that began last week at Reid's request.
According to an aide to one of the senators involved in the talks, one provision under discussion would have private insurers seek approval from the government's Office of Personnel Management to provide coverage for people in state insurance exchanges being created by the bill.
Currently, private insurers must get such approval to offer coverage in the federal health insurance program for government workers.
By participating in the exchanges, the private insurers would limit their profits, just as they do by taking part in the federal workers' plan, according to the senator's aide. The fee-for-service plans for federal workers can earn private insurers a service charge of up to 1 percent, with the average charge being about 0.75 percent.
The senator's aide said the goal is to create low-profit or nonprofit competition for private insurers that public option supporters contend is vital for real health insurance reform.
Such an alternative to the public option would avoid the government-funded or government-run label opposed by moderate Democrats, while providing liberal Democrats the lower-priced competition they seek.
Meanwhile, some of the senators in the talks said another idea is to allow Americans to buy into Medicare starting at age 55. Currently, Medicare coverage begins at age 65, with some exceptions.
The idea appeals to liberal Democrats seeking to expand health coverage to more Americans, and could offset their opposition to a bill that lacks a full public option as originally proposed.
However, issues of when to implement the lower age for Medicare eligibility and how to pay for it were still being worked out, according to sources close to the talks.
Sen. Jay Rockefeller, a liberal West Virginia Democrat, said he is the author of the lower Medicare eligibility proposal, which he has supported since 2001.
"I think it's smart under any circumstance to do," Rockefeller said, adding the reaction so far has been "pretty reasonable."
Nelson expressed reservations, though, saying that expanding Medicare means providing Medicare levels of reimbursements for services for a larger population, which is a problem for rural states such as his.
"It's got many of the same problems I had with previous variations of the public option," Nelson said.
Other ideas in the package under discussion include expanding the Medicaid program more than currently called for in the bill, and expanding a proposal in the bill that gives money to states to allow them to cover low-income people through existing programs instead of Medicaid, the senator's aide said.
Sen. Charles Schumer of New York is leading the compromise talks, which include fellow liberals Rockefeller, Harkin, Russ Feingold of Wisconsin and Sherrod Brown of Ohio, along with moderates Nelson, Pryor, Mary Landrieu of Louisiana, Blanche Lincoln of Arkansas and Tom Carper of Delaware.
The Democratic caucus has 60 seats in the 100-member chamber, which is the minimum number needed to overcome a filibuster. If any Democratic caucus members balk at the public option, the party would need some Republicans to back the bill in order for it to pass.