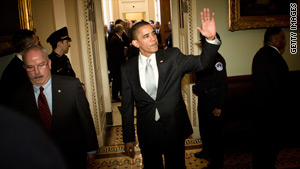 President Obama leaves after meeting with Senate Democrats to rally support for the health care bill.
STORY HIGHLIGHTS
President Obama meets with Senate Democrats to rally support for health care bill

Republicans fail to eliminate $42.1 billion in proposed cuts to home health care

Liberal, moderate Democrats also meet Sunday to discuss contentious issues in bill

Washington (CNN) -- President Obama met Sunday with Senate Democrats to try to rally support for a sweeping health care bill undergoing a heated debate in the chamber.
The gathering with the Democratic caucus lasted about 50 minutes, with Obama encouraging passage of the health care bill without talking specifically about all the outstanding issues, Senate Majority Leader Harry Reid said afterward.
One of those major issues -- abortion -- will come up this week when the chamber votes on an amendment to tighten restrictions on federal funding for abortion by adding language included in the House version of the bill.
Obama's visit came amid a rare Sunday session for the Senate as it considers the Democratic proposal that so far is unanimously opposed by Republicans.
White House spokesman Bill Burton said Obama "thanked members of the Senate for their hard work so far and encouraged them to continue forward on this historic opportunity" to pass health care reform legislation.
"The question now is whether or not we're going to get it done," Obama told the senators, according to Burton.

Video: Arkansas split on health care

Video: Health care reform delay?
Meanwhile, a group of moderate and liberal Democrats will meet again Sunday afternoon to try to work out differences over tough issues such as a government-run public health insurance option, Reid said.
The group compiled by Reid, a Nevada Democrat, has been meeting regularly to seek Democratic consensus on the public option and other issues threatening the ability of Democrats to overcome a Republican filibuster.
"There are still a few things to work out in the bill," Reid said, adding that "the issues were being narrowed," but that "we're not there."
On the Republican side, Senate Minority Leader Mitch McConnell of Kentucky on Sunday repeated past criticism that the health care bill ignored GOP concerns and issues.
"There was no interest in drafting a proposal that was in the political middle," McConnell said, adding that the Democrats wrote a bill "that Republicans couldn't in good conscience support."
Reid denied the claim, saying Republicans had plenty of opportunity for input in the months of debate and scores of committee hearings so far. The lone goal of Republicans is to defeat the bill to cause political harm to Obama and the Democrats, Reid said.
"Republicans are being destructive," Reid said. "They want this to be, as one senator said, President Obama's 'Waterloo,' and it's not going to be."
On Saturday, Senate Republicans failed to eliminate $42.1 billion in cuts to Medicare home health care service in the health care bill.
The 53-41 vote shot down a motion offered by Sen. Mike Johanns, R-Nebraska, that would have sent Reid's $848-billion reform plan back to the committee with instructions to remove all home health care cuts.
Johanns objected to the cuts, saying the services "help some of the most vulnerable Americans."
Democrats say the bill instills needed reforms to ensure the long-term solvency of the government-run Medicare health program for seniors.
In response, Sen. John Kerry, D-Massachusetts, offered an amendment that prohibits reducing "guaranteed" home health benefits.
The Senate passed Kerry's amendment 96-0, on the sixth day of Senate debate on Reid's 2,074-page bill.
The public option remains the most contentious issue for Democrats, with two members of the caucus saying they have yet to see a compromise they can support.
"There are a lot of discussions going on and I'm going to work hard to see if there isn't somewhere to be in terms of a compromise, but I haven't seen it yet," Sen. Blanche Lincoln, D-Arkansas, said last week.
Sen. Joe Lieberman, an independent from Connecticut who sits with the Democratic caucus, has maintained his opposition to any form of public option in the health care bill.
The Democratic caucus contains 60 seats in the 100-member chamber, which is the minimum number needed to overcome a filibuster. If any Democratic caucus members balk at the public option, the party would need some Republicans to back the bill in order for it to pass.
The House of Representatives narrowly passed a more than $1 trillion health care bill this month.
If the Senate also manages to pass a bill, a congressional conference committee will then need to merge the House and Senate proposals into a consensus version requiring final approval from each chamber before moving to Obama's desk to be signed into law.
CNN's Dana Bash contributed to this report.